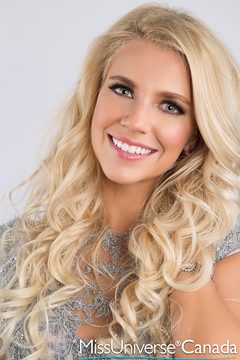 Height: 5'8″
Hometown: Montreal, QC
Amanda Ste-Marie is 23 years old and enjoys the vibrant Montreal lifestyle. For the past five years Amanda has been working in radio. Having started as an intern straight out of high school she has occupied many different positions while working her way up the corporate ladder before landing her current position as music programmer for CHOM 97,7 and Virgin Radio 96. Amanda is extremely grateful to be working in media, at a job that constantly inspires and challenges her. It is rewarding to know that the work she does has the ability to brighten up someone's day. The power of music has certainly impacted Amanda's life in an important way. Just knowing that the songs she chooses to play on the radio, which will be heard by millions, allows her to make a difference in people's lives. Working behind the scenes and off-air in radio does not limit Amanda. She has always loved being in front of the camera as well. One of her favourite experiences was being a contestant on the game show "Match Game".
Although Amanda has established her career in radio, she is currently working towards her undergraduate degree in Sociology at Concordia University, where she attends classes at night. Being a Sociology major has allowed Amanda to view the world and society we live in a different light. She is interested in social change and what we as a community can do to improve our environment and societal ideals. Giving back to the community is very important to Amanda. A dream of hers has always been to participate in a humanitarian trip abroad, perhaps in a developing country where she could contribute to the community and the environment.
Amanda recognizes that becoming Miss Universe Canada means becoming a role model for young women. It is essential to provide young women with positive examples and it is Amanda's belief that our society is currently seeing a rise in favourable role models. Her hope would be to inspire girls to become strong, resourceful, self-assured, healthy and beautiful women. Amanda would also like to encourage Canada's younger generation to follow their dreams and aspirations no matter how distant they may seem. She believes that with the right amount of hard-work and dedication, anything is possible!
Sponsors:
Nüva Beauty & Spa, Rent frock Repeat, TOVA, Lisa Kisber – Style and Beauty Expert, Mansfield Athletic Club, Cosmedica – Dr. Arie Benchetrit, Narces, Virgin Radio Montreal, Friends and Family
Languages spoken fluently (please include your native language if English is not your native language). 
I am fluent in English and French, both written and spoken.
What are your interests and what do you enjoy doing the most?
During my free time I enjoy attending cultural events, playing piano, reading, downhill skiing and baking. Music is a huge part of my life, I feel most at home while at concert. I attend at least one live show per week, which provides me with the opportunity to network with other people in the music industry.
List any special training you have had (music, art, drama, dance, etc.)
Piano lessons, Girl Guides of Canada & CSST First Aid Certification.
In what sports, if any, have you participated?
I am an avid runner and I enjoy downhill skiing, water-skiing, volleyball, and badminton.
Name one person, other than your parents, who has had the most influence on your life. Why? 
I wouldn't name one specific person but a collective group of people who have influenced my life and career path. My colleagues are a constant influence because are very dedicated and enthusiastic about their profession. They inspire me to reach for my goals and push myself harder. I hope to relay the same motivational message to Canadian youth.
What is your proudest personal accomplishment (other than participating in this pageant)?
One of my proudest accomplishments is to have graduated from an all French Cegep, which is a pre-university college. After completing high school, I decided I wanted to perfect my French, so I spent the following three years completing a degree in communications/media in French. Leaving my comfort zone and my friends was definitely challenging but it was unquestionably worthwhile.
What is the most interesting or unique thing that has ever happened to you and/or what is the most interesting thing about you?
My first job was my "dream job"!
What is your career ambition and what are you doing or plan to do to accomplish that goal?
I have been working in media for the past five years and I see myself staying in this industry. Being a young woman in the entertainment industry has its many challenges and my career ambition is to constantly work at overcoming them.
What would be your "dream job" in life?
My dream job would be in media, working at a job that both fulfills and constantly challenges me while helping me acquire new skills.
Are you currently a student?
Yes
If yes, where?
Concordia University.
Are you currently employed?
Yes
If yes, what is your occupation?
Radio Music Programmer at CHOM 97,7 & Virgin Radio.
Describe where you were raised and what your childhood was like.
I consider myself lucky to live in an exciting and culturally diverse city like Montreal. The arts and culture scene is one of Montreal's defining factors, where growing up I was able to experience a variety of events, music festivals, museums, which certainly made an impact on my life. Now as an adult, I can appreciate the vibrant nightlife my city has to offer, whether it is a festival, concert or new restaurant opening, you never run out of things to do.
I also spent a good deal of my time at our cottage on a lake, in the country, so I had also the opportunity to participate in water sports, climb trees, hike, fish and run barefoot. I really had the best of both worlds!
List any interesting or unusual jobs you may have had.
Many people begin their careers in media as an intern and I was no exception. At 16 years old I began interning in the radio station's promotions department. I helped execute promotional stunts and organize events. My most memorable one was when I had to dress up in a huge pink bunny costume and walk around downtown Montreal while handing out prizes during Easter.
List any volunteering you have done.
Virgin Radio's Shave To Save, Ladies' Aid Society, The 30 Hour Famine, Chateauguay & Valley Irish Heritage Association.
What is your most unusual talent?
Sometimes when the radio station is producing commercials and they are not able to find a certain voice, they will ask people from the office to record a commercial. My specialty is imitating the voice of children, mostly 5 year old boys!
Where is the most interesting place you have been to?  
A few years ago, I took a road trip from Montreal to the East Coast. I visited the province of Quebec, Nova Scotia, New Brunswick and P.E.I. I was overwhelmed by the beautiful scenery and Canadian landscapes. My road trip was not my most exotic vacation but I believe it was my most important one.  This experience opened up my eyes to the beauty that is in our own backyard and made me appreciate the country we live in.
What do you hope to be doing in ten years?
In ten years I hope to be successful working in a career that I love. I also hope to be starting a family with a loving partner.
Is there anything you would like to add that we haven't asked?
The opportunity to represent Canada by becoming Miss Universe Canada would be a dream come true. I think we sometimes take for granted the amazing country that we live in and Miss Universe Canada would provide me with the platform to display our truly altruistic and welcoming values to the rest of the world.