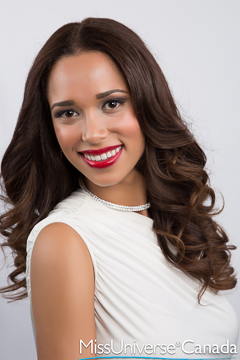 Height: 5'10″
Hometown: Oakville, ON
For Brynn Blackwood, every day is an opportunity to learn and grow as an individual. She lives by the philosophy of "Think good thoughts, Speak good words, Take good actions" and it is this positive mantra that has strengthened her to overcome challenges in her own life and consequently the lives of other individuals.
A willing and enthusiastic volunteer, Brynn strives to affect meaningful change and leave a lasting positive influence through her interactions with people, animals and the environment. In her ever-evolving role as an active and engaged citizen, Brynn has given her time to numerous causes and events that both support and enliven her community such as volunteering with the Sickle Cell Anemia Group of Ontario, as a tutor for elementary and high school students, at the Toronto International Film Festival, and as a representative of Toronto and Canada at the upcoming 2015 Pan Am Games.
As a champion of diversity and inclusion, Brynn's hybrid identity is composed of her Scottish, Jamaican and German roots. At an early age Brynn demonstrated her ability to both recognize and appreciate the differences between people because of her diverse family and world travels. During her childhood spent between the very different Niagara Peninsula, New York City and the Greater Toronto Area, she was exposed to a wide variety of cultures, nationalities, and languages.
This love of learning about how people of different cultures live and interact has led Brynn to pursue a Communications, Culture and Information Technology degree at the University of Toronto with a minor in French and writing. It has also allowed her the opportunity to travel across three Canadian provinces and experience a wide range of new and old Canadian culture and traditions.
Brynn believes the key to a successful life is time management and maintains a balance between family, work, school and friends. Her hobbies include playing tennis, knitting, crocheting, belly dancing and perfecting her culinary skills. As a lover of the outdoors, Brynn enjoys immersing herself in eco-diversity through hiking and helping her family grow their own fruits and vegetables.
In the future, Brynn dreams of becoming a broadcast journalist. She wishes to be an empowered voice for women and to advocate for gender equality, free education, and better healthcare across the world.

Sponsors:
Michael's Hair Body Mind, Sam McDadi Real Estate Inc. Brokerage, Chantal Silvestri Personal Training, Pierre's Photography, Nurse Next Door Mississauga, Walden Circle Retirement Community, Friends and Family
Languages spoken fluently (please include your native language if English is not your native language).
English, French and Spanish.
What are your interests and what do you enjoy doing the most?
Spending time with my family and friends is what brings me the most joy. I love group activities such as hiking, Zumba, Pilates, and dance classes. When I was a little girl, my grandmother taught me to knit, and since then my passion for fashion design has grown and I've learned to crochet and sew, and enjoy adding my personal style to all of my clothing. I'm also grateful that I have the opportunity to practice my conversational Spanish with my step-father every day.
List any special training you have had (music, art, drama, dance, etc.)
Music training: Flute, piano and steel drum lessons
Dance training: Ballet, jazz, hip-hop and belly dancing
Sports: Tennis, basketball, soccer
Drama Lessons
First Aid & CPR Training
Women's Self Defense certification
In what sports, if any, have you participated?
Throughout my childhood and adolescence I was extremely active and played sports every year. I am a passionate tennis player and competed in tournaments and on teams throughout elementary and high school. My father and I played tennis together every weekend and I dreamt of becoming the next Venus or Serena Williams. I also played soccer for ten years, basketball, and swam each day during the summer.
Name one person, other than your parents, who has had the most influence on your life. Why?
The person who has had the greatest influence on my life would be my grandmother. At 38 years of age, she suffered from a sudden brain aneurysm which ruptured and hemorrhaged. She was given a 2% chance of surviving her surgery. Not only did she survive the surgery, but thereafter spent eleven months in a rehabilitation hospital. Upon waking from the surgery, she had lost control of the left side of her body. During her time in rehabilitation, my grandmother had to relearn how to speak properly, feed herself, and walk. The only remaining hint of this life-changing event is a slight droop on the left side of her mouth. Her perseverance and positive attitude are remarkable to me and a constant reminder that with the love and support of family, all can be conquered.
What is your proudest personal accomplishment (other than participating in this pageant)?
Last May I spent six weeks in Chicoutimi, Québec, where I completed a French immersion program through the University of Toronto. Chicoutimi is a town that is 98% francophone, and I was therefore required to communicate only in French. Upon arrival, I was introduced to my host mother, who spoke absolutely no English, but became the most influential and informative teacher outside of my professors. I enjoyed every moment of my experience in Québec, made new friends, learned to appreciate Canadian French culture and heritage, and each weekend, had the opportunity to explore the province through trips to zoos, whale watching, mountain climbing, and visits to fjords.
What is the most interesting or unique thing that has ever happened to you and/or what is the most interesting thing about you?
The most interesting moment of my life was when I went to the Zoo Sauvage de St. Félicien in Québec, which is a zoo for rescued endangered animals. I had the once in a lifetime experience of interacting with two 8 week-old Amur tiger cubs – the first to be born in Canada. I relished in the chance to hold them, wrestle with them, and bond with them. I will never forget how kitten-like the cubs were or how their fur felt, and will cherish what a unique opportunity this was.
What is your career ambition and what are you doing or plan to do to accomplish that goal?
My career goal is to enter into broadcast journalism and eventually produce radio and television programs. However, this is not my one and only ambition. For me, the sky is the limit. I believe that being open-minded and having a varied skill set leads to unexpected opportunities.
I also enjoy writing and hope to someday become a published author. To accomplish these goals, I am currently completing my degree in Communications, Culture, and Information Technology.
What would be your "dream job" in life?
My dream job is to own my own multimedia production and design company, where I could produce and write my own radio and television programs. I admire women who are multi-talented and have forayed into multiple career paths, such as Jessica Simpson, and Gisele Bundchen. Instead of focusing on only one goal or 'dream job', they allowed themselves to branch out into varied interests and found success through their range of skills. I believe that a dynamic personality and flexibility are priceless constituents of reaching a dream, and that as I grow, my interests and dreams will grow and change with me.
Are you currently a student?
Yes
If yes, where?
University of Toronto & Sheridan College
Area of study:
Communications, Culture, and Information Technology Program
Currently obtaining a major in CCIT with a minor in French and professional writing
Are you currently employed?
Yes
If yes, what is your occupation?
I am a pharmacy assistant at Rexall Pharmaplus and a part-time server at Lonestar Texas Grill restaurant.
Describe where you were raised and what your childhood was like.
I was raised in the Niagara region and Clarkson, Mississauga. I spent a large part of each summer of my childhood in New York City, where my paternal grandparents lived until 2004.
My childhood is filled with memories of playing outdoors with my brothers and cousins on my grandparent's 40 acre farm. This is where I developed a great appreciation for nature and the environment. My parents are both avid readers and continuously encouraged reading in our home. I loved writing stories and always have had a passion for acting & drama. I was labelled the imaginative child within my family.
List any interesting or unusual jobs you may have had.
My first job as a butcher's assistant certainly toughened me up! I don't think many young women learned to use electric saws to cut poultry and beef at fifteen years of age. Although it was not the most glamorous job, I was taught how to serve clientele properly, woke up at 5am in order to start work at 6, and learned the value of a hard day's work.
List any volunteering you have done.
Toronto 2015 PanAm Games Accreditation Services Volunteer
2014 Toronto Film Festival volunteer
2013 SCAGO (Sickle Cell Anemia Group of Ontario) volunteer
Caribbean Connections Event Planning Team volunteer
What is your most unusual talent?
I can play the steel drum! The steel drum is a musical instrument that originates from Trinidad & Tobago made out of sheet metal or oil barrels. I love the light-hearted, vibrant, tropical tones of the instrument and whenever I hear it I'm instantly taken to a happier place.
Where is the most interesting place you have been to? 
The most interesting place I have visited is London, England. I love architectural history and the fact that there are buildings in England that are hundreds of years old is awe-inspiring. I love London's rich cultural history, diverse population and neighborhoods, and its historic landmarks such as London Bridge and Buckingham Palace.
What do you hope to be doing in ten years?
In ten years, I see myself as an entrepreneur who has her own media production company. I also hope to see myself as a previous titleholder of Miss Universe Canada, who has inspired young women to be their own individuals and take on challenges.
Is there anything you would like to add that we haven't asked?
I believe that a closed mind is infinitely more difficult to open than a closed door.
In the Media: