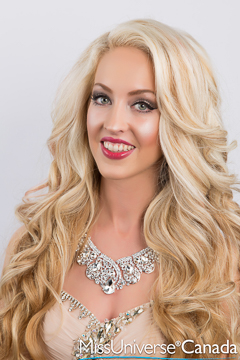 Height: 5'7″
Hometown: Toronto, ON
Claire Armstrong was born and raised in North York, Ontario. Growing up in a small borough of Toronto, she spent a good part of her childhood outdoors. Family has always played a very important role in her life, and she spends a lot of time with her relatives and close friends. She is very generous to those who are important to her and she values the relationships in her life.
Always having an interest in the arts, she graduated from the Aveda Institute, Toronto with a Diploma in Hairstyling. She then went on to manage the salon where she currently works. She is very professional in her work and valued by her co-workers and clients. Devoted to a positive image outlook, she enjoys making people feel and look beautiful. She likes to promote natural beauty and inner strength. Claire can find beauty everywhere.
Claire has a spiritual side and is passionate about philosophy and human nature. Always driven by curiosity, she loves to expand her knowledge about the world. She tries to read between the lines, and explore deeper than the surface. She loves gaining knowledge, seeing how things work, and sharing with others what she has learned.
Claire has an optimistic outlook on life and is always ready with a smile. She is warm and approachable. She is very poised, has good manners and respects her elders. She finds the good in everyone she meets, and finds humor wherever possible. Claire has a great laugh that is contagious.
Sponsors:
Shuku from Shuku2 Salon & Spa, Waxed Bar, George from Mazda Toronto, Khadijah from Intimate Souloutions, Dianne & Anthony from NVP Media Group, Randi Goodman, Roma Sherlock – Arbonne Independent Consultant, Excellent Dave, Friends and Family
Languages spoken fluently (please include your native language if English is not your native language).
English and conversational French
What are your interests and what do you enjoy doing the most?
I love gardening, and watching things grow.  In the summer you can find me spending time outside, on the beach, by the fire or stargazing.  I am into fitness and live an active lifestyle.  I like making food and eating healthy.  I love meeting new people and trying new things.
List any special training you have had (music, art, drama, dance, etc.)
Yoga/Pilates, Ballet, Art, Chess, Hairstyling and Aesthetics.
In what sports, if any, have you participated?
Swimming, Soccer, Volleyball, Cross-Country, Track and Field
Name one person, other than your parents, who has had the most influence on your life. Why?
With every person I meet, I try to learn what they have to teach. Most of all, my younger sister has been a constant positive influence in my life.  She is wise beyond her years, and is always there for helpful advice. She has supported me through all of life's endeavors and has been my rock the whole time.  Often when I talk to her she expands my mind with a different outlook on life. She has taught me how to be more selfless and keep a positive, level head at all times.
What is your proudest personal accomplishment (other than participating in this pageant)?
I am happy to be the person I am today, and that was only accomplished by never giving up, always listening to my inner voice and following my heart! Life is full of ups and downs; it is how we cope with them that counts.  My biggest accomplishment is making my parents proud.
What is the most interesting or unique thing that has ever happened to you and/or what is the most interesting thing about you?
I make the best out of every situation and inspire to be happy and radiate positivity no matter what. My friends laugh at me for seeing things that most people don't notice, and I pay very close attention to detail. And I would never kill a spider.
What is your career ambition and what are you doing or plan to do to accomplish that goal?
One day I hope to have my own hair salon. I have completed my apprenticeship with a wonderful woman named Shuku. She has been my mentor and I hope to follow in her footsteps. I plan to build my clientele gradually and make a name for myself in the beauty industry.
What would be your "dream job" in life?
Working in my salon would be my dream job. It will be a relaxing place where women can come and take a load off, talk, and feel beautiful at the same time.  I like to make people feel comfortable in my care and connect on a personal level. Being a mother would also be a dream job for me. I hope to pass on my wisdom and would love to create a healthy and nurturing environment for my children.
Are you currently a student?
Yes, I am a student of life.
Are you currently employed?
Yes
If yes, what is your occupation?
Hairstylist and salon manager.
Describe where you were raised and what your childhood was like.  
I grew up in a household full of love.  I played outside with my sisters and my dog, and hung out at the library. I lived on a cul-de-sac, and in the winter after the snowplow came, we would play on the giant snow pile.  In the summer, my little sister and I would run wild, barefoot in the field behind our house.  We were care-free and it was the best time in my life.  We would know when to come home when my mom rang the hand-held school bell, or when the street lights came on. My grandma lived with us and she was a big part of my childhood.
List any interesting or unusual jobs you may have had.
When I was younger I babysat and when I was a teen I worked at a bowling alley serving food and drinks.  I was also a birthday party hostess at children's parties.
List any volunteering you have done.
Painted faces at the Church Christmas party
Served food at the Good Sheppard Refuge
Played Scrabble at the Seniors Residence
Aveda Cut-A-Thon
Walk For Water
20 Minute Clean-Up
What is your most unusual talent?
I never forget a face and I am great at wrapping gifts. I learned to braid when I was 3 years old.
Where is the most interesting place you have been to?
Cuba – it opened my eyes to a different world. It is a beautiful country where the people are friendly and welcoming.  It made me realize how fortunate we are, but also how disconnected we are from our fellow human beings. Cubans are simply natural. They don't have much, but care about their families and value what they do have.
What do you hope to be doing in ten years? 
In 10 years I hope to be settled down with a family of my own and have a thriving beauty business to be proud of.
Is there anything you would like to add that we haven't asked?
I am grateful for this opportunity and thankful for life everyday.  The only person I would like to be better than is the person I was yesterday.