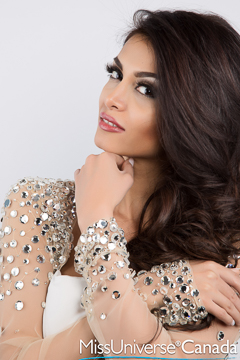 Height: 5'6″
Hometown: North York, ON
Elika Loriamini was born in Iran and travelled to several countries. She is a proud Canadian living in beautiful city of Toronto. She graduated from OCADU with Bachelor of Environmental Design which is a combination of Architecture, Interior design and Landscape design.
She is very friendly, modest, positive and active. Elika has a very interesting work life. In her last year of university she become a co-owner at Archeli Studio. She also works in Cargopedia Inc which provide an opportunity for her to travel a lot and meet new successful people. After her graduation Elika immediately started studying for Real Estate. Her goal was to get the license and be able to find old houses and renovate them and sell them again. She had successfully completed the requirements and she is now registered with Forest Hill Central brokerage.
Elika is a natural born performer on stage and being in front of camera is a part of her. In her spare time, she enjoys photography, fashion, painting, health and fitness, traveling and exploring new places and cultures.
Elika had spent several years on researching and preparing herself for the competition. She surrounded her self with great team of coaches and sponsors. Elika is confident that she is ready to take full responsibilities to represent Canada at Miss Universe. She is a hard worker and believes in possibilities. One of her favorite quote is from Jamie Paolinetti: "limitation live only in our minds. But if we use our imaginations, our possibilities become limitless."
Elika is unstoppable and never gives up until she achieves her goals. She believes " success is walking from failure to failure. The only time that you truly fail is when you stop trying". Miss Universe would be an opportunity to use her passion towards humanitarianism. It would allow her to bring attention and awareness toward important issues around the world. As a strong and powerful independent woman she wants to become a role model for every women around the world.
Sponsors:
Cargopedia Inc, Aroos Beauty Corporation, Forest Hill Real Estate Inc. Brokerage, Law Office of Essi Zand Barrister and Solicitor, Baghbani Law Professional Corporation, Zena Shekarabi Senior Mortgage Consultant,  Zagros Editions Inc., Canadian Academy of Sports Nutrition, Roja Rasadi at GoodLife Fitness, Hooman Jamshidi at DUR1 Health, Pierre at Lalande, Friends and Family
Languages spoken fluently (please include your native language if English is not your native language).
I speak English, Farsi, beginner in Turkish and I'm planning to take French in September 2015.
What are your interests and what do you enjoy doing the most?
I love travelling or in other words, I love to discover new places and meet new people. I love to learn from their experiences and their cultures. I have been fortunate enough to travel to several Countries and cities: Italy (Bologna, Venice, Rome, San Marino) Germany (Munich), Dubai, Pakistan (Karachi), Cyprus(Famagusta, Kyrenia, Nicosia), China (Guangzhou, Shanghai, Beijing), Hong Kong, US (New York, Boston, Seattle, Buffalo, Orange County, Los Angeles, San Francisco, Chicago), Jamaica (Montego Bay) and last but not least, I regularly travel to most of the beautiful cities of our amazing Home Canada. It is indescribable to see the diversity with which the world is filled.
I'm also an artist, designer and I always enjoyed of create something new. I have a very active lifestyle. Fitness is one the important and major aspect in my life; I go to gym almost every day. Modeling and acting are more than just interest for me; it is my whole life. Being on stage, performing and being in front of camera are part of me.
My other interests include Sewing, Art and Crafts, Cooking, Photography, Reading, Playing and taking care of my gorgeous puppy Princess.
List any special training you have had (music, art, drama, dance, etc.)
Alongside my studies in University I have taken the following training:
Modeling:
Acting (Max agency)
Runway, Posing (Sutherland Agency)
Makeup and Hair styling
Music:
Santour (kind of hammered dulcimer)
Fitness:
I have Personal trainer for weight lifting
Fitness and nutritional Training
Cardio Kick boxing
Boot camp
Cycling
Swimming
Art:
Oil Painting (Canvas) Abstract and Detailed
Watercolor
Drawing (including realistic face drawing, life drawing)
Sketching (pencil and charcoal)
Pastels
Handcraft:
Sculptures (including Plaster, Metal, Wood, Wire)
Pottery
Carving
Sewing
In what sports, if any, have you participated?

At a competitive or school team level, the sports that I had participated in are as follows:
Swimming (I got gold Medal in Swimming when I was 10 years old)
Volleyball
Badminton
At a trained level only and not competed in, the list of sports are as follows:
Gymnastics
Biking
Canoeing
Soccer
Inline roller-skating
Name one person, other than your parents, who has had the most influence on your life. Why?
I am unbelievably blessed and thankful to have great families, friends and people who had influenced on my life and helped me to become who I am today. There are so many people that I can talk about, but there is one person that without a doubt had an influence on not my life only but the whole Persian community.
Shahrzad was one of my amazing friends. She was about 25 years old when we lost her. Shahrzad was diagnosed with leukemia. When she was told about her cancer she knew the only cure for her was to find someone with a match bone narrow type. It was the exact moment that forever changed her life. Despite what others might do in the same situation, she decided to fight with her cancer and does not let it to dominate her.
She was so strong and never gave up till the very last second. Every day of her life was a new challenge. Shahrzad suffered the pain everyday but she hide them all behind her beautiful smile that nobody could even tell what she was going through. She tried so hard to bring awareness and she was truly successful. Shahrzad encouraged people to do the test and become a donor not just for herself but also for others that are in need. So many patients found their matches because of her. She finally found her match too but it was already to late and she couldn't use it. Shahrzad was so strong and never gave up fighting. She became a role model for so many people specially the one with same situation and motivates them not to surrender on cancer.
Her strength and courage to fight with the worst thing that can happen to anyone, is what I admire about her the most. What I learned from her is priceless. I learned how to see problems as only a situation. I learned to smile to everything that is against me. I learned to be unstoppable and not give up under any circumstances. If I can have even a quarter of the strength she had, I would be invincible.
What is your proudest personal accomplishment (other than participating in this pageant)?
I am honored to be the titleholder for Miss Queen of Diva's World 2012. Pageantry aside, I am proud to be a university graduate and starting my own business. I became independent so fast and I learned how not to ask for financial assistance from anyone. Buying my own car and my own apartment are one of my proudest personal accomplishments. I believe all the women around the world have to learn how to become a strong independent woman.
What is the most interesting or unique thing that has ever happened to you and/or what is the most interesting thing about you?
One of the interesting things about me is that I'm fearless about trying new things such as bungee jumping or skydiving.
One of the most interesting things that have ever happened to me was in Jamaica. It was the second day of my vacation, I decided to go and walk on the beach. I didn't wear my sandals because I wanted to feel the sea touches my feet. It was so relaxing till suddenly I stepped on something that felt like a broken glass. It was burning so bad and I couldn't move my feet to see what happened. I started screaming for help. I was so nervous and I though my feet was cut and definably need stitches. But guess what! I was just sting with a little tiny cute bee! It was the moment I realized that problems are just big in our minds.
What is your career ambition and what are you doing or plan to do to accomplish that goal?
My career ambition is to work in media. I want to host TV shows in Canada in a near future. My mother is a makeup artist and worked in different TV shows for 10 years. I grow up among actors and actresses. I feel camera is a part of my body. I also took acting classes and modeling classes at MAX Agency and Sutherland Agency in 2012. I have done so many photoshoots and runways including 3 bridal shows. I was honored to act in 2 music videos which help me gain my confidence in acting. Working as a reporter for TEN TV, being part of different TV shows and acting in "Get this look, Celebrity Edition" are also a part of my acting resume. I would like to see myself acting in Hollywood movies.
What would be your "dream job" in life?
Being the next titleholder of Miss Universe Canada is my current dream job. Being in the position of Miss Universe Canada is a life changing experience for me. It would be an opportunity to use my passion towards humanitarianism, also learn from experts and earn experience towards the next goal which is "Miss Universe". I have been researching and practicing for several years and I'm confident that I'm ready and prepared to make Canada proud one more time at Miss Universe. This is my dream job and I would do anything that is required to be done to achieve this goal. It would be a blessing for me to represent Canada across the nation and being able to impact on the lives of others. There is nothing better than helping out those in need and Miss Universe Canada provides that opportunity.
Becoming Miss Universe Canada is not just a dream job; it is living my dream life.
Are you currently a student?
No
Are you currently employed?
Yes
If yes, what is your occupation?
I'm working in sales and marketing department at Cargopedia Inc.
I am a co-owner at Archeli Studio.
I also recently registered with Forest Hill Central brokerage as a salesperson.
Describe where you were raised and what your childhood was like.
My childhood was very unique. I was born in Iran but I almost spent every summer in different countries. I was fortunate enough that my parents love to travel. In Iran I learned about the values of family, hospitality, tradition, art and culture. From different countries I learned about different cultures. We came to Canada when I was on the early stage of being teenager. As soon as we landed in Canada I felt like a home. It was in Canada that I learned "nothing is impossible when you believe". It was in Canada that I learned the true meaning of home, freedom, family, opportunities, rights, beauty and Love. Canada is become that magic land for me that all of my dreams can come true. I always had the support of my parents and when I came to Canada I started to have the support of my country as well.
Through my family I have learned happiness, love, believe in myself, and how to deal with different situations. From my mom I have learned how to sacrifice and how to be a strong independent woman. From my father I learned to be a hard worker and never give up till I achieve my goals. From him I also learned how to manage my financial, how to save and how spend in order to get rich. From my siblings I learned how to be supportive and caring. From our pets I learned how to love unconditionally and how to be faithful.
List any interesting or unusual jobs you may have had.
I was honored to work for Paul Aloisi, one of my instructors from university, for his project "Outer Self" at Fashion Art Toronto (FAT). It was intermedia installation as part of "the dressing room project". Alongside of the things I have learned from him during that job, I remembered telling him that I would like to be a professional model one day but I'm not sure if I can be and he really supported me and told me I have to believe in myself. I remember on my break I was walking on that stage and I pretended to be one of the models in the show. I had done some photoshoots before that but at the time I had never done fashion shows and runways. It was a turning point in my life that I decided to go after my dream and become a model and actress.
List any volunteering you have done.

When I was in high school, grade 11 and 12, I was teaching math to the students who had difficulties to understand it in class.
Varieties charity fashion shows for different cause.
Providing care and food for the homeless people in Downtown.
CCVT (Canadian Centre for Victims of Torture).
Zagros Editions Inc.
What is your most unusual talent?

I can draw a portrait in 10 minutes.
Where is the most interesting place you have been to?
Jamaica. I got to experience and explore the beautiful and natural nature of the country. When I was climbing the Dunns River falls I understand how our lives are sometimes depended on the others, and how important it is to support and help each other.
I saw it there, how the biggest joys in life is not depended on material things and you can enjoy every second of life if you really want to. I realized you could be the happiest person by sharing your time with the people you love and be satisfied.
What do you hope to be doing in ten years?
In my career, I hope to be a well represented actress and also a very successful architect. I hope to have my own TV show which is about renovating and designing houses. I hope I have changed so many lives towards a better life by that time.
In my personal life, I will have my own family that I can share my life with. I will be married to the love of my life and have amazing children.
Is there anything you would like to add that we haven't asked?
From my parents I learnt to be a hard worker and never give up till I achieve what I want. If somebody assign a task to me, regardless how hard it is, I don't quit before I get it done.
I also have strong social and communication skills which helps me to make friend easily.