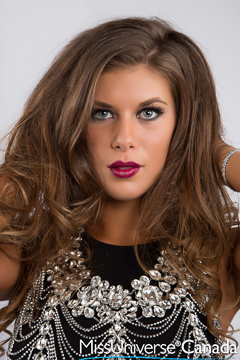 Height: 5'11″
Hometown: Timmins, ON
Hannah Amodeo is 20 years old and was born and raised in Timmins, Ontario where she grew up with her family. She is the youngest of four, with 3 amazing older sisters. Hannah's motto is to live life to the fullest, step outside of her comfort zone and take chances, and most importantly to remember to appreciate every single moment before it passes by. She believes that one of the greatest things in life, besides having passion, is to never take anything for granted because no one will ever appreciate the simplest joys that can come of them. She is kind-hearted, caring, and a compassionate young woman who enjoys spending time with all her loved ones.
Hannah is passionate about living a healthy and active lifestyle. Sports have been a huge part of her life growing up. She began running cross-country and track & field in elementary school through to High School, as well as playing basketball, soccer, and volleyball. With her thriving in her sports, she was scouted by Laurentian University and Cambrian College in Sudbury, ON. to continue playing Volleyball.
After completing the Pre-Health Sciences Program at Northern College, Hannah took a year off to decide her career path. She is working as a Community Relations Coordinator (CRC) and as a waitress at Boston Pizza. Because Hannah loves to help people and animals, she spends her spare time volunteering at The Lord's Kitchen. After all, caring for others comes easy to Hannah.
Some of Hannah's hobbies include; exercising, maintaining a healthy diet, playing women's league basketball, snowmobiling, cross-country skiing, going for nature walks at the cottage or in the trails with her two puppies, and what she enjoys doing most is spending time with friends and family.
Miss Universe Canada is Hannah's second pageant and she is ready to take on another challenge to learn and grow from.
"I've always considered myself to be like Sandra Bullock in the movie 'Miss Congeniality' because I never thought in a million years that I would be a pageant girl; just a big goof who's trying to wear the heels without falling on her face!"
Haven been given the chance to participate in a National event brings absolute joy to her because of its unique opportunity. Hannah is confidant and incredibly excited and looks forward to the many laughs, and memories that will come from meeting girls around the nation to compete for the title of Miss Universe Canada 2015.
Sponsors:
Amodeo Family, Columbus Chiropractic Clinic, City of Timmins, Hair by Paul Cousineau, Katelyn Malo Photography, Colantonio Construction, Executive Director TDH Foundation- Janna Burke, Bermuda Tan, Bessie Schultz (aunt), Friends and Family
Languages spoken fluently (please include your native language if English is not your native language).
Bilingual in English, and French
What are your interests and what do you enjoy doing the most?
Spending time outdoors
Spending time with friends and family
Playing sports
Maintaining a healthy lifestyle
List any special training you have had (music, art, drama, dance, etc.)
None
In what sports, if any, have you participated?
I have participated in almost every sport out there because I am a fairly competitive individual:
Cross Country (grade 2-8)
Track and Field (grade 2-9)
Senior girls Basketball (grade 9-12)
U-19 Basketball, OBA (2009-2010)
Senior girls Volleyball (grade 10-12)
Girls Soccer (grade 9-12)
Name one person, other than your parents, who has had the most influence on your life. Why?
My three older sisters. They've been looking out for me since day 1. Always there for me through every single obstacle in my life and no matter what happens they are always supporting me with all their love. If it weren't for them I would have never even had the opportunity to participate in Miss Universe Canada. They are the reason I attended Miss North Ontario 2014, and that Pageant is the reason that I am here, attending this one!
What is your proudest personal accomplishment (other than participating in this pageant)?
Other than participating in this pageant, my proudest personal accomplishment is taking control over my own thoughts and instinctiveness/feelings. I think that learning comes from things that I have done and seeing, and I am continuously learning about that every single day and I know that in order to be successful in life I've got to listen to my own instinctual thoughts.
Another proud and personal accomplishment for me was attending Miss North Ontario Regional Pageant 2014 because I never thought in 1000 years that I could've done anything like that and I did because I stepped outside of my comfort zone. Again listening and learning from my own thoughts and experiences.
What is the most interesting or unique thing that has ever happened to you and/or what is the most interesting thing about you?
Most interesting and unique thing that has ever happened to me was winning Most Photogenic Award and Supermodel Award at Miss North Ontario Regional Pageant.
What is your career ambition and what are you doing or plan to do to accomplish that goal?
At this point I am keeping an open mind to everything that I am doing. I am figuring it out, day by day, step by step. There's no one job that I am interested in pursuing. Careers that I would love to pursue in is modelling, helping people (either mentally or physically) or as an esthetician.
What would be your "dream job" in life?
High Fashion and/or swimsuit modelling.
Are you currently a student?
No
Are you currently employed?
If yes, what is your occupation?
Waitress, and Community Relations Coordinator (CRC) at Boston Pizza, Timmins.
Describe where you were raised and what your childhood was like.
I was born and raised in Timmins, Ontario, in the house that I am currently living in. In the house that I was raised in I was the youngest out of four girls (Kayla, Megan, Selena, and myself) and my two parents (mom and dad). During my childhood and still to this day I have very close relationships with my entire family; spending ample time with them all. Lucky to be able to live in the same town as all my grandparents, aunts and uncles, and cousins! Family, respect and loyalty mean everything to us. The town in which I live in have a population of 45,000 therefore living here is a lot less slower paste than it would be living in Toronto or Vancouver.
List any interesting or unusual jobs you may have had.
Dr. Raveendran (Gynecology Office): Assistant secretary
Boston Pizza: Waitress, and Community Relations Coordinator (CRC)
List any volunteering you have done.
Volunteered at the Lord's Kitchen on Thursdays
Volunteered by getting food/ groceries for funeral lunches, and Knights of Columbus lunches.
What is your most unusual talent?
My most unusual talent would be quoting movies. Every movie that I've seen I'm able to quote it. Haha
Where is the most interesting place you have been to?
Have not and wish to see the world but the most interesting place that I have been to is Jamaica
What do you hope to be doing in ten years? 
In 10 years I hope to be a very successful individual who has a very high end job that makes me love going to work every day and Meeting my Prince Charming!
Is there anything you would like to add that we haven't asked?
YES! I'd love to thank all of you for giving me this amazing opportunity to participate in Miss Universe Canada. I am greatly honoured to be a part of this event.