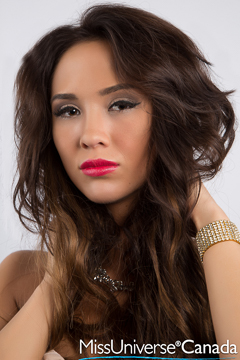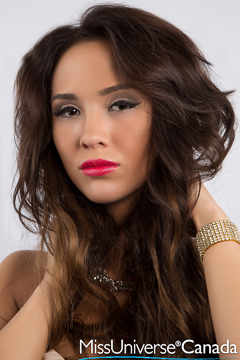 Height: 5'6″
Hometown: Windsor, ON
Joana Szeen was born and raised in the beautiful "Rose City", Windsor, Ontario. Confident, intelligent and with a great sense of humour, Joana's family and friends have watched as she has grown from an "ugly duckling" into a beautiful, independent and well-educated twenty-three year old woman. Joana is an inspirational role model that effortlessly embodies all the qualities off Miss Universe Canada: poised, elegant, intelligent, beautiful and genuinely compassionate. Joana is truly an all-Canadian woman that can best represent our country to the world.
As a youth Joana was very shy because of her facial eczema. She was blessed with a large family and believes their unconditional love is what gave her the confidence to overcome her insecurities. Joana eagerly combined a healthy active lifestyle with music, the arts, education and extracurricular leadership activities. Her hobbies included soccer, singing in musicals, ballet and figure skating. Joana's love for musical performance encouraged her to join her sister in the local marching band, Spirit of Windsor, where she played the Alto Saxophone. Passionate about leadership from a young age, Joana consistently held a position in student council throughout her elementary and high school careers. Today she is grateful to understand the pressures of bullying, which can severely affect a child for the rest of their life.
At the age of eighteen, Joana moved to the East Coast to attend Dalhousie University in Halifax, where she majored in International Development Studies (IDS) with a minor in Philosophy. Her goal is to obtain a degree in law. Joana's passion about global issues from a young age inspired her to pursue a career in Human Rights. She has dedicated much of her life to advocating for issues such as environmental & animal rights, women's empowerment and cancer research. Since 1995, Joana has participated in a biannual bicycle race in Niagara Falls called "Bikes and Barrels" to raise money for the Canadian Cancer Society.
While studying IDS, Joana learned to incorporate the study of politics with various social sciences to gain a critical perspective on global issues. The program trained her to be an active, engaged and informed citizen. For example, in her program she learned to consider issues of debt, development assistance, foreign aid and natural disasters from a variety of political viewpoints. In her second year of University Joana raised money to build a well in Ethiopia.
Joana understands that to truly represent Canada you must walk in a Canadian's shoes. When she was thirteen she set her goal of visiting all ten provinces in Canada. By age twenty-one Joana achieved that goal. She was able to witness first hand the beauty of our great country. During those years Joana spent meaningful time with people from all walks of life, race, and ethnic background. The wealthy & poor, young & old, the mentally & physically ill and has even visited the imprisoned. Joana's most eye-opening experience was her year dedicated to learning more about First Nations and visiting First Nations Reserves across Canada. From the timber-rich, majestic Rocky Mountains, to the golden plains and endless blue skies of our Prairies, to the Great Lakes, French Quebec, the Appalachian Valley, the Maritimes and Acadians, Joana knows that there is so much to see and learn about Canada. She hopes to inspire others to learn more about Canada by travelling to each province and keeping an open mind to different kinds of people.
Joana Szeen is a prime example of the power of positive thinking and understands that no matter what dream or calling you may have, "whatever the mind can conceive & believe, it can achieve." Regardless of how many times you have failed in the past or how high your dreams may be, absolutely anything is possible. Joana hopes to inspire others to believe in themselves, to rid themselves of their fears, insecurities and superstitions, and to direct their minds to achieve their greatest potential.
Joana is eager to win the Miss Universe Canada title, which will enable her to represent communities across Canada. Joana will continue to travel through Canada to further advocate for renewable energy, equality for women and minority groups, education, anti-bullying, indigenous rights, human rights and social issues worldwide.
"Remembering that first impressions are not always correct, you must always have faith in people, and most importantly, you must always have faith in yourself." – Elle Woods

Sponsors:
Windsor Chinatown, Photo Gold, Exclusive Clothing / Flexx, Yee Pharmacy, Pomegranate Restaurant, Hoi Sushi, Ahmad A. Taam Photography, ReNu Kitchen, Palazzo Moda – Women's Couture, Saci Salon, BVogue, Queen of Lashes, Friends and Family
Languages spoken fluently (please include your native language if English is not your native language).
I speak English fluently and am currently studying French and Cantonese.
What are your interests and what do you enjoy doing the most?
I favor any kind of travel experience. There is nothing better than travelling to a new or familiar place, enjoying a meal with great company, visiting the local art galleries and museums, listening to live music and learning more about the world through art and culture. On my down time I love to read both fiction and non-fiction. I also love to get creative, whether it is through writing, painting or designing clothing.
"The only people for me are the mad ones, the ones mad to live, mad to talk, mad o be saved, desirous of everything at the same time, the ones who never yawn or say a commonplace thing, but burn, burn, burn like fabulous yellow roman candles exploding like spiders across the stars." – Jack Kerouac, On the Road
List any special training you have had (music, art, drama, dance, etc.)
Stage Performance
Musical Performance
Acting (Theatre)
Runway
Singing
Public Speaking
Saxophone
Ballet
Figure Skating
Fitness and Nutrition
Acrylic Painting
In what sports, if any, have you participated?
In my youth I was trained in figure skating and ballet. I also played all the seasonal sports, favoring soccer and track & field. I love challenging myself by trying new physical activities. I have so much energy but prefer recreational versus competitive sports. During the spring and summer months I enjoy volleyball.
Activities I enjoy are:
Volleyball
Soccer
Rock Climbing
Running
Yoga & Meditation
Curling
Weight training
Cycling
Swimming
Kickboxing
I participate in a bi-annual 60km Bike ride in Niagara Falls region called "Bikes and Barrels", a group out of London dedicated to raising money for the Canadian Cancer Society. This inspired me to participate in my first triathlon in 2014, where I ranked top three overall.
Name one person, other than your parents, who has had the most influence on your life. Why?
Cara Delevigne came into my life when I needed a role model the most. Cara has a contagious attitude. She is spunky, wild, fun, spontaneous and courageous. Yet, Cara is filled with grace and beauty. She is a modern woman, unafraid of being true to herself and standing up for what she believes in. But most importantly, Cara's personality transcends her. Like a feather, Cara is able to effortless reach people in the farthest corners of the world.
My goal as Miss Universe Canada 2015 is to transcend. When people think of Miss Universe Canada they envision poise, elegance, intelligence and physical beauty. They see a woman who is celibate with her femininity, but a strong voice for all. I am an all-Canadian girl. I embody multiculturalism, education, tolerance, peace and hope. I am without judgment. I carry the heart of our First Nations. I will represent our country with strength and dignity to the world.
What is your proudest personal accomplishment (other than participating in this pageant)?
My proudest personal accomplishment is overcoming issues of insecurity. I achieved this by challenging myself to do two things. First, I admitted to every lie I had ever told in my whole life. Second, I stopped wearing make up. It took time and a lot of confidence, but the feeling of being able to walk confidently without the weight of those two major insecurities on my shoulders made me truly beauty inside and out.
What is the most interesting or unique thing that has ever happened to you and/or what is the most interesting thing about you?
The most interesting thing about me is that I've travelled to every province in Canada. I hope to someday soon complete the journey through my Native land and visit our three territories!
What is your career ambition and what are you doing or plan to do to accomplish that goal?
My career ambition is to work in Human Rights. Amal Clooney is a celebrity personality that I look up to in this regard. I plan on continuing to pursue opportunities in Human Rights with my community and across Canada. I will apply for internships with the government, reach out to communities to schedule workshops and complete my LSAT so that I may complete my post-secondary education with a Law Degree.
What would be your "dream job" in life?
My dream job in life is the position of Miss Universe Canada 2015. I would love to use my platform to travel through Canada and the world to learn more about the world. I would love to see how our history of colonization has affected these various nations first hand and use that knowledge to better strengthen Canada's democratic political ties with the world.
In addition to my goals in pageantry, though it is difficult to name exactly the title of what I want to be, I know the qualities of who I want to be. I strive to be in a role of leadership, making a good salary, working with women and youth, possibly in politics, with travel and networking as an important part of my responsibilities.
Are you currently a student?
International Development with a Minor in Philosophy.
Are you currently employed?
Yes
If yes, what is your occupation?
I have spent two and a half years working professionally in the field of Marketing. I am currently working freelance in Marketing & Communications with specialization in Social Media Coordination, Advertising, Public Relations, Fundraising and experience with Graphic Design and Web Coordination.
Describe where you were raised and what your childhood was like.
I am blessed to have grown up in Windsor, Ontario, also known as the "Rose City" or "The City of Roses". Windsor is part of the Essex-County region of Southwestern Ontario. We have a close economic and social relationship with the United States due to our proximity to Detroit and relationship with Ford Automobiles. Windsor may feel like a small town at times, which has inspired a love for animals and nature, but our continual expansion has encouraged an appreciation for multiculturalism.
My grandparents taught me the value of family, which has played a significant role in my life. My mother taught me tolerance, how to prioritize and a strong work ethic. I learned to be a go-getter from my father. My brother taught me compassion and generosity. My sister taught me forgiveness, patience and kindness. I was blessed with a close family that has inspired me with the pursuit of their individual life goals.
List any interesting or unusual jobs you may have had.
Cashier
Tradeshow Exhibitor
Event coordinator (profit and non-profit)
Marketing & Social Media Coordinator
Graphic Designer
Public Relations Coordinator
Tutor for Math & English
Camp Counselor
Model
Executive Assistant
List any volunteering you have done.
I am a strong advocate of volunteering. Not only does volunteering provide a great service for the people, it is a tremendous resource for young people to learn about important professional skills such as responsibility, social skills and conviction. Volunteering also strengthens communities and creates lasting relationships through unique experiences.
Canadian Cancer Society
Bikes & Barrels
Hospice Windsor-Essex
World Vision
Canadian Red Cross
Downtown Mission
Humane Society
TedX Nova Scotia
Students Unite
If You Build It (Renewable Energy Project)
Save the Bedford Waterfront
Common Roots Urban Farm
Women's Empowerment, Youth Empowerment and Green Energy Workshops
Look Good Feel Better
A Glimmer of Hope
What is your most unusual talent?
My most unusual talent is optimism. I have the unique ability to see the light in every person and situation. Even the worst of where hope is lost, there is great sadness, or terror. I see the best in everything and everyone.
Where is the most interesting place you have been to?
The most interesting place I've been is Washington, DC. I really appreciated my visit there because I got to see the great monuments of the American Presidents and feel the immense power that emanates from each building, all while soaking in the beauty of the East Coast.
What do you hope to be doing in ten years?
In ten years I hope to be working in some form in Human Rights, whether it be for the government or the United Nations. I hope to have completed my University Degree in Law and have travelled to ten countries. Finally, I hope to be a role model for young Canadians as they embark on their own journeys.
Is there anything you would like to add that we haven't asked?
When I put my heart into something, I commit myself to perform to the best of my ability and a positive attitude. My strong social skills and optimistic approach allow me to adapt quickly to almost any environment with confidence and ease. Furthermore, I know when to ask for help and how to accept it because admittedly, I am not perfect!