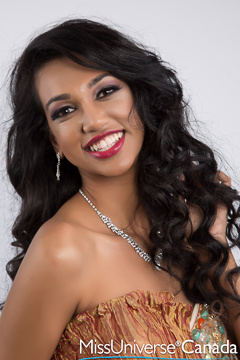 Height: 5'10″
Hometown: Brampton, ON
Maleeka believes that Canada is one of the most beautiful countries in the world. Having travelled to numerous destinations across the Caribbean and North America, Maleeka is proud to call herself Canadian. She believes that she embodies the true Canadian values of: empathy, tolerance, acceptance, friendliness and love for all.
Maleeka is a graduate of the University of Toronto. She completed her BSc. in Life Sciences (honours), having majored in: Molecular Biology- Genetics, Sociology and English. Her life goal, other than being part of the Miss Universe pageant, is to be a paediatric surgeon. She believes that by providing the appropriate healthcare and improving quality of life for children, we can influence the changes required for future generations' overall wellness, satisfaction with life, and positive impact on the environment as a whole.
Maleeka balances academics, sports and the arts. She enjoys volleyball where she primarily plays as a setter. In addition, she enjoys competing in marathons and runs. She is a gym junkie and believes that exercise is the best therapy to enrich both the body and soul. Maleeka also writes poetry and loves to sketch.
As a national delegate for Miss Universe Canada, Maleeka has a platform and forum to speak about the social issues that are plaguing society. These include: sex trafficking, women's rights, children's rights, animal rights and the overall difficulties and challenges that young adults face. She strives to be a role model for young women and act as an ambassador for young people in her country. She currently mentors young adults in numerous high schools.
Maleeka currently works in clinical research where she studies diabetes. She has also explored the role different genes play in instances of cancer and disease. As such health and healthy lifestyle choices are very important to her. In addition she has studied and conducted research on the social stigma of HIV/AIDS. She strives to impart this knowledge and raise awareness among individuals in her society, in particular youth.
Sponsors:
Sacha Cosmetics, Hanh Salon and Spa, Glamour Couture, Health Plex Dental Centre – Dr. Heena Vyas, Beauty is Bold- Saira K., Bikini Bay, Moksha Yoga Brampton, New Looks Salon, Rodeo Shoes – Bramalea City Centre,  Urban Light Studio, Friends and Family
Languages spoken fluently (please include your native language if English is not your native language).
My first language is English, however I studied Spanish, French and Hindi in school.
What are your interests and what do you enjoy doing the most?
I love sports and engaging in physical activities. In addition, I write poetry and short stories. I hope to be published one day.
List any special training you have had (music, art, drama, dance, etc.) 
I have trained in the Indian classical dance, Bharata Natyam. In addition, I have received vocal (singing) training; I am a soprano 1. Furthermore, I have a passion for drama. I played the lead female protagonist in numerous high school and middle school plays.
In what sports, if any, have you participated?
I have participated in numerous sports both competitively and for leisure. My favourite sport is volleyball. I also enjoy swimming, tennis, badminton and track. I love participating in marathons and half marathons. My most recent marathon was the Scotiabank Marathon in Toronto.
Name one person, other than your parents, who has had the most influence on your life. Why? 
I believe it would not be fair to name one individual who has influenced my life, when I have been inspired and mentored by so many. However, if I had to choose, the writings of Lucy Maud Montogamery has shaped my childhood and influenced me. The first novel I read when I was a child, was Anne of Green Gables. This novel, in particular to protagonist Anne, inspired me to study hard and follow my dreams. In addition, the fantasies that the words in this novel created also inspired me to write stories and poetry of my own. This led me to pursue a degree in English.
What is your proudest personal accomplishment (other than participating in this pageant)? 
My proudest accomplishment was graduating from the University of Toronto (St. George) having completed majors in: Genes and Genetics, Sociology and English.
What is the most interesting or unique thing that has ever happened to you and/or what is the most interesting thing about you? 
An interesting thing about me is that I know how to isolate genes and test for its upregulation or downregulation in an organism. In a lab, I once explored whether I had the gene associated with caffeine metabolism. As it turns out, I am a "fast" metabolizer of caffeine. However, I have never drank coffee; even though, I have pulled numerous all-nighters throughout my school and work life.
What is your career ambition and what are you doing or plan to do to accomplish that goal? 
I have wanted to be a Paediatrician since I was 3 years old. Since then, my ambition is always been the same. I am currently working toward being a Paediatric Surgeon. I have completed my undergrad and currently studying to write my MCAT.
What would be your "dream job" in life?
My dream job is to be a Paediatric Surgeon.
Are you currently a student?
Yes – part time
If yes, where?
Area of study:
I have completed my Honours BSc. from the University of Toronto (St. George). Currently I am completing my diploma in Clinical Research at Humber College. I will be applying to do my MSc. in Molecular Biology or Clinical Studies.
Are you currently employed?
Yes
If yes, what is your occupation?
I am a Clinical Research Assistant (Intern) at LMC Diabetes and Endocrinology.
Describe where you were raised and what your childhood was like.
My family immigrated from Trinidad and Tobago when I was younger. I remember looking through the windows of the plane and seeing Canada for the first time; I fell in love. Canada is one of the most beautiful countries that I have ever been to.
My childhood was amazing and adventurous. I was always active and a bit of a troublemaker. I remember building tree houses with my brothers and using household furniture, sheets and appliances without the consent of my parents. Also, we once created a "skating rink" inside our house by pouring my mother's bath oils, lotions and cream on our wooden floor so we could "skate" around the room; much to my mother's dismay.
I am truly blessed to have supportive and loving parents who allowed me to use my imagination and explore my passions. Growing up, we only had two rules: behavior and schoolwork. We were rewarded for performing well in school and being respectful. As such, this created an environment that ensured we strived for excellence.
List any interesting or unusual jobs you may have had. 
I worked at Royal Victoria Hospital as a Planning Assistant and Equipment Coordinator. It was one of the most interesting and enriching jobs that I had. I worked as part of the Planning and Redevelopment team that conducted and ensured the expansion of the Hospital. Currently I work at LMC diabetes and Endocrinology as a Clinical Research Assistant. At LMC we provide complete care in Diabetes and Endocrinology. Furthermore we provide research to promote wellness and develop future therapies.
List any volunteering you have done.
I have volunteered at Ontario Early Years Centre to facilitate programs and activities for parents and caregivers to interact with their children. I have also been a peer mentor for high school students. In addition, I volunteered at UofT's Brain Day, where I taught students about the anatomy of the brain and how to protect it.
What is your most unusual talent?
I can touch my nose with my tongue.
Where is the most interesting place you have been to?
I have travelled to numerous destinations and been on numerous adventures, but one that I remember the most is snorkeling in Nylon Pool (Tobago). The boat travelled some distance into the ocean, to a place where the water was as crystal clear and calm as a pool. It was one of the most beautiful experiences of my life. The boat that I travelled in had a glass bottom; as such, I could see all the fish and sea creatures swimming underneath. It was truly remarkable to experience.
What do you hope to be doing in ten years?
In 10 years, I hope to be a Paediatric Surgeon and own my own clinic. In addition, I would like to travel as a volunteer doctor to treat children and patients in less fortunate countries. My goal is to inspire, motivate and empower our youth and women to pursue professional fields, including science.
Is there anything you would like to add that we haven't asked?
I have been asked about who has influenced my life, but I have not been asked about my role model. My role model is my dad. He (with some help from my mom, of course) has molded me into the person that I am today. My dad is my best friend.