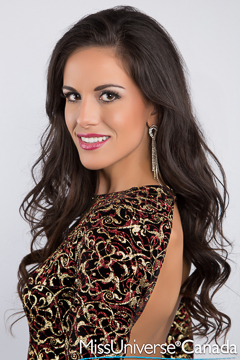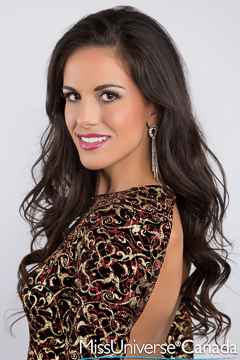 Height: 5'10"
Hometown: Ajax, ON
At the age of three, Melanie was already performing on stage. This is when her love for performing ignited. To this day, Melanie performs in different aspects of the entertainment industry, on stage, on camera and in her role as a business entrepreneur. Melanie's first performance started with dance, and has been dancing now for over 20 years. Melanie grew up as a competitive dancer and at a young age understood the discipline required to "compete". Dancer transformed theatre actor, Melanie performed in various theatres and musicals within her community. Melanie was 16 when she joined a Toronto talent agency for modeling and television acting and was introduced to a completely different aspect of the entertainment industry. Melanie ignited on television and was seen on The Women's Network, The Shopping Channel, MTV, a TK Maxx commercial in Europe, in print in retail catalogues, and worked in sitcoms, music videos and films in small roles.
Melanie is a graduate from Brock University with a BA in Arts and a minor in Dramatic Arts. She has also obtained a postgraduate degree at Centennial College in Advertising Media Management and Marketing. After graduation Melanie had continued to strive forward in her own business while working with several marketing and promotional companies to expand her business knowledge. The entertainment industry has become her passion and she is anxious to strive with a fresh attitude and an appetite for improvement.
Melanie's experience in the Entertainment Industry started at a young age and greatly impacted her life. At the tender age of 16, Melanie started her own dance company to teach young disadvantage children and allow them the opportunity to express themselves through dance. Her extensive experience at a young age has provided her with a skill set to overcome challenges and face her fears head on. Melanie's life ambition is to be a role model to the younger generation. She believes that every life experience helps to make you a stronger individual and she hopes by sharing her life story she will be able to motivate others. The title of Miss Universe Canada will give Melanie the exposure and ability to reach more people, specifically children. Hardwork, passion, commitment, determination and resilience are the strengths of her personality. The foundation of her life mission is to help others and change lives. Melanie has a big heart and with her varied business experience in the entertainment field, she hopes to help people through the art of dance, physical fitness and healthy living. Not only by leading by example but by encouraging others to follow their dreams and showing them that anything is possible if you truly want it.
Sponsors:
Kimbercroft Day Nurseries, Get Low Dance Company, Diva's World, Ci Ci Salon & Boutique, Optimum Bodies, Caribbean Color, Vivacite Laser & MediSpa, Devyani Design & Production, Friends & Family
Languages spoken fluently (please include your native language if English is not your native language).
English and basic Spanish
What are your interests and what do you enjoy doing the most?
More than anything what I enjoy the most is a good adventure. To me, a good adventure consists of traveling to countries I have never been to and learning different cultures and traditions. I have traveled throughout Thailand, China, Ecuador, Panama, the Caribbean, Mediterranean, Canada, USA, and back to my roots throughout Europe. I love the Latin culture and plan to visit all of Central and South America in the near future. I also love to challenge myself to new heights and explore new experiences both mentally and physically. I do so by reading business books, taking business courses, practicing my Spanish, also at the gym and through dance. I have trained in many cultural dance styles. My newest challenge is to be a great cook. I have recently become a big foodie and have grown to love cooking healthy, clean meals for my family and friends.  I truly believe it is the experiences in your life that enrich you as a person.
List any special training you have had (music, art, drama, dance, etc.)
Since a young age I have always had a great passion for the arts and entertainment industry. Since the age of 3, I have trained in jazz, tap, lyrical, ballet, hip-hop and musical theatre. After high school I joined my University Dance Team and started choreographing my own hip hop/tap routines while training in culture dance styles such as Highland and Irish Dancing. Over the past few years I have been training and performing in Belly Dance, Bollywood, Latin, Brazilian Samba and Hawaiian. I have also trained in Las Vegas at a belly dance intensive workshop with famous international belly dancers.
I grew up taking music theatre courses in local theatres such as Act One. At the age of 16 I started enhancing my acting skills and took multiple film and TV acting courses including how to audition for TV and film, commercial training, along with monologue and character classes. At the same time I took modeling courses that trained in runway, make up, posing and auditioning. At 17 years old I asked to attend the IMTA convention in New York City, which further enhanced my modeling career. Lastly, I have graduated from university with a minor in Dramatic Arts that explored theatre technique, script, and improvisation.
In what sports, if any, have you participated?
Growing up I enjoyed the following sports: skiing, biking, volleyball and basketball. I will always remember going to Guelph Bible & Basketball camp every summer growing up. I love basketball and will never turn down a Raptors game. As a child I had asthma attacks while running, but in the last two years I have trained myself to properly breathe while running and it has been a great accomplishment of mine to be able to run 5k at a time. I plan to take part in my first marathon this summer. Yet dancing is still my number one sport and I continue to challenge myself in new dance styles.
Name one person, other than your parents, who has had the most influence on your life. Why? 
The most influential person in my life, other than my parents, is my Nana. My grandparents immigrated to Canada with 3 young children and started out with very little, yet worked hard to build a strong foundation for my family. My nana was from Spain and even though her second language was English, she was determined to open her own childcare facilities to provide her family with a better life.  My nana has a love for children and was able to see a demand for quality care in Toronto. My nana, now 91 years strong with a personality of a 50 year old, is still successfully running her business after 45 years. I admire her for making her passion into a successful career. She has taught me the greatest life lessons and has supported me throughout my entire life. When I am distraught I always think of her wise words "everything happens for a reason" and "what's meant to be will be." From her wisdom I have learned to look past every bad situation and understand that when one door closes another door opens. Though she has lived through many trials and tribulations, my nana has always been positive and is never seen without a smile. She is the reason I always strive to be my best.
What is your proudest personal accomplishment (other than participating in this pageant)?
One of my proudest personal accomplishments is receiving recognition by Burman Books who was interested in hearing my life story for their fourth edition of "Making it in High Heels". They strive to find inspiring females to tell their stories to help motivate women of all ages through their hardship. I started my own business at the age of 16 and was provided an award for best summer business amongst young entrepreneurs while I was completing my postgraduate program. It is successfully running to this date. Throughout the past 11 years I have had many challenges with starting a business and I am honoured to be able to share my story in hopes it will connect with the readers and help them along in their journey.
What is the most interesting or unique thing that has ever happened to you and/or what is the most interesting thing about you?
Last year I took the initiative and risk to move to another city to support a company's expansion I was partnered with to test their business growth. They knew I was a professional who worked hard and had the knowledge in business development. I was given a tight timeframe of one month to make my mark, with no leads, and I was under great pressure. Within two weeks of learning the market, meeting potential clients and strategizing a plan I was able to maintain an on going business for them. This was an experience I will never forget. I learned that I have a great determination to be successful in something I believe in. I am not afraid of a challenge and I find it thrilling to overachieve them.
What is your career ambition and what are you doing or plan to do to accomplish that goal?
My career ambition is to obtain an established role within multiple aspects of the Entertainment Industry, including dancing, modeling, acting and hostessing, while obtaining as much experience as possible to expand my skill set. I also plan to continue to build my own business and expand into different avenues, including the Entertainment Industry. I am already in the midst of achieving my career ambition as I have spent over 10 years working and networking within the Entertainment Industry and building a foundation for my own company. I plan to further enhance my career by continuing to research more ways that I can expand my knowledge and experience within the Entertainment Industry and take on all unique job opportunities. To expand my business, I plan to take courses to enhance my business knowledge and go out into the community to meet and network with future potential clients.
What would be your "dream job" in life?
My dream job would be to work with the Miss Universe Canada and Beauties of Canada organization. I have worked several years in many aspects of the entertainment industry and through pageantry I have found a place I can really connect with. It was pageantry that provided me the opportunity to do what I love most: connect with people, travel, entertain and be a role model to the younger generation.
Are you currently a student?
No, I am not.
Are you currently employed?
Yes
If yes, what is your occupation?
Owner of Get Low Dance Co., and freelance dancer, brand ambassador and model.
Describe where you were raised and what your childhood was like.
I was raised in Pickering, Ontario and my childhood was very eventful. I was very athletic as my parents had me test out all sports at a young age to find my niche. Both of my parents worked full time, which taught me to be responsible and independent at a young age. I will always remember how every year my parents would take us to the theatre in Toronto.  This grew my passion for the arts. My parents would also ensure we had the opportunity to travel and see the world, and every year we would go on a family vacation. I have my parents to thank for bringing me up in a positive environment and pushing me to be the best I can be. Though they were protective, they have always been supportive. Great friends have surrounded me throughout my life, one being my best friend, April. I will always remember her asking me to come over to play my first day of kindergarten and I couldn't because I had dance lessons.I have always loved to multitask and keep myself busy growing up yet found the busier I was the more successful I was. It all started in high school when I was in school full time, working part time in a retail store, dancing competitively at my studio 4 times a week, starting up my business while keeping up with my homework to stay on the honour roll.
List any interesting or unusual jobs you may have had.
My most interesting job was taking my passion and turning it into a career. At a young age I was working in child care faculties with children from toddlers to 10 years old. This is where I created the base of my company, as I wanted to do more with the children then just assist the teacher. I started a dance program with the children where I would teach children who have never had dance experience before. At the age of 16 I created a dance program for educational facilities. The goal behind my new company was to spread awareness of fitness, exercise and culture through dance and share it with other communities and educational facilities. Having the opportunity to provide children a place where they could share a common interest with other kids was really important to me as I found the children who were the most shy would be able to express themselves through dance and actively involve themselves with the other children. There was one little boy who was autistic, but through dance he had grown which gave him the self-confidence to actively take part in my dance program just like the other children. He thrived with the others and all the children were now team members working together. At the end of the program, we did a dance recital for the parents who were amazed that their children were so creative and it brought joy to both the children and their parents. This was my reward and, to me, made all my hard work worthwhile.
List any volunteering you have done.
I have volunteered dance workshops and Dance-A-Thons for many educational faculties such as YMCA, Girls Inc and multiple childcare facilities and schools.
I have also volunteered for the following organizations:
Canada Day Parade
Special Olympics Toronto- Baseball and Soccer- August
Camp Jamoke
Carivaughan
Santa Clause Parade
Easter Parade
Uganda Orphanage
Light the Night Marathon
Toronto Waterfront Marathon
Rotary Club Auction
Mini Miss Diva Dance Pageant
Miss Beauties of Asia Pageant
What is your most unusual talent?
Two unusual talents that many people do not know about are: I can touch my tongue to my nose and fold my tongue in half and stick it out.
Where is the most interesting place you have been to? 
I have had the opportunity to work in and visit many interesting places. The most memorable and interesting place for me would be Gibraltar.  While I was there I went on a tour to learn the history Gibraltar, visit the Rock of Gibraltar and play with my favorite animals; monkeys. Gibraltar is where my great grandparents are from. I visited Gibraltar with my Nana and Mother and what I will always remember is having the opportunity to meet family for the first time that lived in Gibraltar and learning more about my family heritage.
What do you hope to be doing in ten years?
In the next ten years I hope to settle down with a husband and family while being able to continue to do what I love and share my passion with others across the nation. I hope to be established in my career and be a role model to the younger generation. I strive to help others along their journey through life by sharing my life experiences and knowledge.
Is there anything you would like to add that we haven't asked?
I am very honoured to have the opportunity to take part in this year's Miss Universe Canada. I have had wonderful experiences over the past 4 years taking part in both national and international pageants annually and I know this is where I want to be. I have fully dedicated my time to focus on Operation Smile and Miss Universe Canada to be able to give all I have toward the cause. With my extensive experience I have grown to be an independent, responsible, young role model and I only hope to be given the opportunity to showcase that to you all.