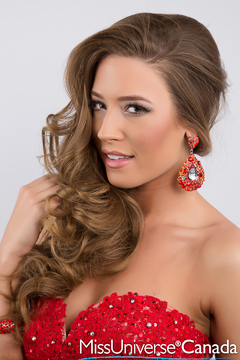 Height: 5'9″
Hometown: Sarnia, ON
Michelle McKay is an independent twenty five year old woman and is proud to say she is from Sarnia, Ontario.  Her infectious smile and outgoing personality draw everyone to her.  She is an inspiration and role model for children and youth.  Michelle is a firm believer in positive thinking and relishes the opportunity to inspire others to achieve their potential.  Seeing the good in people comes naturally for Michelle.  Her positive outlook on life has enabled her to be successful in everything she has set her mind to.
Michelle graduated from the University of Windsor with an Honours degree in Family and Social Relations with a minor in French.  Then, to reach her goal of working with young people, Michelle obtained her Ontario teaching certificate and she is qualified to teach at all levels from Primary to Senior.  Already fluent in French and English, Michelle has now started private lessons to learn American Sign Language so that she will also be able to work with an even wider range of children.  In becoming a professional educator, Michelle has started on the path to many of her career goals.  Since her graduation, she has spent the last year teaching French within the Lambton Kent District School Board.  Michelle also enjoys spending her time teaching and mentoring children who need extra assistance, to help ensure their academic success.  Last year she moved to Toronto, which, as the most multicultural city in the world, has afforded her the opportunity to work with children and youth of all demographics.  Now she is learning as much from them, as they are from her.  Michelle is passionate about working with individuals who face learning and behavioural concerns.  She will continue to work towards implementing programs that combat bullying and assist children and youth contemplating suicide.  Michelle has a strong desire to raise children's self-esteem and make a positive difference in their lives. For Michelle they are more than just children; they are our countries next generation of dreamers, the ones who will one day be changing the world.
The most important thing in life for Michelle is her family.  By them, she has always been motivated to work hard and follow her dreams.  Her mother encouraged her to always look out for others, lend a helping hand when needed, and to be non-judgmental and kind to people of all races, color or sexual orientation.  These valuable traits are one of the cornerstones of who Michelle strives to be.  Her experiences, aspirations, and successes can be directly attributed to the love and support from her family and friends.  They have shaped the person she is today.
Michelle has always enjoyed dedicating herself to a worthy cause.  She has worked tirelessly for many charity events, including The Canadian Cancer Society and the Heart and Stroke Foundation.  Having lost family members to these preventable diseases, these causes are very close to Michelle's heart.  Consequently, she organized and participated in the Annual Canadian Cancer Society Fashion Show and the Annual Black Tie event.   Michelle continues to be a strong believer in the power of volunteerism.  She volunteers many hours with her school board within the literacy program to increase the reading abilities of her students.  Having enjoyed her time as a volunteer with the Inn of the Good Shepherd soup Kitchen in Sarnia, Michelle is now helping to feed the homeless in the parks of Toronto.
Joining the teaching profession at a time of so many cutbacks, one of Michelle's proudest moments was when she created and taught a dance team for her students after school. These students are not given the chance at home to experience professional classes therefore she was eager to provide them with this opportunity.  She wanted to ensure students could get involved in this basic extracurricular activity.
Michelle McKay knows she is living out her dream by competing in the Miss Universe Canada pageant.  Through the MUC organization, Michelle has an even greater chance to serve to the children and youth that she has dedicated her life to.  She welcomes the opportunity to represent Canada on an International Stage.  During her time within the MUC family, Michelle has come to know previous titleholders like Chelsae Durocher and Riza Santos and she has seen first hand that winning the Miss Universe Canada title will endow her with an enduring platform to give back to her community.
Sponsors:
Michelle Weswaldi, Angeline McDonald from Bells and Bows, Tory McKay, John Blakley, Hughes Intelligence (Barry Bentley), Tanlicious, Beleza Swimwear, Dr. Rondinelli, Dr. Levy, Dr. Johnny Clubb, Shoreline Maintenance, Mucho Burito (Donna Hogan), John D'Andrea and Lisa Aubin, Garbos Fashion, Matt D'Odorico and Nathaniel Stellstra, Glass and Pillar Spa pedicure, Big Fish, Brownstones, Liquid Wild, Jeff McCoy, Nathena Alanlaealt, Steeves and Rozema, Ge Vollrath Pipeline Inspection Inc, Fix Auto, Sarnia Fine Cars, Precision Power Sports, Andrew Bain from Royal Le Page, Crabby Joes, Micro Sports, Sideways Grill, Teppermans, Bobby Neufeld, Erin McDonald, Maria Bradley, Lauren Gilhula, Friends and Family
Languages spoken fluently (please include your native language if English is not your native language).
I speak both English and French fluently.  I have also started to learn American Sign Language; this will enable me to interact with students who have hearing disabilities.  With this skill I will be able to not only aid in their academics, but to provide them with the same support the other children receive.
What are your interests and what do you enjoy doing the most?
Like the rest of my family, my interests are wide and varied.  One of my passions is being a professional educator.  I love helping students realize and achieve their full potential.  I also relish the opportunity to conduct extracurricular activities, particularly things that enhance gross motor skills, as well as a love for music; both of which I can accomplish by teaching after school dance classes.  Since being active is a passion of mine, I try to incorporate that into my teachings as much as possible. Passing on a heathy lifestyle to them is critical in both physical and mental health.
I have always been drawn to new experiences.  The opportunity to engage new cultures, and meet new people, is exhilarating.  As a result, one of my other favourite activities is travelling.
I learned at a young age that a tray of homemade cupcakes could put a smile on anyone's face, even on their worst day.  Ever since, I have always loved to cook, and bake.  The food history of every society gives us many insights into their world, and it is still the best way I know to bring families and friends together.
List any special training you have had (music, art, drama, dance, etc.)
I fell in love with the stage when I was a little girl, while receiving training in a series of dance types.  These include: hip hop, ballet, jazz, tap, and contemporary.  I danced competitively for five years and it was truly a big part of my life.  I love performing with a group and enjoy every moment on stage.  I learned that dance was an art form, one that can move people with every step you take.  This also helped me to fall in love with music at a young age, and I studied piano.  Through this opportunity, I was able to perform numerous recitals. This furthered my love of presenting, and performing.  During my year of teacher's college, I obtained a specialization in Drama, which will allow me to educate future students in this particular art.  I plan to pass my love of self-expression onto the children I teach.  Learning how to communicate feelings in a unique way is critical for developing self identity.
In what sports, if any, have you participated?
For more than fifteen years I participated and competed competitively in both Dance and Gymnastics.  My passion for these sports still exists, and I enjoy sharing my experience with my students.  I think it is important to introduce children to new experiences and activities that help them lead an active and healthy lifestyle.  By conducting after school extracurricular Dance classes I try to provide students the opportunity to get active, learn a new sport and experience a team dynamic.  I also enjoy figure skating, swimming, and beach volleyball.
People who know me, know that I love the Olympics.  Not only do the Olympics bring the world together, and reinforce values of fair play and inclusion, but closer to home I love how they unite all of Canada.  It's like magic.  As soon as you put a Maple Leaf on one of our athletes, our regional rivalries melt away, and we stand together in unanimous pride and support.
Name one person, other than your parents, who has had the most influence on your life. Why?
I believe all the wonderful people that have been apart of my life thus far have had an enormous impact on my development.  I am beyond lucky to have such a loving family and an abundance of wonderful friends but if I had to choose one particular person who has had the most influence on my life, I would have to say it would be my Nana.  She showed me unconditional love and support.  She taught me to be tolerant and kind to everyone no matter their race, ethnicity or economic status.  She taught me to be fair, to have good manners and the ability to show generosity and empathy towards others.  She was instrumental in teaching me these things and I am proud to carry on her values and morals.
I am saddened by the fact that she is no longer here with me, however, her spirit will remain with me forever and I will be forever grateful to have had such an incredible role model in my life.  I am competing for my dream with her blessing and support.  Through all of my experiences and with the help of all of the people who have supported me and impacted my life, I am confident that this teamwork is what will help me achieve my ultimate goal to win Miss Universe Canada.
What is your proudest personal accomplishment (other than participating in this pageant)?
The personal accomplishment that I am most proud of is completing my Bachelor of Education which has enabled me to become an Ontario Certified Teacher.  In today's society people most people change careers several times, moving to better themselves and move up a corporate ladder.  My dream has always been to become a teacher.  I am proud and personally satisfied to have the ability to be an active part of the education of students at such a dynamic moment in time.  Across Canada and throughout the rest of the world, our children and indeed the very education systems themselves are facing steeper challenges than ever before.  I consider myself lucky to be on the front lines at this crucial juncture, and I know the value of Education if we are going to overcome these monumental challenges.  If today's students can reach their full potential, I truly believe that there is no problem they cannot solve.  I'm not a scientist or a politician.  I can't resolve any major crisis on my own, but I believe in our kids, and I believe that together they can.  If we can ensure that every student feels safe and welcome at school, and if we give them the right tools, every child in this next generation has something great to offer, even if they just don't know it yet.  I want to help them find, and realize it.
What is the most interesting or unique thing that has ever happened to you and/or what is the most interesting thing about you?
The most unique thing that has happened to me is that I have been fortunate enough to be modeling throughout my academic career.  It has given me the opportunity to learn about photography, fashion and the creative process.  It has also enabled me to travel the world.  In 2011, I travelled to several new countries with Planet Beach to film a television show. In 2013, I was crowned Miss Tropic Beauty Canada, after which I competed in the Las Vegas World Finals and was able to place Fourth for Canada.  Presently, I am the face of Frank Lyman Designs.  I have done multiple national commercials, as well as billboards that are displayed worldwide and a series of catalogues.  Last year, I obtained the title of Top Model Canada and will now further this journey by representing Canada in Egypt this summer for the title of Top Model of the World.
What is your career ambition and what are you doing or plan to do to accomplish that goal?
My primary career ambition is to become a teacher and I have completed the first steps to make this dream a reality. In the near future I plan to continue volunteering in the schools, tutoring and working as an educator; and hopefully, through hard work, making myself known in the education world. I would ultimately like to become a teacher in the Toronto District School Board.  In addition to becoming a practicing teacher, I would like to raise the funds to open a homeless shelter in an under serviced community.  I believe everyone deserves a second chance and that nobody should have to go without the basic necessities.  With the help of trained professionals I want to provide a safe environment to those who need it, one in which they can get themselves and their lives back on track in a place that is free from judgement and ridicule.  This has been a dream of mine since I was a little girl and I am extremely determined to make it happen in my future.
What would be your "dream job" in life?
I am fortunate enough to have made my dream job my reality.  I have always dreamt of educating children.  I have taken the necessary paths to make my dream into a reality.  I love helping children and youth of all demographics.  I believe every child deserves a chance to do great things.  I have a strong ambition to raise children's self-esteem and to make a positive difference in their lives.  To me they are more than just children; they are our future.  Our next generation of dreamers and doers.  They have the ability to one day change the world.
Are you currently a student?
No, I am an Ontario Certified Teacher; I have recently graduated from the University of Windsor with my Bachelor of Education. In addition I have a Bachelor of Arts, (Honours) Family and Social Relations and a minor in French, also from the University of Windsor.
Are you currently employed?
Yes
If yes, what is your occupation?
I am currently a professional Educator and specialize in the French Language. I have spent the last year teaching within the Lambton Kent District School Board. I am qualified to teach at the following levels: Primary, Junior, Intermediate and Senior. I have also achieved additional qualifications specializing in Special Education, Reading, Dramatic Arts and Social Sciences.
Describe where you were raised and what your childhood was like.
I was raised in the small city of Sarnia, in South Western Ontario.  With a population of approximately 75,000 people, Sarnia is on the border between Ontario and Michigan, at the bottom of Lake Huron.  My family is very loving and supportive which means the world to me.  My parents have always encouraged me to reach for the stars and accomplish my dreams.  I have been taught to think and live a positive life.  With my family's guidance, I have been taught to show empathy and love to others.  My parents have always been excellent role models and encouraged me to have a strong work ethic.
List any interesting or unusual jobs you may have had.
One very interesting job I had was organizing the Western Ontario Preliminary Competition in 2014. I absolutely love participating and being a part of the Beauties of Canada.  With my leadership qualities and strong organizational skills it was a good fit and very fun to be a part of.  I enjoyed helping other girls follow their dreams and realize their potential.  I spent a few months helping the girls prepare by training them how to work the runway, how to walk elegantly in their evening gowns and encouraging them to add a little spice in their bikini walk.  I also helped them prepare for final questions by giving them advice that would help calm their nerves, stay focused and poised.  It was an absolute pleasure working behind the scenes and making sure the show was a complete success.  I could not be more proud of how confident the girls became and their talent truly surpassed even my expectations.  I love being a teacher, whether it is teaching children or teaching pageant competitors.  I am always willing to put others first and do whatever I can to make their dreams come true.
List any volunteering you have done.
I am a strong believer in the power of volunteerism, which is why I am always volunteering and looking for new opportunities to volunteer within my community.  I volunteer regularly assisting teachers with literacy programs, work one on one with students, and work and help students with behavioral issues.  I have volunteered on many different occasions with the Canadian Cancer Society raising funds and bringing awareness to this worthy cause.  My duties included organizing and participating in the Annual Cancer Society Fashion Show as well as organizing the Annual Raz Ma Taz Black Tie Event.
Every year I go door to door campaigning for the Heart and Stroke Foundation to raise money and awareness.  Also, as a teacher, I am always eager to participate and help raise awareness in the charities that the school board supports, such as: Jump Rope for Heart and The Animal Shelter.  Encouraging my students to become willing and eager to help others is something I will always strive to illustrate through my practices.
I also spend time volunteering with my local dance and gymnastic teams.
Whenever there is a local charity event happening, I look for opportunities where I can volunteer and take leadership rolls.  I am always ready and willing to volunteer in any capacity that I can, helping various causes not only raise money but make the community aware and involved.  There are several charities near and dear to my heart.  Most recently, I have taken a role to help raise awareness and funds for the Noelle's gift in Sarnia.  Tragically, fellow school teacher Noelle Paquette was brutally murdered in Sarnia January 1, 2013.  I will be partnering up with a local photographer, Jeff McCoy, and creating a benefit and fashion show to raise money on her behalf.  As a tribute to her legacy, we as a community have come together to raise funds in her honor, to give food, clothing, and supplies to less fortunate children.  Noelle was a teacher in Sarnia and had a big, warm heart for less privileged children.
In 2013, I started to raise funds for SOS Children's Villages and Operation Smile and have continued to ensure awareness is shared and funds are being collected. One of my most proud moments volunteering would have to be when I created and taught a dance team for students after school where they could come and learn a routine and perform in front of the entire school. I wanted to ensure students could get involved in an extracurricular activity, be a part of a team and be able to showcase their talents.
What is your most unusual talent?
My most unusual talent would be my ability to see the positive in every situation no matter how negative it may seem.  In today's society we are subjected to a lot of negatives and for many people they are quick to point out the negative aspects in every situation, forgetting that we can learn and grow from such negative and tragic events. I always relish an opportunity to ensure that I am not quick to point out or realize only the negative aspects in a situation.  Instead I try to look at ways this negative event can be used to achieve positive results in the near and distant futures.
Where is the most interesting place you have been to?
I am fortunate that through modeling I have been able to travel to many places that I otherwise wouldn't have had the ability to see or experience.  I find every place I visit whether it is the first or the fifth time I've been there extremely interesting. Being able to experience the new and different things each and every time and immersing myself in a culture that is different from my own provides with so many learning opportunities and experiences I can bring back and share.  One of the most interesting places I have been to was the Dominican Republic.  There I was able to see first hand the culture and way of life in this most contradictory of places.  Side by side on this tiny tropical island, lavish resorts dot the coastline while in stark contrast the impoverished local communities struggle just to survive.  Their humble existence and their ability to appreciate life without the materialistic items was truly inspiring. My family and I decided to bring some essentials to share, things such as toothbrushes and toothpaste, shampoo and soap.  Everyday things that we take for granted, but which are sadly not common or accessible for the people of the Dominican Republic.  We felt it was important and wanted to show our appreciation by providing them with a few simple necessities.  It was my favourite part of our trip.  There is nothing I love more or that provides me with more satisfaction than helping others and making a difference in their lives.
What do you hope to be doing in ten years?
In ten years, I hope to be married with children and instilling in them the same good family values I was raised with.  I hope to not only be a teacher but a guidance counselor as well, making a difference with our youth.  I will still be volunteering and involved in many community programs and projects and sitting on local boards voicing my opinion and where I can be a voice for those who don't have one.
In ten years I also hope that I will have realized my dream, running a homeless shelter in Toronto Ontario, where I will be providing them with the essential tools and professionals to get their life back on track in a safe environment.
Is there anything you would like to add that we haven't asked?
I would like to add that I am extremely determined to accomplish my ultimate dream of being crowned Miss Universe Canada.  I have been dreaming of this moment since I was a little girl and I will work long and hard to make this dream a reality.  I have the experience and training to represent Canada on an international stage, and I speak both of our official languages fluently.  I feel very strongly that this is such a key aspect of what it means to be Canadian, that Miss Canada should not merely represent one group or the other, but that she should be able to represent both groups equally.
I would like to use my experiences and gain new ones to make a difference in my community and in our country.  As Miss Universe Canada, I will be forever grateful to be able to use this title to make a positive difference in the world especially as it relates to children and education.