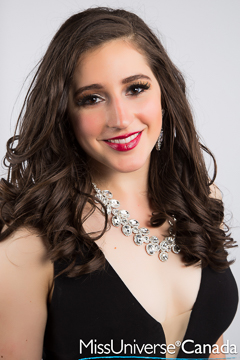 Height: 5'8″
Hometown: Oshawa, ON
Mikkailla Bolotenko was raised in rural Bowmanville just east of Oshawa. She enjoyed a wonderful childhood and grew up in a family that inspired one to do their personal best, and to never give up despite any or all obstacles. She spoke Hungarian, Russian, French, and English as a child, participated in many sports, styles of dance, was an avid artist, and studied some piano. She attended a French Immersion public school and on weekends attended Hungarian language school. At the age of 9, her family moved to the Netherlands, where she attended an International School. It was there that she was able to develop a deep seated patriotism for Canada, and travelled to numerous European countries. Mikkailla learned to respect and co-operate with individuals of other cultures at an early age on an International competitive Swim Team. She also continued to develop as a clarinetist in the school orchestra and studied dance at a local Dutch dance academy.
Upon returning to Canada, Mikkailla decided to pursue her dream of one day embarking upon a career as a professional ballerina. She balanced her career ambitions by maintaining a high academic record, expanding her musical abilities and being an active member of her performing arts school community. Mikkailla also supported the local Terry Fox Run for numerous years both as participant and in volunteer supervisory roles.
After attending York University in the Dance Program and the Oakville School of Dance, Mikkailla moved to Paris to continue training as a classically trained ballet dancer. While living there, Mikkailla was also involved in modeling. She also received intensive ballet instruction at institutions in the United States, and was blessed to work with some of the top instructors in the industry.
Unfortunately, her original career plans have to be altered due to a chronic injury. Nonetheless, Mikkailla realizes that although she may never dance professionally, she has many other opportunities in her future. It is once we truly become nothing that we can become everything, and that we are able to draw upon immense strength that we never knew we had to propel us to even greater heights. She has a passion for life, and a drive to make the most of the gifts she has been given. By working with religious Sisters, Mikkailla has discovered the pure joy in giving to our fellow man, and recognizes that once there is true peace in our hearts, then we can actualize true peace in our world.
Mikkailla will be studying at the Institute of Holistic Nutrition, and has decided to concentrate her efforts on helping those around her in need. She believes that the human condition is at its best when it is serving others through compassion, and that we are truly beautiful when we demonstrate our love to others. Mikkailla believes that by reserving judgments of others, we can establish a community based on the highest moral standards attainable. She is eager to become involved in charitable organizations, and hopes to encourage others to arrive at the realization that they are so much more than what they sometimes believe they are. She also hopes to return to the dance profession as a choreographer, and translate issues close to the human heart into movement. Mikkailla believes that we can accomplish so much more through love than fear, and if we remove any and all limitations placed on ourselves, we can become the highest version of ourselves that we aspire to be.
Sponsors:

Remax Jazz, Penny Lane Organics, Earthlab Cosmetics, ViraOne, TNS Helath Food Store, Family and Friends
Languages spoken fluently (please include your native language if English is not your native language).
Hungarian, French, English, as well as some German and Russian.
What are your interests and what do you enjoy doing the most?
I love to travel and learning about differences in cultures throughout the world, and revel in the fact that we are so much more alike than we are different. I also enjoy leading an active lifestyle, often spending much time outside, exercising, or swimming. I am also very interested in health, and am always seeking new ways to improve wellbeing with excellent nutrition.
List any special training you have had (music, art, drama, dance, etc.)
Ballet at a professional level in locations such as Paris, Berlin, New York City, and Chicago
Play the clarinet
Art has always been a hidden passion of mine
In what sports, if any, have you participated?
Competitive swimming on an International team; soccer
Name one person, other than your parents, who has had the most influence on your life. Why? 
Terry Fox has had an immense influence on my life, because despite so many obstacles facing him, he would not give up. He is such an inspiration, and truly demonstrates the power that an individual with a goal has to make positive change. He surpassed and was victorious over any and expectations, and is a testimony to the tenacity of the human will. The Terry Fox Foundation has raised millions of dollars for cancer research in a comprehensive manner that stimulates community interaction. Terry Fox has impacted the lives of countless Canadians and people all over the planet. He is an individual that we should all aspire to emulate.
What is your proudest personal accomplishment (other than participating in this pageant)?
The realization that despite everywhere I have been, everything I have accomplished, the most important things in life are found within the heart. I personally believe that the question we should ask ourselves is how much we have done for our fellow man, and how much more we are capable of doing.
What is the most interesting or unique thing that has ever happened to you and/or what is the most interesting thing about you?
The most interesting thing that has ever happened to me was being able to travel to 24 countries. Visiting places like Stonehenge, Auschwitz, The Vatican, Big Ben, The Eiffel Tower, and the Berlin Wall have helped me develop a true affinity for the versatility of culture, and what amazing things we can accomplish when united to one purpose.
What is your career ambition and what are you doing or plan to do to accomplish that goal?
I plan on devoting my life to administering to the needs of others by offering my services to non-profit organizations, actualizing my goal by first obtaining an education. I would like to leave the planet in an improved state for future generations, and will do whatever is in my power and capabilities to supply a means to that end. I would also like to choreograph at some point in my life.
What would be your "dream job" in life?
My "dream job" in life would be acting as a humanitarian, helping to empower our youth, as well as embodying the human condition in movement by applying contemporary and societal themes to dance as a choreographer. I would aspire to work in and establish a workplace that strives to embody love for the other through acts of compassion and service, with the knowledge that we can accomplish so much more through love than fear.
Are you currently a student?
Will be attending the Institute of Holistic Nutrition
If yes, where?
Toronto
Area of study:
Holistic Nutrition
Are you currently employed?
Yes
If yes, what is your occupation?
Ballet teacher
Describe where you were raised and what your childhood was like.
I experienced an ideal childhood in the outskirts of Oshawa, raised in a household to always do my best, follow my heart, and to never give up. At the age of 9, my family and I moved to the Netherlands, where I attended an International school. It is there that my deep love for Canada grew, and I was able to recognize at an early age how other nations view Canadians.
List any interesting or unusual jobs you may have had.
The most interesting job that I had was working with the Our Canada Project, an online sharing platform designed to inspire the next generation of leaders become more sustainable citizens. I had the privilege of presenting to youth in schools, clubs, etc. and was inspired myself at their creativity and enthusiasm for a brighter future for Canada.
List any volunteering you have done.
Terry Fox Run
Helping the Sisters of Charity
Helping the Sisters of The Beatitudes
Canadian Blood Services
Donating hair to cancer patients
Sponsoring a child through World Vision
What is your most unusual talent?
Being able to pick up marbles with my toes
Where is the most interesting place you have been to?
The most interesting place I have been to would have to be Iceland. The natural topography is simply stunning, and the people are incredibly accommodating.
What do you hope to be doing in ten years?
I would like to be contributing in making this world a better place by helping implement measures that advocate for sustainability in the economic, political, social, and environmental spheres.
Is there anything you would like to add that we haven't asked?
I would just like to thank everyone who has impacted my life in any way, as it has helped make me the individual that I am today. I am deeply grateful and humbled to be a delegate for Miss Universe Canada 2014, and would be honored if I could represent the country that I have such a deep love and respect for.