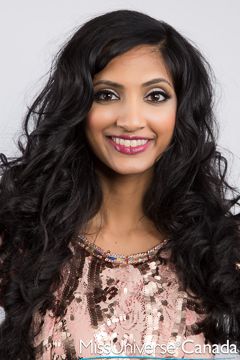 Height: 5'6″
Hometown: Burnaby, BC
Known for always wearing a smile on her face, Renita Reddy is a strong and optimistic individual, always ready to take on life's challenges. She is a first generation Canadian, with a heritage rich in culture and morality tracing back to the beautiful islands of Fiji. Her grandparent's set out to Canada in the late 1960's with hopes for a brighter future for their children and future generations. The hardships her grandparents and parents have faced while settling in an unfamiliar country, fuels and motivates Renita to never shy away from an opportunity or challenge, even if the outcome is unknown.
From a young age Renita has had a passion for health and the well being of those around her. She has spent over 14 years seeking opportunities to give back to her community. From her early teen years she became involved with providing nutritious meals to those living with mental illness in the downtown eastside of Vancouver as well as organizing food and clothing drives. Renita has spent a few years mentoring grade 7 girls in a program addressing issues of peer pressure, low self-esteem and navigating difficult choices during their transition to high school. She teaches meditation and foundations of world religions at a community center with children ages 5-8 in hopes to promote unity in the diversity which we Canadians live in. 8 years ago she began volunteering in an acute hospital setting with the elderly and a couple years following that she began volunteering with children living with various illnesses. Her volunteer experiences have shown her that with the right mindset and perseverance, anything is achievable. These experiences have also confirmed Renita's strong belief that disability does not mean inability.
Renita naturally finds herself connected with children and the youth as she finds their creative minds provide her with inspiration to continuously think outside of the box. She has full faith that her future career will be one in which she is surrounded by helping this younger generation. Having completed her Bachelor of Science Degree at the University of British Columbia she is now obtaining her second degree in an accelerated Nursing program also at the University of British Columbia. With a year left in the program, Renita has her eyes set on becoming a Registered Pediatric Nurse upon graduation.
Renita is a firm believer that in order to make a positive impact on the world one must first find positivity within oneself. A large part of what keeps Renita motivated and optimistic is surrounding herself with positive energy through her connection with family, community, spirituality, eating healthy and being active. She finds inspiration to see the world through a positive lens by exploring the outdoors and drawing. Her commitment to community involvement continuously pushes her to grow and evolve as an individual and she has learned to better help others by relating to people in ways that are meaningful to them. Renita sees being a part of the Miss Universe Canada Pageant as a great way for her to reach and inspire more individuals. By being an example of embracing yourself and others for our unique qualities, and through selflessly giving back to our community, she hopes to show how together we can help create an upward spiral of positive change.
Sponsors:
Kohli's Hairstylists, Grandi's Atelier, Good Health Nutrition, Friends & Family
Languages spoken fluently (please include your native language if English is not your native language). 
Hindi, English and conversational French
What are your interests and what do you enjoy doing the most?
Living in such a beautiful province gives me the opportunity to hike numerous trails year round and continuously explore the hidden gems of nature. Every place I have traveled (Hawaii, India, Fiji, Australia and Singapore to name a few), guaranteed I have hiked there!
List any special training you have had (music, art, drama, dance, etc.)
Though I have a strong passion for studying sciences, I have a very artsy side to me. I have taken classical Indian dancing classes and from the age of 4 till now, I have participated in numerous theatre performances.
In what sports, if any, have you participated?
Growing up I played on a soccer team and basketball team.
Name one person, other than your parents, who has had the most influence on your life. Why? 
My grandfather (Tata) has influenced my life in innumerous ways. From a young age he taught me the importance of being strong throughout all of life's hurdles. As a police chief commander in his younger days, being disciplined and mindful of time was of great importance to him. I learned the true meaning of time after his passing two years ago. He was the first individual who I had ever had such a close relationship with that had passed away. Loss was something I had never mentally prepared myself for and in it was a life lesson. I knew he would want me to be strong through this and learn from it. I learned to never take for granted the people I love and that time can slip so easily from us if we don't take a moment to appreciate those who love us and who we love so much.
What is your proudest personal accomplishment (other than participating in this pageant)?
On one of my volunteering shifts I was able to make a 3-year-old girl fighting cancer burst out laughing as we played together. What makes this moment extra special was that her father had told me that he hadn't seen even a smile from her in months! Reflecting on this moment always warms my heart.
What is the most interesting or unique thing that has ever happened to you and/or what is the most interesting thing about you?
At the age of 6 I decided on my own that I wanted to become a vegetarian. After learning that the meat I ate did not indeed grow on trees like I had imagined, I had decided to take a stand for this decision. My parents were very apprehensive about this choice as it was coming from such a young child and they worried for my health. They would try to trick me by cutting it up really small and hiding it in my food. Once I discovered this, I stubbornly told them I would not eat if they continued to do so. I have been a vegetarian since!
What is your career ambition and what are you doing or plan to do to accomplish that goal?
I have always had a passion for working with children and learning about health in terms of mind and body. I find myself naturally connected with children and inspired by their creative minds. This passion has led me to participate in many years of volunteering with children through hospitals, elementary schools and community center organizations. I am currently attending an accelerated nursing program at the University of British Columbia where I aspire to be a Registered Pediatric Nurse upon graduation. After accomplishing this goal and gaining more experiences I aspire to return to university to study to become a Pediatric Nurse Practitioner.
What would be your "dream job" in life?
I am currently working towards my dream job of becoming a Pediatric Nurse Practitioner. Being Princess Jasmine at Disneyland would be a close second.
Are you currently a student?
Yes
If yes, where?
University of British Columbia
Area of study:
Bachelor of Science in Nursing
Are you currently employed?
No, I am a full-time student.
Describe where you were raised and what your childhood was like.
I was born and raised in Vancouver, British Columbia.  Being a first generation Canadian surrounded by a huge supportive family, I've been able to learn the richness of my culture, values and morals that my parents grew up with. My grandparents, parents, and older sister have always encouraged me to pursue my dreams. I was fortunate to have had the experience of growing up with a dog (Simba) for 16.5 years till his passing a year ago. He played a pivotal role in my childhood as he taught me about selfless love, the value in seeing the world through a pair of inquisitive eyes, greeting people with a warm smile, and forgiving easily.
List any interesting or unusual jobs you may have had.
My very first job was when I was 14 as a telemarketer. It was entertaining to tally the number of people that hung up on me in a day.
List any volunteering you have done.
Child Life Volunteer at BC Children's Hospital
BC Women's Hospital
Facilitated YWCA Youth Mentorship Program for grade 7 girls
YWCA Youth Education Intern
Multiple Sclerosis Research Lab
Sri Sathya Sai Community Centre – taught children ages 5-8 about world religions and meditation
Canadian Cancer Society
Physiotherapy Assistant at Vancouver General Hospital,
Emergency Room Volunteer at Vancouver General Hospital,
Youth Group Member- organized clothing, women's shelter care package and food drives. Provided meals to homeless and mentally ill individuals on the Downtown Eastside.
What is your most unusual talent?
I know how to sleep with both eyes open.
Where is the most interesting place you have been to?
When I was 16 I went on an adventure of a lifetime to India.  During this trip I made a pilgrimage to a temple on the mountain of Tirupati, a place that is visited by nearly 100,000 people daily. Here I took part in a long-standing ritual of having my head shaven as an offering. The hair is then made into wigs and sold to help run the hospital and temple in this region. I had grown my hair down to my hips prior to this point. With a few swipes I had it all shaved off and was completely bald! It was a beautiful place full of life and culture and a beautiful experience!
What do you hope to be doing in ten years?
In ten years I hope to be settled in my career and to have started a family of my own. I hope to be traveling and exploring different cultures around the world and volunteering as a nurse in developing countries.
Is there anything you would like to add that we haven't asked?
I am humbled by this opportunity to be a part of the Miss Universe Canada Pageant. I want to thank each one of you who are supporting me on this journey. I am always up for a challenge and by participating in this pageant I will take this opportunity to continue to grow as an individual and spread positivity to those around me.