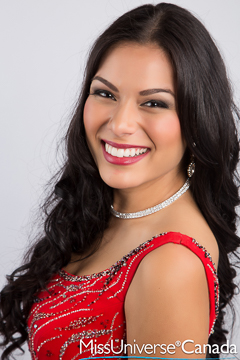 Height: 5'4″
Hometown: Bradford , ON
Samantha Michelle Gomez hails from the small town of Bradford West Gwillimbury, ON. On August 9, 1992, she was born in Toronto, Ontario to Cira and Rodolfo Gomez. She is the oldest of 4 siblings. Coming from a Colombian background, Samantha is fluent in Spanish and enjoys every opportunity she gets to visit her family back in the tropical country of Colombia. Her Hispanic background also brings out the adventurous side of her. Samantha loves dancing to the tunes of bachata, salsa, and merengue as well as visiting sunny destinations to bask in the sun.
Samantha graduated from Holy Trinity High School in Bradford at the age of 17 which lead to her pursuing post-secondary academics through Seneca College. After two years of studies, Samantha graduated with a hospitality management diploma but would return the a few months later to attain a advanced diploma as a law clerk. This is Samantha's proudest accomplishment and, in her own words, states that; with hard work, dedication and support from family, you can do anything you set your mind to. She is currently employed as an assistant regional coordinator and part time office manager. Samantha's career ambition is to find a position as a law clerk for a well-known law firm to which she can use all of her abilities.
She is described by her family and peers as a loud and outgoing but down-to-earth and sincere young lady. She is strong willed and humble but also bubbly and quirky. This dark haired beauty isn't just a stunner on the outside; she is witty and easy going with everyone she comes into contact with. Samantha states she is constantly working towards being more independent, more professional and overall a better Sam inside and out.
Sponsors:
VIDA Massage and Wellness, Token of Love Weddings, Aspen Florist, Philthy Philly's,  The Pink Closet, Dr. Yeh,  Victoria Bourque Beauty Boutique,  Echoes in the Attic, Vanguard Hair Parlour and Spa, Familia Stuart-Lopez, Verona Travel, La Mexicanada, Friends and Family
Languages spoken fluently (please include your native language if English is not your native language). 
Spanish and English
What are your interests and what do you enjoy doing the most?
Firstly, I enjoy spending time with my family and friends. I was lucky enough to grow up in the same house and same town my whole life so all my friends and family are very close by. I love to travel , I've been to Colombia many times to visit relatives. I love going to new, local restaurants and trying interesting craft beers as well as cultured foods such as one of my amazing sponsors, La MexiCanada in Bradford. I love working out and keeping active is very important to me, and my main focus is Cardio
List any special training you have had (music, art, drama, dance, etc.)
Food Handlers Certificate, Seneca College
WHMIS Certificate, Seneca College
Smart Serve Certificate, Ontario
Standard First AID CPR, Seneca College
In what sports, if any, have you participated?
I enjoy all sports, but my favorite is soccer. I have always been very athletic and was on many sports teams in school such as soccer, baseball and volleyball.
Name one person, other than your parents, who has had the most influence on your life. Why? 
It's difficult to only pick one person who has had the most influence in my life. Being that I am the oldest of my family, I have been exposed to responsibility, pressure and the role of setting a good example at a very young age. As I said, I am lucky enough to have has such consistency in growing up in the same home my whole life, so my friends and family have all definitely contributed in shaping who I am.
What is your proudest personal accomplishment (other than participating in this pageant)? 
I obtained 2 college Diplomas with in 3 years. My first diploma that I received was the Hospitality Management Diploma where I studies for 2 years at Seneca College. The following year I applied for the Law Clerk Accelerated program at Seneca college and I fast tracked the program so that I could complete my studies within a year opposed to 2 years. It was the most stressful year I have had yet, but it made me realize that with hard work, dedication and a good support system, you can do anything you set your mind to.
What is the most interesting or unique thing that has ever happened to you and/or what is the most interesting thing about you? 
The most unique thing that has ever happened to me was when I went Colombia and visited "El Tutumo". Its a dormant volcano located in a very poor, isolated community.
When I finished the mud bath, a child came to help me carry my shoes and clothes to the river so I could wash all the mud off. The only thing this child was wearing was a pair of tattered shorts.  As a token  of appreciation, I gave him 5 thousand pesos, which is about 2 dollars. This eight year old child lit up with joy. This unique experience humbled me and made me realize that I'm so blessed to be born in Canada.
What is your career ambition and what are you doing or plan to do to accomplish that goal? 
I would like to work for a recognizable law firm. I am currently working at Vida Massage and Wellness and MD Management to expand my resume in the field of administration.
What would be your "dream job" in life?
My dream job would be to travel the world as a critic for Hotels and Restaurants.
Are you currently a student?
No
Are you currently employed?
Yes
If yes, what is your occupation?
I currently work for a company called MD Management and I am an Assistant Regional Coordinator
Describe where you were raised and what your childhood was like.
I was raised in the small town of Bradford West Gwillimbury. I'm so proud to say I was raised there. Due to its small size, everyone knew everyone and it made it very safe for me to play outside with friends and have a little more freedom than I would assume other kids had. Growing up in a safe, small neighborhood definitely has its benefits.
I had a very happy childhood and always got a lot of attention, being the oldest of the family, everything I did was known and praised by entire family.
List any interesting or unusual jobs you may have had.
My best friend and I were asked to bartend at a surprise 50th birthday party and we ended up being the life of the party. The guests insisted that we dance with them and it turned out to be so much fun.
List any volunteering you have done.
I volunteered at our Bradford Annual Carrot Fest. At the event I organized and prepared our station for the registered massage therapists. I handed out flyers, promotions and services to promote our business.
What is your most unusual talent?
I can stand on one foot for a very long period of time.
Where is the most interesting place you have been to? 
I think the most interesting place I have been to would have to be "El Castillo De San Felipe", in Cartagena Colombia. This castle was built in the 17th Century and it was constructed to protect the City. It prevented foreign troops and European pirates from invading Colombian Territory. Its the most and breath taking structure I have ever seen and I admire all of the details that made this castle so effective. The cannons are my favorite aspect of this historical fortress.
What do you hope to be doing in ten years? 
In 10 years I hope to be working in a law firm that I enjoy, to be happily married and have a family of my own.
Is there anything you would like to add that we haven't asked?
Do the one thing you think you cannot do. Fail at it. Try again. Do better the second time. The only people who never tumble are those who never mount the high wire. This is your moment. Own it. -Oprah Winfrey