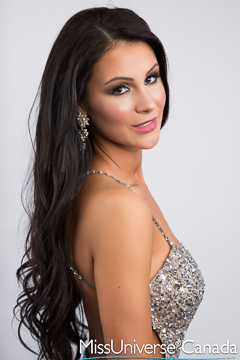 Height: 5'9″
Hometown: Mississauga, ON
Tania Zola was born on June 8, 1993 in Toronto where she spent most of her childhood. At the age of 10 years old her parents decided to move the family to her current home town of Mississauga. She is an ambitious 21 years old who is a highly motivated, positive, and kind-hearted young woman. Tania was fortunate enough to have been raised in a family household that offered unconditional love and support. Being a daughter of Eastern-European parents and having two brothers as siblings, Tania learned how to be independent from a young age. Her parents had a tremendous influence on shaping her values and beliefs which made her into the hard-working and determined person she is today. Tania realized just how much her parents have sacrificed for their family, giving her an appreciative outlook on life.
Tania currently attends George Brown College in Toronto, and will be graduating from the dental hygiene program this upcoming year. She has worked hard towards her future career as a dental hygienist and is on the Deans list for her academic excellence. Always putting her best foot forward, Tania believes that her self-confidence and dedication will lead her to the path of success. One of her best attributes is her ability to always look at the positive side and lives by the motto of the "glass being half full." Her unconditional sense of positiveness is an aspect she hopes to apply in her future goals, which is why she feels that the dental field is one of the most rewarding professions to pursue. Through education, dental hygiene diagnosis, and preventive treatment, Tania can provide the public with an essential health service, but also be able to spread happiness with her profession. Being able to provide clients with not only optimal dental care but having them leave with greater self-confidence.
With a demanding school schedule, staying active, and work, Tania takes pleasure in simple things that are often overlooked. In her leisure time she enjoys live theatre, working out, cooking, ballet, art, musicals,sudoku, reading and spending time with family and friends. Tania has learned early in life that having a positive outlook can draw greatness out of those she meets. She believes how you leave others feeling after having an experience with you becomes your trademark and that anything can be overcome with hope.
Sponsors:
Iristel, Julia's Photography, Friends and Family
Languages spoken fluently (please include your native language if English is not your native language).
English and Ukrainian/Polish on a conversational level.
What are your interests and what do you enjoy doing the most?
My greatest interest at the moment is live theater as I enjoy the experience a show can offer. I can truly understand and appreciate all the hard work behind putting these productions together and think it is an awesome form of entertainment. My other interests include working out as I believe staying healthy and active is very important.
List any special training you have had (music, art, drama, dance, etc.) 
Throughout my childhood I loved dancing and have had 3 years training in ballet and also studied Jazz.
In what sports, if any, have you participated?
I love soccer and I was part of a soccer team for 5 years
Name one person, other than your parents, who has had the most influence on your life. Why? 
I believe every person that comes into our life is there for a reason and will influence us in one way or another. However, that being said, the one person that has greatly influence me other then my parents would have to be Pope John Paul II. Pope John Paul II has done numerous great things through out his papacy but what has related to me the most was his direct influence on the demise of the communist regime in Poland and the rest of Eastern Europe.
What is your proudest personal accomplishment (other than participating in this pageant)? 
My proudest personal accomplishment so far would have to be the determination and motivation I have put towards my academics and goals in setting up my future.
What is the most interesting or unique thing that has ever happened to you and/or what is the most interesting thing about you? 
The most unique thing about me is that I never choose to give up. I strongly believe in the importance of being persistence and keeping faith no matter how many numerous failures I have experienced in the past. I reflect on those failing moments as a learning experience that I use as leverage to better myself.
What is your career ambition and what are you doing or plan to do to accomplish that goal? 
Community health, particularly the dental field, has always been an interest of mine. My career ambition is to create more programs to help those in desperate need of proper dental care.
What would be your "dream job" in life?
My current dream job would be winning the title of Miss Universe Canada! I strongly believe having the opportunity to be a role model and doing charitable work will help me grow as a person and make me more suitable for what is yet to come.
Are you currently a student?
Yes
If yes, where? 
Area of study:  Dental Hygiene at George Brown College
Are you currently employed?
Yes, I am
If yes, what is your occupation?
Cocktail waitress at Jack Astor's Bar & Grill
Describe where you were raised and what your childhood was like. 
Thanks to my parents, who decided to move to Canada before starting a family, my childhood was full of opportunities. Growing up I was raised in Toronto, Ontario with my parents and two brothers. We are very family oriented and fortunate to have the experience to travel together. My childhood was a positive one and enjoyed the many different family activities.
List any interesting or unusual jobs you may have had. 
As a child I always wanted a dog but was left heart broken when my parents decided we cannot have one. So naturally, at the age of seven I decided I wanted to be a dog walker. My first job was walking my neighbor's dog which I happily did so everyday.
List any volunteering you have done.
Thanks to my program in school I am able to work on my academics as well as my humanitarian efforts. This year I was able to raise money and spread awareness for Nine Miles of Smiles that is a non-profit organization that provides dental care to under-serviced areas in Jamaica. I also had the opportunity to volunteer at Baycrest hospital at the geriatric facility where they offer dental services for seniors.
What is your most unusual talent?
I can touch the bottom of my chin with my tongue!
Where is the most interesting place you have been to? 
Growing up, my family and I took many trips to Europe. The most interesting place we visited was Vienna, Austria where I got to visit the apartment of Sigmund Freud. I have always had an interest in human behavior and was fortunate enough to visit the home of Sigmund Freud who is considered to be the father of psychoanalysis.
What do you hope to be doing in ten years? 
In ten years I hope to be established in my career. I hope to be an owner of my own dental hygiene clinic and also be an active advocate in public health for those who cannot afford much needed dental treatment. In ten years I also intend on having a family and being a strong and supportive mother and wife.
Is there anything you would like to add that we haven't asked?
I would like to thank the Miss Universe Canada organization in giving the opportunity for young women to grow as individuals and inspire fellow Canadians to be great role models. I would also like to take this time to thank my family, friends, and sponsors for their support towards my dream! I especially would like to acknowledge Iristel, who is one of my sponsors, for their efforts in helping better communications for those Canadians living in the northern territories. I am 100% committed and ready to represent myself and Canada to the fullest.