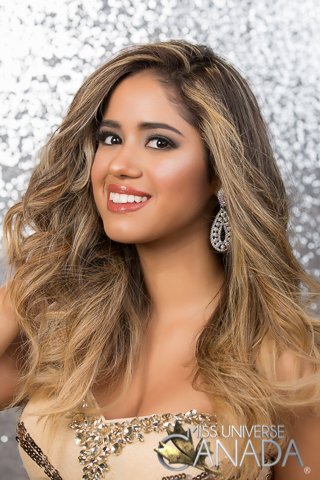 Height: 5'7″
Hometown: Oakville, ON
Alexis Lopez was born in Toronto, Ontario and was raised there until the age of twelve. She then moved to Oakville, Ontario with her family and is now proud to call it home. Alexis loves to be in front of the camera and you can always catch her smiling. She comes from a very tight family who is always there for one another and will do anything for each other. Her attachment to her family is what has molded her to be a loving, compassionate and caring young woman who is always willing to help where help is needed. She strongly believes in living a healthy lifestyle and everything it entails: a balanced diet, exercise and peace of mind in order to be the best you can be.
She graduated from the Visual Merchandising Arts program at Sheridan College and is currently pursuing a career in the Fashion Industry. To achieve her goals she plans to continue her studies in PR Fashion and Communications. Meanwhile she is working on personal projects to grow her creative portfolio and launched a fashion Instagram page in hopes to grow a community of fashion lovers to start a blog. Alexis believes that if there is genuine passion for what you do it shows through in your work. She planned and executed a window design to raise awareness on a humanitarian issue and because of her efforts she won an award from Le Chateau for excellence in window design.
Alexis enjoys to keep busy ad set aside time to help charitable causes close to her heart. Her mom went through very hard time when she was diagnosed with pre-cancerous cells but ever since her mom overcame her illness Alexis has volunteered her time to the Wellspring Birmingham Gilgan House. Also, while in school she was a peer mentor to first year students. She wanted to provide students with a sense of security that they are not alone and that they have a friend in her. Alexis has learned and wants to teach others that by sharing your own story or lending a helping hand to others can spark a fire in someone's life.
Coming from a humble home Alexis has learned you have to work hard for what you want but with passion and determination anything is possible. She is a proud Canadian and is ready to give her heart and soul into this competition. She is the daughter of two parents who immigrated to Canada seeking a better life and that they did get. She wants to represent Canada for its diversity and acceptance. Being crowned Miss Universe Canada would allow her to succeed in her professional and personal goals but most importantly it would allow her to use her platform to spread strength among young women, inspire youth and make a difference in someone's life.
Sponsors:
Mi bella Managua, Higher Living, Jameel Hair Salon, Marla's Fashions, Captive Camera, John's BBQ Chicken, Orthodontics Center in Milton, Andrade Electrical Inc, Audio Visuals: SHYNEGTA, Friends & Family
Languages spoken fluently (please include your native language if English is not your native language).

English and Spanish
What are your interests and what do you enjoy doing the most?
I love to do Yoga; it has become my favourite activity since I picked up the practice. It is a great work out not only for the body but for the mind and soul. I also love to bake healthy treats, spend time with my family and friends, work out and dive into new experiences.
List any special training you have had (music, art, drama, dance, etc.)
Styling
Photo styling
Graphic Design
Yoga
In what sports, if any, have you participated?
Yoga and Cross Country.
Name one person, other than your parents, who has had the most influence on your life. Why?
My grandmother her always been a huge inspiration in my life. She was a single mother of nine living in a third world country fighting to give her children the best life she could despite all the hurdles in her life. My grandmother always maintained strength, resilience and faith and it was these qualities that helped her to persevere. These are the qualities I aspire to have and greatly admire. She has the biggest and kindest heart and is the strongest woman I have the honour to know.
What is your proudest personal accomplishment (other than participating in this pageant)?
My proudest accomplishment has been all my academic achievements thus far. I always try my hardest to deliver my best work and give hundred percent of my efforts to meet my goals. Also, I dealt with anxiety at a young age and I was able to overcome it with self-perseverance and the support of my loved ones. I am proud of the person I am today because I wouldn't be where I am today without the teachings of my parents.
What is the most interesting or unique thing that has ever happened to you and/or what is the most interesting thing about you?
The most interesting thing about me is my sense of creativity. I have a keen eye for detail and like to take inspiration from the world around me to incorporate in my personal projects. I am a fashion enthusiast and believe that I use it as a creative outlet in my life.
What is your career ambition and what are you doing or plan to do to accomplish that goal?
My career ambition is to work in PR Fashion and Corporate Communications. I have completed my studies in Visual Merchandising to build a portfolio and hone down a set of creative skills to compliment my future career goals. I have launched a fashion related Instagram page to engage a community of fashion lovers like me. It is my goal to grow my following to start a blog. Meanwhile, I want to continue my studies in Public Relations so that I can grow for personal and professional purposes.
What would be your "dream job" in life?
My dream job would be to become a brand ambassador for a high fashion designer like Balmain or Chanel or to work in the entertainment industry as a broadcaster. I would hope to use my influences to help change the lives of those in need my starting my own charity organization.
Are you currently a student?
No.
Are you currently employed?
Yes.
If yes, what is your occupation?
Sheridan College, Customer Service Specialist
Describe where you were raised and what your childhood was like.
I was born in Toronto, Ontario and lived there up until the age of twelve. I had beautiful childhood filled with many great memories. I am part of a very tight and loving family who has always been my number one support system. I remember going for bike rides to the park with my sisters and parents and as it a kid that was so much fun! I come from a big family so I have also grown up with all my cousins. For birthdays and Christmases we would all come together and have great celebrations filled with music, dance love and laughter. I loved my childhood and I wouldn't change it for the world. It has made me appreciate the importance of family and that is something I greatly value.
List any interesting or unusual jobs you may have had.
I haven't done any unusual jobs; I am very selective about the jobs I take on.
List any volunteering you have done.
Reach for the Rainbow Fundraiser Gala Event
Wellspring Birmingham Gilgan House
What is your most unusual talent?
I can do my own make-up and make-up on other people without had having professional training. I have a good eye at choosing which colours best suit your skin tone and facial features. My peers have told me I am quite good at it too.
Where is the most interesting place you have been to?
The most interesting place I have been to is Nicaragua. Visiting the country where my parents were born allowed me to get in touch with my roots ad heritage. I learned about my culture and really learned to appreciate my background. I was able to spend quality time with my family in Nicaragua and discover the beauty that is Nicaragua. I fell in love with its exotic waters and contemporary sculptures. The people were warm and welcoming making it an experience to forever remember.
What do you hope to be doing in ten years?
In ten years I hope to be successful in my career and financially stable. I want to be able to say I've achieved the goals I set for myself when I was twenty. I hope to have settled down and have started a family of my own. I would love to be b a successful career woman, loving mother and wife.
Is there anything you would like to add that we haven't asked?
I would like to say that I am very grateful to be a national delegate for Miss Universe Canada 2016. I am very humbled to have the opportunity to be part of something I've only ever dreamed of. I am ready to take on all the responsibilities and fulfill my duties with hundred percent heart and soul. I am ready to represent my Canada to share with the world Canada's values and culture. I want to use my platform to inspire and encourage young women like myself to dream because if there is passion and drive you can succeed. I want to be a voice of strength for women all around the world so that they can believe if she can do it so can I! I would also like to thank all the love and support I have received from my family and friends.