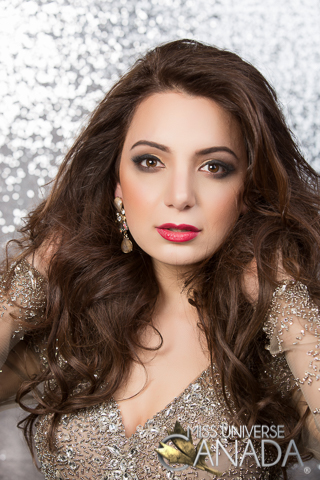 Height: 5'8″
Hometown: Toronto, ON
Bianca was born in Toronto, Ontario. She graduated with honours from Seneca College in 2014 and moved on to graduate from Ryerson University, this past spring in Business and Professional Communications. Currently, she is working for the world's most global financial institution as a Human Resource Consultant. She enjoys assisting employees on a day-to-day basis and finds fulfillment in helping others achieve their personal development goals. When Bianca isn't working, she is finding ways to give back to her community. She has raised money for several different causes and has enjoyed meeting people along the way. Her mother and father have had a big influence on Bianca and the decisions she has made. Her father is an entrepreneur, mother, an improvised explosive device officer. Like many parents, both individuals have sacrificed a lot to bring Bianca to where she is now. Bianca has a lot to be proud of. In 2013, she made top eight in Miss Earth Canada and in 2014, she was named Miss Earth Ontario. She has won many prestigious awards, miss congeniality, miss entrepreneur, miss humanitarian, best in evening gown and best in swimsuit. She never sets limitations on herself and strives to give life her all! She infamously lives by the words, don't cry because its over, smile because it happened. If honoured with the title of Miss Universe Canada 2016, Bianca will continue to voice her concerns regarding homelessness within Toronto and environmental sustainability across Canada. She is a strong advocate for both causes and takes tremendous ownership and accountability for the work she does.
Sponsors:
Marco Della Pia – DEA Swimwear, Stephanie Di Grazia Nutrition – Holistic Nutritionist, Santos Catracchia – Personal Trainer & Fitness Coach, Beauty is Bold by Saira K – Official MUA, Shanani Couture, Antoniette Catenacci Couture, Friends & Family
Languages spoken fluently (please include your native language if English is not your native language).
English and basic in Italian.
What are your interests and what do you enjoy doing the most?
My interests include spending time with my loved ones, walking, running and dancing. I enjoy watching broadway, movies, planning social events, meeting and networking within my field of study. I would love to continue dancing during my time of leisure and take up competitive dancing.
List any special training you have had (music, art, drama, dance, etc.).
I have participated in pageants since I was eighteen years old, giving me eight full years of pageantry. I am very familiar with the routine dance numbers and enjoy dancing. I have taken salsa and ballroom lessons for two months in 2015. My confidence on the dance floor has grown significantly since I've completed last and I'm truly grateful to have learned from a great dance school.
In what sports, if any, have you participated?
I've participated in baseball, soccer and swimming prior to pageantry. Due to the nature of my work and school schedule, as well as my preparation for Miss Universe, I have remained focused on pageantry. I truly believe it is a sport in itself. It requires commitment, perseverance and determination on a constant basis. I am most passionate about pageantry so now I enjoy spending time focusing on my preparation.
Name one person, other than your parents, who has had the most influence on your life. Why?
My pageant coach, she has a heart of gold and I can't wait to make her proud when I bring home the crown for Canada. I have looked to her for guidance and support during this journey, as she has always had my best interest at heart and sought through many difficult times with me. She has used her experience to guide and support me. Working together for two years, I couldn't be more proud to call her my coach! She is one amazing woman that I look forward to seeing at the finish line.
What is your proudest personal accomplishment (other than participating in this pageant)?
Other than participating in this pageant, being the first in my family to graduate from university, is my biggest accomplishment.
What is the most interesting or unique thing that has ever happened to you and/or what is the most interesting thing about you?
Participating in this competition for a third time. I never thought that I would have the chance to work with such an amazing team and have people who truly inspire and care for me. Being able to grow as a person and look back on my path has opened my eyes. I feel very lucky to be in the position I am in and will continue to thrive with my positive outlook on life. I have participated in many pageants, making top 8 in Miss Earth Ontario, top 8 in Miss Earth Canada and winning Miss Earth Ontario 2014.
What is your career ambition and what are you doing or plan to do to accomplish that goal?
I would love to train and develop persons with disabilities. My field of study for five years was Human Resources and I would like to build my own training company. I enjoy working one-on-one with people and see them live happy lives. After graduating in April, I will be meeting with individuals within my field to build this organization.
What would be your "dream job" in life?
As mentioned, I would like to build my own organization to train and develop persons with disabilities. I am currently working within my field and feel very fortunate.
Are you currently a student?
No, I recently graduated from Ryerson University with a bachelors in Human Resources and a minor in professional communications. I also obtained a college diploma from Seneca College in Human Resources.
Are you currently employed?
Yes.
If yes, what is your occupation?
I am a human resource consultant for the worlds most global bank, Scotiabank.
Describe where you were raised and what your childhood was like.
I was raised in a single family household. I had the pleasure of being raised by my entire family. My parents had demanding careers, not allowing them much time with my siblings and I. They both wanted to ensure that I lived a normal life, allowing me to grow into the person I am. Due to the nature of my parents relationship, I began working at the age of fourteen. Both parents wanted me to learn how to succeed and be independent in my endeavours. Since then, I have purchased my own car, paid for my education and saved for my own home.
List any interesting or unusual jobs you may have had.
I feel fortunate to say that I am in the most interesting job. I am a Human Resource Consultant for Scotiabank. Having the opportunity to work within Human Resources and complete my final year of university, is a blessing.
List any volunteering you have done.
I have volunteered for;
The United Way
Scotiabank AIDS walk for life
The Children's Aid Society
The Alzheimer's foundation
Bikes without Borders
Operation Smile
Recently, I had the opportunity to run a five kilometre path for my charity of choice, The Children's Aid Society. I have participated in many charity events as a way to give back and show my ongoing support. I was an ambassador for the Scotiabank AIDS walk for life in 2015. Having worked with so many charities, I have gained the necessary skills to meet and network with other organizations and individuals.
What is your most unusual talent?
I enjoy organizing rooms. I find it therapeutic and rewarding.
Where is the most interesting place you have been to?
Australia, I had the pleasure to visit my family from down under for one month. My family enjoyed showing me the natural beauty of the country. I miss it everyday and want to go back soon.
What do you hope to be doing in ten years?
In ten years, I hope to be settled with my family in my own home. I also hope to have my business established for five years. I would like to raise my own children and teach them the same values and morals my parents taught me.
Is there anything you would like to add that we haven't asked?
I'm grateful to be back and I'm honoured to be a part of this organization. I have prepared extensively for this moment and I am truly excited to showcase my talents. To be the next Miss Universe Canada is not only an honour, but a privilege. I hope to be an inspiration to all and encourage everyone to follow their life long ambitions. I look forward to this journey.