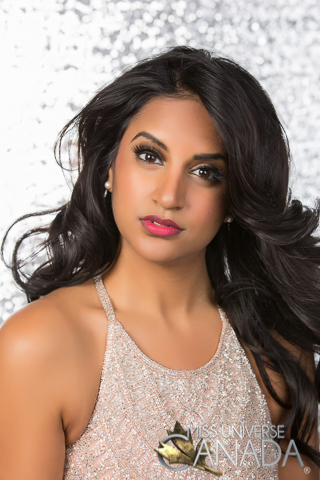 Height: 5'8″
Hometown: Toronto, ON
Priya Singh was born and raised in Toronto, Ontario. She is very much a proud Canadian however is not shy to indulge in the vivacious festivities of her West Indian culture. She grew up with a large beautiful family that has always loved and supported her in every way.
Ever since she could remember, Priya strongly believed in "beauty may be dangerous but intelligence is lethal." She graduated April 2015 with her degree in Business Management specializing in Fashion Management. She strongly believes in constant learning and thinks that it is never too late to pursue additional education. She currently is a retail assistant manager to an internationally renowned brand and absolutely loves it. Her love for the fashion industry began as a little girl; she would invariably preoccupy herself with what is hot, new and on trend. In the near future, Priya plans on continuing her education and studying towards her master's degree.
Priya lives for adventure, adrenaline and lifelong lasting memories! In accordance, she loves travelling the globe and has high hopes of crossing everything off her bucket list soon. Some of the things on this list include: eating her way through Basque Country in Spain, exploring through ancient Egypt, visiting the Galápagos' Islands, trekking Machu Picchu and that just mentions a few.
She strongly believes in YOLO (You only live once). Life can be so short that every moment should be beautiful and captured in the fullest. Priya believes that anyone is capable of anything; one should never look back and regret any mistakes, decisions or learning curves. It's those mistakes that build an individual's character and morals, which evolves them into imperfectly flawless people. This mentality is something that she would love to instill in younger generations growing up in today's complex society.
Sponsors:
Friends & Family
Languages spoken fluently (please include your native language if English is not your native language).
Languages that I speak fluently remain as English only.
What are your interests and what do you enjoy doing the most?
I love the little pleasures in life and those have become my hobbies. I thoroughly enjoy cooking (and eating) and reading as my main past time, however music is the love of my life and I always enjoying dancing and getting lost in the beat. I absolutely love travelling and cannot wait to continue travelling to jaw dropping destinations.
List any special training you have had (music, art, drama, dance, etc.).
As a little girl, I always swayed to the beat of any music. I was enrolled in dance class at the age of four and specialized in Bollywood and Classical training for fifteen years following.
In what sports, if any, have you participated?
I have always thought that physical activity should be a vital part of every lifetime therefor I have always strived to stay active. Throughout my high school career I participated in volleyball and loved every minute of it. As a young adult, I rigorously train at the gym as well as dabble in kickboxing.
Name one person, other than your parents, who has had the most influence on your life. Why?
The most influential person in my life has been my grandmother. She has been my rock when I lost my way and has never once given up on believing in my dreams and ambitions. She has always been there to push me through the dark times and help guide me to the light. I aspire everyday to be as strong and intellectual as she is. Growing up brought many challenges and hardship to my family, however with my grandmother's help we made it through stronger than ever. I will always look up to her as my hero.
What is your proudest personal accomplishment (other than participating in this pageant)?
My proudest personal accomplishment was discovering how to be happy. Happiness can be a challenging concept to grasp. It took the loss of everything I thought defined myself and created my happiness to truly realize that I didn't really know myself very well at all. When I began to pick up the pieces, I reflected on the things that I thought would make me happy. I may not be able to do those exact things, but once I knew what those true desires were, I expanded my thinking and began to develop a plan to work towards goals I may have never imagined possible. I then became limitless and unstoppable which is an accomplishment I will always hold high.
What is the most interesting or unique thing that has ever happened to you and/or what is the most interesting thing about you?
The most interesting thing that has ever happened to me was being chosen to model for an 8 page editorial in Viva magazine. I was flown to Cuba where I was spoiled from head to toe. I then had the opportunity to work with one of my favourite Canadian photographers David Hou as well as many talented individuals in the industry.
What is your career ambition and what are you doing or plan to do to accomplish that goal?
My heart and goals have always been heavily swayed to the creative side. I graduated with a degree in Fashion and I loved every moment of it. My career ambition would be to become an independent empire. I have always dreamed of creating a marketing firm dedicated to the fashion industry which sole purpose is designing jaw-dropping legacies for some of the biggest names internationally. Following, I want design and create my own legacy that would directly reflect every inch of my true self. This would be my gateway to use this power to then help international efforts around the world for relief of any misfortune.
What would be your "dream job" in life?
My dream job in life would be to become a Fashion buyer and designer. Ever since I was a little girl, I always concentrated a little more on design and trends than anything else in the world.
Are you currently a student?
No.
Are you currently employed?
I am currently employed at Marciano.
If yes, what is your occupation?
I am an Assistant Manager at Marciano.
Describe where you were raised and what your childhood was like.
My childhood turned out to be everything I would have ever wanted it to be considering the unfortunate turn of events. My father passed away when I was four from a heart attack, leaving my mother with three young girls to take care of. Throughout my childhood, two strong and smart women (my mother and grandmother) taught me how to stand on my own two feet. They spoiled me with the greatest things in life, such as travelling to many different remote places, teaching me how to cook (which I love doing), supporting every dance recital and being there to just love me. My childhood is filled with sweet unforgettable memories and lessons that make me who I am today.
List any interesting or unusual jobs you may have had.
The most interesting job I have ever had was serving at Jackastor's. The characters that came to this establishment were filled with personality and charm. My co-workers were all amazing people who had charisma and work ethic that no one could turn away from. My time at Jackastor's has given me some of my most memorable moments that I will always treasure.
List any volunteering you have done.
My mother has always believed in volunteering and has instilled this quality in my thoughts from a child:
Golden Age (Senior's Club) –Organizing events/entertainment
Feeding Homeless- St. Mary's Church
Million Dollar Smiles- Building Playgrounds
Princess Margaret Fashion Show 2013
Sick Kids Foundation – Fundraising with RBC
Scotiabank Walk for Aids
Canadian Cancer Society
What is your most unusual talent?
Growing up I always used my left hand for everything. When I print, I needed to turn the page completely on it's side to write a straight line, however as a child when I was learning to handwrite, I couldn't seem to handwrite in a straight line. To fix this, I decided to turn the page upside down and ever since then I have been handwriting upside for everything!
Where is the most interesting place you have been to?
I absolutely love travelling and I try to indulge as much as I can. The most interesting place I have been to is Barbados. This country is so full of culture and potential from their amazing restaurant venues to their downtown life. People, in times past, traveled from all over the world to Barbados for its healing qualities. These were to be immersed totally, with the exception of the head, in the sands of the beaches of Cattlewash in St. Andrew. This treatment was believed to cure many ills. This practice lasted for some years before waning.
What do you hope to be doing in ten years?
In ten years, I hope to be traveling a lot more, however in conjunction with work. I have always wanted to travel with Habitats for Humanity and assist heavily in their community builds all over the world. I would hope that I would advance in career and begin starting the creation of my empire. Above everything, I would love to have my own family and be genuine happy. I enjoy the simple pleasures of life and just want to continue enjoying them as I indulge in my passion.
Is there anything you would like to add that we haven't asked?
I have two philosophies I completely obey in my lifetime…
Courage is not the absence of fear, but rather the judgment that something else is more important than fear.
And…
Lose yourself in the music.
Life is full of ups and downs and I think that these two quotes can truly help women understand not to live someone else's life and indulge in creating and establishing your own womanhood. Any time women come together with a collective intention; it's a powerful thing.