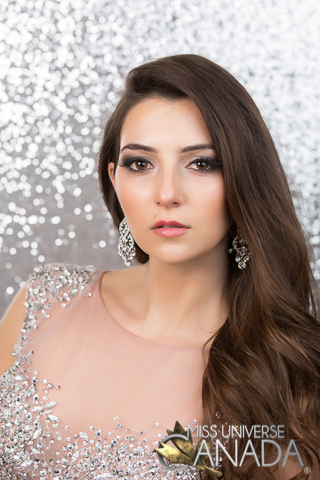 Height: 5'8″
Hometown: Woodbridge, ON
Sasha Lombardi Hartig was born and raised in Toronto, Canada. She moved to Chicago for nearly two years, where she attended Columbia College Chicago, studying television and film production. She currently resides in Toronto and is graduating from University of Toronto with an honors degree specializing in social cultural anthropology with a minor in environmental anthropology. She recognizes the relationship between the nuances of human culture and one's environment in playing a pivotal role in social development. As a result, she sought the opportunity to travel abroad to work with orphans in Kingston, Jamaica. Her experiences catapulted her enthusiasm for philanthropic community engagement. Subsequently, she has travelled back to Jamaica several times enhancing her commitments to voluntourism while forging long-lasting relationships. Sasha's love of people has fostered a commitment to advocacy work for those less privileged. As a student, she assisted the U of T Immigrant Support & Awareness program where she was an ESL mentor for newcomers to Toronto. More broadly, she seeks opportunities to expand her community engagement Canada-wide leading to her volunteerism in Dawson City, Yukon working with Han First Nations Peoples. Sasha's tenacity is uncanny. She is a successful student, a community supporter and a goal getter.
Having worked part-time as a model for nearly two years she has learned the importance of exuding confidence and beauty from within. In addition to currently working part-time for a public relations firm, Sasha always makes time for family and friends as well as maintains her passion for horseback riding, photography and travelling. For Sasha, diversifying life experiences, opportunities, and social relationships is key. As a kid, Sasha grew up under the influence of her grandfather who created the first multicultural radio station in Toronto. She hopes to emulate the success of her late grandfather but also use her life and her work to foster meaningful change in the world. As a result, her ambition to embody creativity, ingenuity, beauty and smarts is her mantra. Sasha believes her education and love for life will propel her to succeed in her future goals including the establishment of her company To The World Inc. She is grateful for all she has and hopes to use her exposure to empower other women and girls in accomplishing their dreams.
Sponsors:
Ed Learn Ford Lincoln, Devyani Costume Design and Production, AIR FITNESS, Friends & Family
Languages spoken fluently (please include your native language if English is not your native language).
English.
What are your interests and what do you enjoy doing the most?
I have a many interests, which allows for my participation in a wide array of activities. My interests include spending time with my horse, scuba diving, boating, doing visual artwork, working on my academics, and I have recently taken a keen interest in sewing.
I love getting involved in community service work and I also feel most comfortable outdoors. Everyday, I recognize I am so blessed to have amazing friends and family that keep me grounded and committed to the important things in life. For me, having a creative outlet to express myself and contributing as an active member in my community is the key to success.
List any special training you have had (music, art, drama, dance, etc.).
As a child I took lessons in rhythmic gymnastics and ballet, as well as piano. I have studied drama, stage production, television production, photography, film production and fine arts.
In what sports, if any, have you participated?
I started horseback riding when I was three years old and have ridden as an eventer, hunter, jumper, and most recently I have focused my training in dressage.
I have played soccer, volleyball and have participated in swimming and downhill skiing.
Name one person, other than your parents, who has had the most influence on your life. Why?
My late horseback riding coach, Jamie Smart, has had the most influence in my life. I first met Jamie at the age of four and our relationship developed as coach and student to daughter and adoptive father. He taught me to always compromise, both in training and in all aspects of my life. He was able to see the positive aspect of each and every situation and stressed that you cannot experience the peaks without the valleys. I am reminded of his lessons every day, and I am a better and more fearless woman because of his influence in my life.
What is your proudest personal accomplishment (other than participating in this pageant)?
Other than my participation in Miss Universe Canada 2016, my proudest accomplishment is my acceptance into University of Toronto. I remember seeing my acceptance and being overwhelmed with emotion. I was nervous, but ready for the challenges that University of Toronto would later throw my way. In a few months I will be able to say that my proudest accomplishment is graduating with honors from the institution that has pushed me to learn and grow where I did not know it was possible.
What is the most interesting or unique thing that has ever happened to you and/or what is the most interesting thing about you?
The most interesting thing that has ever happened to me was the opportunity to engage with a group of animal activists at a slaughterhouse vigil. I learned about people who take small steps toward a collective good, and who make positive change for animal welfare and the environment. This experience has enabled me to situate personal choice within a broader framework of the ramifications of my actions on people and animals both in Canada and in the world. This has opened my eyes to the resources that go into everyday life, and reminds me to be less wasteful and to be more conscientious.
What is your career ambition and what are you doing or plan to do to accomplish that goal?
My career ambition is to work in the United Nations and to ultimately work to shift to a more grassroots approach in regards to efforts of aid and sustainable development. To accomplish this goal, I plan to attend either law school or to get my PhD with a research focus on voluntourism in the Caribbean. My undergraduate degree, as well as my various volunteer and internship experiences are the foundation on which I will launch into reaching my goal.
What would be your "dream job" in life?
My dream job would be something that enables me to merge my passions: philanthropy, travel and public relations. Ultimately, my dream in life is to find happiness in all that I do.
Are you currently a student?
Yes.
If yes, where?
University of Toronto
Area of study:
Social Cultural Anthropology
Describe where you were raised and what your childhood was like.
I was raised in Little Italy, Toronto and spent my summers in Keswick, Ontario. My childhood was spent running down the road to catch the ice cream truck, going to my grandfather's events and playing outside with my friends. I attended five schools growing up, which enabled me to acclimatize naturally to my ever changing school and social environments. I can still feel the butterflies in my stomach before my choir Christmas show in kindergarten, and feel the vibration of the drums in my chest while participating in the after school music program. I played lots of four square in the schoolyard, and eventually worked up my courage to go down the big orange slide on the jungle gym. I always had my hair in a ponytail and of course blistered hands from the monkey bars.
I walked everywhere in the city, contrasting my long bike rides in Keswick. My childhood was a blur of playing manhunt on summer nights and climbing piles of snow. Street hockey was a staple activity, although my older brother had to defend my right to play with the older boys. I laughed constantly, and had a signature "flossy face"; both have endured into my adulthood.
List any interesting or unusual jobs you may have had.
Juggling work with school and life is probably one of my quality traits. I think the most interesting jobs I have ever had are tied between working for Habitat for Humanity and modelling for the Toronto Caribbean Carnival.
At Habitat for Humanity I showed up for work in my steel boots, learned how to hang drywall and contributed to building homes for people less fortunate, an experience I will not soon forget. This is a stark contrast to my modelling job where I immersed myself in the glamor and multicultural spirit of the Toronto Caribbean Carnival. For me, these jobs aren't unusual, and instead they reflect the variety of interests and inspirations that come my way.
List any volunteering you have done.
I have volunteered in various equestrian facilities in the Greater Toronto Area caring for the stable, as well as assisting with lessons for beginners and people with special needs.
I have volunteered at the Good Shepherd Ministries annual fundraising gala, and I produced a video for Wyatt's Warriors Congenital Heart Defects Foundation of Canada, dedicated to families affected by congenital heart defects.
In Prince Edward Island, I photographed, filmed and produced a short film on a senior's college cooking class.
In Yukon Territory, I assisted children in making stop motion film in their art class.
In Chicago, I had the opportunity to volunteer at Deborah's House, an assisted living residence for women with mental illness.
I have volunteered, and continue to do so, in Kingston, Jamaica at The Salvation Army orphanage.
What is your most unusual talent?
Other than making myself laugh on a regular basis, I think the most unusual, or unexpected talent that I have is the ability to cut old t-shirts up and to redesign them. I usually do this when I don't have enough time to paint, but would like to express myself creatively.
Where is the most interesting place you have been to?
The most interesting place I have been to is Dawson City, Yukon Territory. Although it is not the furthest geographical place I have visited, my experiences in Dawson City have resonated with me. I believe that my immersed interactions with First Nations elders have had tremendous impact on my approach to interacting with people, as well as my academic interests. The physicality of the city was very intriguing to me, especially the dirt roads in which the residents fought to keep and the feeling as if we were driving on a waterbed because of the permafrost in the roadways.
What do you hope to be doing in ten years?
It is difficult for me to project what I will be, or will want to be doing in ten years. I hope to have reached my career goals, and have a family of my own. I also hope to have established a foundation in which advocates for youth who are growing up in orphanages, and aid in the transition into adulthood.