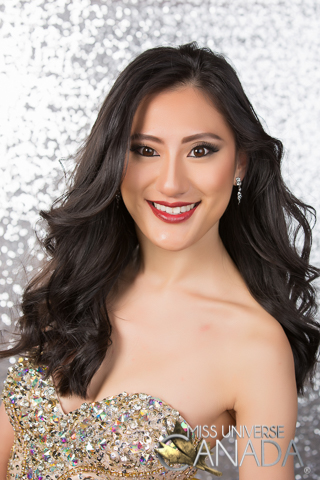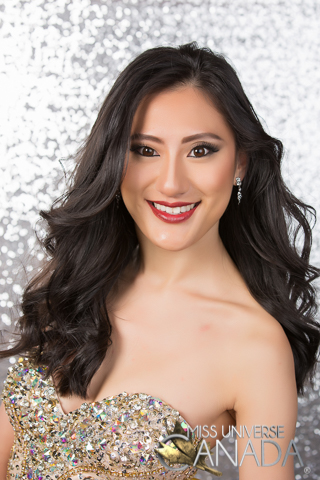 Height: 5'7″
Hometown: Richmond, BC
Behind the glamour, behind the makeup, and behind the flashy dance costumes there is an ordinary girl with an extraordinary path. Shayna was born in Beijing, China, and immigrated to Canada with her parents at the age of 11. She is now a proud Canadian living in the Greater Vancouver area, studying at UBC to become a pharmacist – a career she believes can greatly benefit society. But this journey didn't take place overnight. When her family first landed in Calgary, it was the beginning of a new life chapter where she was able to learn an entire language and culture, sparking new friendships along the way. While settling into Canada, her family received tremendous support from a number of non-profit organizations. For this reason, Shayna has been very grateful for what Canada has provided for her family, and has been inspired to give back to the community. She has voluntarily contributed countless hours to charitable events, providing entertainment to senior homes, tutoring to children in need, and also coordinating her own charitable fundraisers. Her passion for servicing the community even earned her the honour of being one of the recipients of the Calgary Youth Immigrant Distinction Award at the age of 17.
Shayna has always been an avid dancer. She began her dance journey by learning ballet and Chinese dance. In 2008, she proudly represented Canada as a dancer and model in the World Championships of Performing Arts, and received one gold and two bronze medals for team Canada. After moving to Vancouver to pursue her studies at UBC, she decided to try something new and started learning International style ballroom dancing at UBC Dance Club. Since then, she became attached to the ballroom community, both competing and volunteering. To this day, her partners and her are continuously taking lessons, practising four to five days a week, and dancing competitively across Western Canada and USA, with many victories. To her, however, being one of the top competitive ballroom dancers is not her ultimate goal, but to express her love of dance through movement, no matter how big or small the stage is.
Participating in the Miss Universe Canada pageant has always been a dream for Shayna. She has been preparing for this moment for many years and is looking forward to taking to the stage. With the willingness to learn from the best of the best and the full intent to grow from this experience from beginning to end, she is striving for a chance to represent Canada at the next Miss Universe pageant.
Sponsors:
U Power Financial, Dr. Sean Bin Xie from Sasamat Dental, Curtis Struthers – Financial Security Advisor and Investment Representative, Canadian Chinese International Yacht Consulting and International Entertainment Club LTD, Dickson Tsang's Dream Team, Canadian Manu Investment Group Inc., Stage One Academy, The Legend of China Overseas Media Group, 131su & Mianea, E-Style Beauty Spa, Crystal Ballroom, Friends & Family
Languages spoken fluently (please include your native language if English is not your native language).
(Mandarin) Chinese, English
What are your interests and what do you enjoy doing the most?
Dancing and modeling
List any special training you have had (music, art, drama, dance, etc.).
Runway modeling
International Style Latin and Standard Ballroom
Chinese traditional and folk dance
Ballet
Lyrical
Jazz
In what sports, if any, have you participated?
I would consider International Ballroom Dancing a sport, it is recognized worldwide as "DanceSport". Other than that, I have participated in my High School Track and Field team as a long distance runner.
Name one person, other than your parents, who has had the most influence on your life. Why?
Of all the amazing people in my life, my grandma has definitely influenced me the most. As I grew up in China, she spent the most amount of time with me and gave me the most guidance. She is an extraordinarily intelligent and responsible women. Being offered two unique paths out of high school, she opted to forgo medical school and instead accept an incredible offer to teach at the high school she had just graduated from. She did this to earn money and provide for her family, defining her values. She is my idol for many reasons: teaching me to be a caring individual, being very well respected and appraised by her peers and students, handling family hardships, and her willingness to make sacrifices for her loved ones in times of need. Together, the little things along with the big decisions is what have made her so influential to my life.
What is your proudest personal accomplishment (other than participating in this pageant)?
My proudest personal accomplishment is not something that is necessarily recognized with awards and competition. Interestingly, it arose from my "failure". In the summer of 2011, I gave myself a hefty challenge and signed up for a student internship selling educational materials door-to-door in a foreign city. It was a very tough job. I was away from home on the other side of Canada, working more than 80 hours a week, knocking from door to door, only to get rejected by slammed doors all day long. The first week went by with zero sales. I had many doubts about myself and even thoughts about quitting and going home. There were two clear options in front of me: go home to Vancouver or push forward in Mississauga. I chose to stay and see what could happen if I didn't give up. Things began to turn around when I became less concentrated on the sales, but more concentrated on my attitude of "never giving up". By the end of the 13 week internship program, I was one of their top salespeople in Canada. This was the toughest job I have ever had and what started out to be a "failure" turned into a "success" due to my attitude of never giving up. To me, this journey is definitely my proudest accomplishment.
What is the most interesting or unique thing that has ever happened to you and/or what is the most interesting thing about you?
The most interesting thing that happened to me would have to be immigrating to Canada with my parents. I was 11 at the time, and it was the first time I had ever visited a country abroad. Unlike my parents who had travelled across the world, I didn't know anything about Canada or what to expect at all. To calm my nerves back then, I gave myself a nickname, which translates to "the kid who is travelling abroad for the first time" and wrote stories about "the kid" in a diary. Following landing in Calgary for the first time, every person, building, and tree were foreign to me. Even the McDonalds menu looked unfamiliar. With the help of new friends in Canada, I slowly learned the ways of the new country, the place where I now call home.
What is your career ambition and what are you doing or plan to do to accomplish that goal?
I did not have a stable career ambition growing up. I do, however, have an overarching goal of doing what makes me the most happy. It may sound easy but it takes a lot of trial and errors to figure out what makes me the most happy. As of now, interacting with people and making them feel more at ease is what I want to do in my life. To accomplish this, I am currently studying Pharmaceutical Science at the University of British Columbia and planning to become a community pharmacist.
What would be your "dream job" in life?
My dream job is doing something that is meaningful and I will enjoy doing. One job that fits both of those criteria is community pharmacy. As the scope of practice of pharmacists in Canada is expanding, we serve as a dynamic and patient-oriented profession in the health care team. We are a widely accessible source of both immediate and long-term care in the community, filling the gap between the diagnosis of the physician and patient care, as well as educating patients with up to date evidence on both drug and non-drug therapies from the scientific world of research. All of this is aimed to help society, which I believe is meaningful.
Are you currently a student?
Yes
If yes, where?
The University of British Columbia
Area of study:
Pharmaceutical Science
Are you currently employed?
Yes
If yes, what is your occupation?
Pharmacy Assistant/Student Intern at Shoppers Drug Mart
Describe where you were raised and what your childhood was like.
I was raised by my parents and grandparents in Beijing. My parents were busy with their work and often travelled abroad for conferences and meetings. Therefore, I lived with my grandparents most of the time and grew very close with them. Beijing is the capitol city of China. With a total population of over 21 million, numerous historic sites, luxurious architecture, and booming economy, city life was very busy and pushed me to strive for my best to stand out. I pushed myself in dance, art, sports, writing, and math, resulting in many extracurricular classes across the city. At a very young age, I had already learned how to juggle between various commitments and manage my time, which has helped me become who I am today.
List any interesting or unusual jobs you may have had.
Door-to-door direct salesperson as a summer internship at Southwestern Advantage
Being the Chinese-English and English-Chinese translator at a Press Conference when the world renounced pianist Lang Lang was visiting Vancouver
List any volunteering you have done.
In Vancouver (2010-2016):
Member and Volunteer of the Vancouver Sunshine Lion's Club
Fundraising for the victims in the Nepal Earthquake (through Red Cross)
Food drive for the Richmond Food Bank
Clothing drive for those in need in the Vancouver Downtown Eastside area
St. Paul's Hospital's Giftshop
Vancouver General Hospital's Renal Dialysis Unit
Richmond Hospital's Gala Event
Fundraising for BC Cancer Agency
Fundraising for Cystic Fibrosis Canada
Fundraising for Canadian Liver Foundation
UBC Learning Exchange in Downtown Eastside
UBC Dance Club Executive
Robson Square Summer Dance Series
In Calgary (2004-2010):
Performing dance during Canada day celebration week at over 40 senior residences, nursing homes
Teaching computer and reading to children through the Calgary Public Library
Tutoring children who are academically challenged through Big Brother Big Sister program
Administration helper at Alliance Francaise
Various city events (i.e. Canada Day celebration, Stampede, Chinese New Year Celebration, Go Green Conference, etc)
What is your most unusual talent?
My unusual talent is that I can quickly fall asleep almost anywhere; including in public. It is actually quite embarrassing sometimes when the bus driver has to wake me up at the last stop. But at least I'm more rested at my destination!
Where is the most interesting place you have been to?
The most interesting place I have been to is a Center for the Deaf and Mute Children in Puerto Vallarta, Mexico. I vividly remember the condition of the building when we first got there. The building only had two small rooms, in which the paint from the walls and ceiling was peeling off, uneven flooring, broken tables, and ubiquitous spider webs. Together with the local children, we did our best to revamp the building in a day, with paint brushes and smiles. We also donated boxes of books and clothing to the Center. Even though the kids were either deaf or mute, we felt a very minimal language barrier. It was enlightening to see their excitement and gracious attitudes, making this the most interesting and meaningful place I have visited.
What do you hope to be doing in ten years?
In ten years, I hope to be continuously giving to the community, and finding joy in life. I want to share my experiences with other wonderful people and hopefully inspire them to also contribute to our community.
Is there anything you would like to add that we haven't asked?
Being in Miss Universe Canada has been a dream of mine since 2002. It was the first time I watched Miss Universe on TV and was immediately mesmerized by all the gorgeous contestants on the screen. I vividly remember the magical moment when Miss Russia, Oxana Fedorova's gracious presence on stage was combined with her witty answer to the question "What makes you blush". I asked my mom at the time why she didn't join this pageant, to me she was as smart and beautiful as Miss Universe. She told me that she was too old but when I grow up, I could be one of them if I wanted to and tried hard enough. 14 years later, it's the time to step up to my dream from 2002.