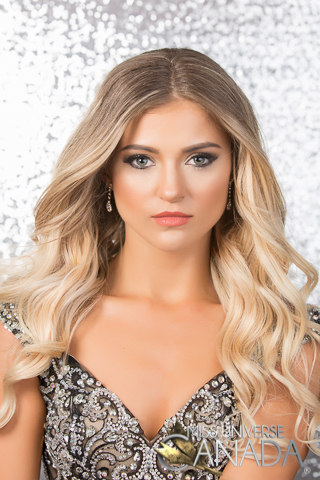 Height: 5'9″
Hometown: Sechelt, BC
Sian Slingerland was born in Sechelt, British Columbia, raised around the world and has now settled down in Vancouver. Her father's career took the family all over Asia. She has lived in China, Indonesia, and Malaysia. Her constant travels made it very challenging to bond with fellow classmates but this just drove Sian to succeed in her studies. She graduated from Chatelech Secondary School early, with top grades that landed her in the University of Victoria. She studied business for a year before starting her career in law. Currently she is working full-time as a legal assistant while continuing her education at Douglas College with the goal of becoming a paralegal.
In Sian's travels she has seen the world first hand but has also seen the difficult living conditions people face firsthand. These experiences have created a passion for human rights and she now aspires to help those in need. Besides working full-time and going to school part-time, she spends her free time volunteering for Coast Mental Health working with patients who suffer from psychiatric problems and addictions issues. Sian feels that helping people who cannot help themselves is just one step in the right direction to bettering the world.
Pageants have always been a love of Sian's since she first competed in 2013. Since then she has represented her town, province, and country at national and international levels. This will be Sian's fourth pageant and she brings a positive, outgoing attitude along with her culturally diverse experience. Winning the title of Miss Universe Canada will allow Sian to pursue many ventures, including helping with human rights initiatives, promoting mental health awareness, and being a role model for her nation.
Sponsors:
Mori Lee, Body Bar Laser Clinic & Wellness Centre, Dakota Maverick Photos, Lebeau Law Corporations, KAM Industries, Friends & Family
Languages spoken fluently (please include your native language if English is not your native language).
I speak English fluently but I have lived in China, Indonesia, and Malaysia and I was able to speak those languages conversationally while there. I also studied Spanish through high school and university.
What are your interests and what do you enjoy doing the most?
I love being able to relax and paint. My life is very busy day to day as I work full time, go to school part time, volunteer, and keep a healthy fitness regime. Being able to just spend some time with my nana and paint or lay back with loved ones means a lot to me. I also enjoy going on trips to new cities whenever I'm able.
List any special training you have had (music, art, drama, dance, etc.).
I started training in karate when I was about 6 and trained up until about 12, but I moved right before my black belt test. Right after that I found a new love for dance, and danced in every genre until I graduated.
In what sports, if any, have you participated?
I was very much a tomboy when I was younger. I participated in volleyball, basketball, and baseball. I was MVP of my soft ball tournament in high school too!
Name one person, other than your parents, who has had the most influence on your life. Why?
Malala Yousafzai. She's a young Pakistani activist for female education. She's 18 years old, a Nobel Peace Prize winner, and one of the most influential people of our time. Malala has even had assassination attempts on her life but that does not stop her. The world needs more people like Malala Yousafzai.
What is your proudest personal accomplishment (other than participating in this pageant)?
I'm proud to be where I am today. I couldn't be happier with where my career is going, how school is going, and how my personal life has been. I moved out right after high-school so to be able to have started my career at 21 makes me proud.
What is the most interesting or unique thing that has ever happened to you and/or what is the most interesting thing about you?
Growing up in various countries has to be the most interesting thing about me. My dad's job took him around the globe so I have had the blessing of seeing the world at a very young age. I've lived in China, Indonesia, and Malaysia.
What is your career ambition and what are you doing or plan to do to accomplish that goal?
Currently I am in school finishing my Legal Assistant program and then going on to the Paralegal program. I would love to work for an international law firm that defends human rights.
What would be your "dream job" in life?
My "dream job" would be to own an animal sanctuary and save endangered species. I follow The Black Jaguar-White Tiger Foundation closely and Eduardo Serio is a real inspiration. He saves large felines from a life of despair. I've always loved animals so to be able to make a difference in an animal's life would be the most rewarding dream job for me.
Are you currently a student?
Yes
If yes, where?
Area of study:
I am taking the Legal Assistant course at Douglas College. This is my second year of post-secondary. I attended University of Victoria before finding a passion for law.
Are you currently employed?
Yes
If yes, what is your occupation?
I am a legal assistant for an Immigration and Real Estate law firm. I absolutely love my job; my boss is amazing! He allows me to bring my dog to work with me every day!
Describe where you were raised and what your childhood was like.
I was born in Sechelt, BC, which is a beautiful town off the lower mainland. I grew up all over the place though, I moved with my parents right after I was born to Borneo and from there it was always back and forth between Canada and Asia. I went to many different schools including boarding school in Penang, Malaysia. My childhood definitely was not normal but I wouldn't change it for the world. I love travelling and I love being able to say "I've been there!" No matter where I went, though, Sechelt will always be home.
List any interesting or unusual jobs you may have had.
One of my first jobs was at a gas station! It was a full service gas station and I pumped gas, checked oil, and cleaned windshields. I was the only girl who worked there but I loved it because my coworkers taught me a lot about cars. It was honestly a blessing because now I can take care of my own car without any help!
List any volunteering you have done.
I've volunteered for my high school all through my teen years and went to many events including an anti-bullying seminar and We Day for Free the Children. I also volunteered for the Salvation Army collecting donations! Currently I volunteer for Coast Mental Health working with patients who suffer from mental health issues and addictions.
Where is the most interesting place you have been to?
There are so many cities that I could list but my favorite place I've been too has to be Brazil. My parents lived there for a year and I went on my break from boarding school. I got to see sea turtles lay eggs on the beach, I learned how to surf, and for Christmas my dad and I rode horses on the beach!
What do you hope to be doing in ten years?
I hope to be working at a human rights law firm. I know that if I work hard now for what I want, in ten years I'll have a career I'm already proud of. Ten years is a long way away though, so who knows, maybe I'll win the lottery and open an animal sanctuary!