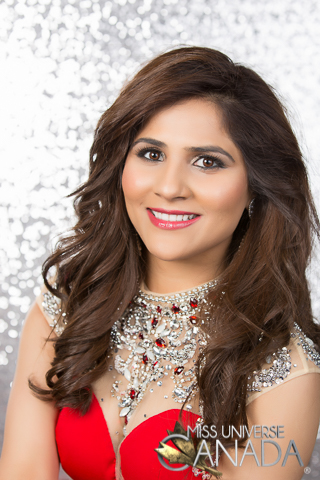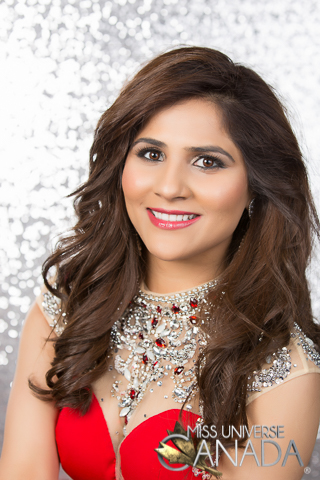 Height: 5'1″
Hometown: Edmonton, AB
Vibhu Kher was born in India and moved to Edmonton, Alberta at the age of 6. She is a creative, charismatic and dynamic individual. Growing up watching beauty pageants like Miss World and Miss Universe, Vibhu became inspired by the strong women participating and the organizations and causes they supported; In particular, Sushmita Sen, Miss Universe 1994 who stated in an interview, "I always wanted to be someone who could impact one's life so deeply". She has inspired women all around the globe to dream big. Her vision, confidence and extensive humanitarian work left a lasting impression on Vibhu. The Miss Universe competition has motivated Vibhu in every aspect of her life as she wishes to fulfill a similar role as the strong women she's grown up watching and believes in a larger good for the world. Vibhu deeply values her education and feels that it has fueled her passion and desire to serve as a voice for others. From a young age, she has aspired to become an influential public figure and beauty queen. But conventional beauty standards coupled with her short height, left Vibhu distraught and she felt that her goal of modeling and being a role model for women was unattainable. Being selected for the Miss Universe Canada pageant gave Vibhu the confidence and desire to chase her dreams. Vibhu believes that anything is possible, and looks forward to working hard to make her dreams a reality. She believes in living life on her own terms, and strongly believes that there is no such thing as a "set path."
Although Vibhu has no professional training in dance, or song, she has been dancing since the age of 5, and can dance to any music in any genre, whether it is pop music, Latin American, Bollywood, or Middle Eastern. In her spare time she enjoys listening to all kinds of music, regardless of the language. She believes that diversity introduces us to new cultures, new people, new perspectives and she is proud to live in a country so accepting of multiculturalism.
Vibhu is a dedicated and uplifting individual who tries to make the best of every situation and learn from the adversities she experiences. The most important advice she has to give to young women is "to look at the loss as a lesson." As someone who has struggled with adapting to the University lifestyle, losing friends and support, Vibhu believes that confidence is the key to success and necessary to overcome the obstacles and struggles that life brings.
Currently in her third year of studies at the University of Alberta, Vibhu is working towards her Bachelor of Arts degree with an Economics major and Biological sciences minor. In the future, Vibhu hopes to pursue a career in Medicine, but also dreams of advocating for female empowerment as a public figure. The life lessons she's learnt have helped Vibhu become a mature, educated, and confident young women that hopes to advocate for the health, wellness, and respect of men, women, and children around Canada and across the world.
If successful in winning Miss Universe Canada 2016, Vibhu wishes to travel across Canada and spread her message of pursuing education, empowerment, positive self-image and confidence to a wide audience. She believes every child and family deserves the opportunity to live in an environment where there is great hope for the future and she wants to spread that vision and joy wherever she goes.
Sponsors:
VSM Photography, Fancy Doors and Mouldings LTD, Pash Accounting Services, Bollwood Beats – Director: Deepti Sami, Vadara Salon and Spa, K.P Accounting & Tax Services, Jaswinder Kaur Longowal – RE/MAX , Unified MMA Sunny Sareen, Yash Sharma Harmony TV, Mitali Jani 101.7 World FM/Radio Punjab, Sen Studios, Friends & Family
Languages spoken fluently (please include your native language if English is not your native language).
English, Hindi, Punjabi
What are your interests and what do you enjoy doing the most?
My interests include, volunteer work, going to the gym, spending time with friends, traveling to new places, and taking on exciting adventures. I like to keep up-to-date with the latest fashion trends, while also adding my own signature touch to everything I wear.
The one thing that makes me the happiest is a new experience, which includes meeting new people and/or traveling to new places. I enjoy gaining new and diverse experiences and learning from the lessons life teaches me.
List any special training you have had (music, art, drama, dance, etc.).
I have never had any professional training in any of these areas, but I have actively participated and tried all of them.
I take classes in art history; I have been a huge dancing freak since I was very young. I love to sing and listen to music even when I'm studying. I never had the opportunity to register in professional program or gain formal training when I was younger so I like to consider myself a self-learner and self-taught singer, dancer, and artist.
In what sports, if any, have you participated?
During my junior and high school years I participated in sports such as badminton, basketball and soccer.
Name one person, other than your parents, who has had the most influence on your life. Why?
I'd have to give that to my sister. We might bicker and argue, but when it comes down to making big decisions or changes in my life, I tend to talk to her about it.
What is your proudest personal accomplishment (other than participating in this pageant)?
I believe personal accomplishment isn't about winning a title or getting an award of some sort. I think it comes from within. Personal accomplishment for me is the act of realization, a point of having an epiphany and making a major change. For me, my proudest personal accomplishment was after my first year of university. That really changed me, because it changed how I talked and carried myself, my perspective on life, and what life really has to offer. It changed my outlook on what I wanted from life and how I was going to achieve it. For me, my personal accomplishments have always been those little moments and/or big events that forced me to evolve as a person, whether it was a bad grade, a heartbreak, personal losses, or simply moving on from the old me and developing the new.
What is the most interesting or unique thing that has ever happened to you and/or what is the most interesting thing about you?
I think what makes me unique is this trait I have which gives me 20 different personalities. My mom always tells me that wherever I go, I take on that specific role of that specific environment and society. I mix with everyone and I always have something in common with mostly every person I associate with, whether they are from a different city or from a different continent.
What is your career ambition and what are you doing or plan to do to accomplish that goal?
I want to help and influence the young and the old, and help those in need of medicine or education. Currently I am in my third year of my Bachelor of Arts degree, I wish to finish my degree and enter a professional program either in Medicine and/or a career in public speaking. Upon completing my professional training, I wish to work in an area where giving children education or healthy lifestyle is truly the focus.
What would be your "dream job" in life?
My dream job would be a profession, which includes the perfect combination of fashion and style, and would also require an intellectual and educated personality.
If I had the chance to be anything, I would choose to be a public figure and/or helping those in need of hope, medicine, education, and a future.
Are you currently a student?
Yes
If yes, where?
University of Alberta
Area of study:
Bachelor of Arts
Are you currently employed?
No
Describe where you were raised and what your childhood was like.
I was born in India, but raised in Edmonton, Canada for most of my life, as I moved here when I was only 6. I remember my childhood as a happy time for me. I had many friends, played outside, in the park whenever I got the chance. I was always a very imaginative girl, so I created my own games and made my friends play along. Ex. I would pretend I was a pirate and sat in a big box in the middle of my backyard. (It was my ship, and the grass was my ocean.) I believe I was raised in a good city with a great group of kids, some whom I still associate with, as well as a good education and learning environment.
List any interesting or unusual jobs you may have had.
The most unusual job I have done would have to be the housework my mother makes me do.
List any volunteering you have done.
I first started in grade 12, through my school leadership class, where I mentored young children with the Boys and Girls Club at an elementary school. I also held big fundraising events in the school with my co-volunteers such as "bike-a-thon", car washes etc. That was something that first built my interest in volunteer work.
1. My university chapter started with a trip to lac-la-biche where we gave presentations about safe sex, healthy lifestyles and smoking to young high school kids, that was an eye opening experience for me. I also gave the same presentations in local schools in the city. (Student's international health association – SIHA)
2. Cross Cancer institute (Alberta health services AHS)
3. United Nations Association in Canada's (UNAC) Sport-in-a-Box Programme
What is your most unusual talent?
I'm not a professional therapist, but I can definitely sit a friend or family member down and find the core of their problem and help them work towards a solution.
Where is the most interesting place you have been to?
Lac la biche, it is a small town up north from Edmonton and I have never learned as much from a big pretty city than I have from the people of that region.
What do you hope to be doing in ten years?
In ten years, I wish to be In a position where I am influencing, helping and impacting many communities across the globe, I want to make the most of the opportunities i get in life and help whoever I can along the way.
My purpose for this pageant is to be a resourceful, influential and impactful woman, I wish to carry that forwards 10 years from now as well.
Is there anything you would like to add that we haven't asked?
I am honored to be a part of this pageant. It would be a privilege and a dream come true to hold the Miss Universe Canada title and I would take the opportunity to make as much of an empowering difference as possible in my community. I would like to thank my family and friends for all the support and The Miss Universe Canada Organization for allowing me to experience this wonderful journey.