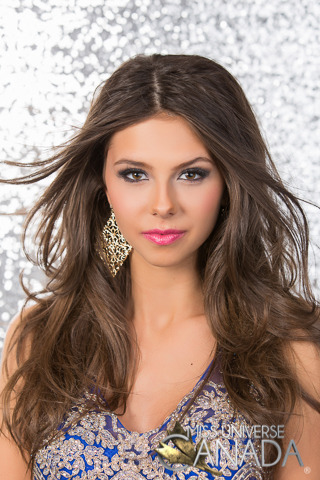 Height: 5'7″
Hometown: Harrow, ON
Felicity is a proud and confident young woman. Being only 18-years-old it would seem as though she is too young to hold the title of Miss Universe Canada, but she disagrees 100%! She looks at her age as an advantage in the competition stating, "My age allows me to relate with the youth, and give those who have entered adult-hood something to take pride in." She has pursued a carer in modelling since the age of eleven, and enjoys the thrill of being in front of the camera. Educationally Felicity aspires to be a Dental Hygienist and hopes to travel over seas to offer basic dental care to those who could truly benefit from it. Among activities like fishing, tubing, camping, and reading, Felicity takes great passion in charity work. She has completed hundreds of hours of community service for the Look Good Feel Better organization, participated in the United Way CN tower stair climb to raise money for local families of the GTA, the walk for AIDS to help give treatment patients with the disease, and the Terry Fox run. She has also completed numerous can drives for the down town mission of Windsor and good fellows food bank, helped a local family who lost everything in a house fire by collecting and donating clothing and toys, as well as sent back packs, school supplies, and teaching tools to an orphanage in Haiti. Felicity knows that with the title of Miss Universe Canada her voice will be heard across the country. Her journey has just begun, and the opportunity that comes with the title only allows her to reach greater heights. Felicity will always be a positive role model to the youth, as well as those who have surpassed her on the journey of life. She is forever grateful for this opportunity.
Sponsors:
IDA, Nation Wide Canning Ltd., Speedy Glass, Kabobgy, Matthew Wealth Management, Mr. Plow, Chalet Studio Photography, Double Click Computers and Design, Sun Parlour Trailers, Kingsville Chiropractic Clinic, Auto Tech Garage, Sykes Funeral Home, Felicity Slikboer, Friends & Family
Languages spoken fluently (please include your native language if English is not your native language).
English is my first language, when my grandmother came to Canada from Holland in 1955 her parents, my great grandparents, believed that because English was the language spoken here they were to learn it and speak it at all times. I truly wish that I could have received Dutch as a second language and started to study it in my spare time, I know some but not enough to have a conversation with someone.
What are your interests and what do you enjoy doing the most?
I enjoy many things, some that are a little bit surprising to people. Being from a small town that is very agriculturally based, I have always participated in outdoor activities. I love fishing and boating in the summer, and snowmobiling in the winter. I enjoy going to amusement parks, reading, useless facts and trying new foods. I feel that each new experience we embark on lays in front of us an opportunity, and what we do with that opportunity truly defies us. I am also a strong believer that we were put on this earth to help one another, so I am very passionate about helping others, whether it be carrying an elderly woman's groceries to her car, or fundraising money or supplies, every little bit counts.
List any special training you have had (music, art, drama, dance, etc.).
I was fortunate enough to go to a school where music programs were very well taught, and a very important piece of your education. I received training in dramatic arts by taking the class all four years of high school. As well as training in singing, and dance. When I participated in our schools musicals I received a lead in grade eleven and twelve, and my own solo in grade ten. Musicals are a very important part of me. They were what made my high school career so enjoyable.
In what sports, if any, have you participated?
To be completely honest, I love the idea of sports, and the idea of participating in and on sports teams because I feel that the skills they teach you can really help you throughout your life. But, sports don't really enjoy my company. I played soccer when I was young but whenever the other kids would fall I would go and pick dandelions to hand out to them. I did play softball and badminton throughout grade school and although I tried my best I was never very good, no matter how much practice I had.
Name one person, other than your parents, who has had the most influence on your life. Why?
I personally cannot choose one person because two people other than my parents have influenced me, not one more than the other but as a pair, my grandparents. They have influenced and inspired me in different ways. My grandfather has always been very important to me and been my inspiration and has taught me that hard work is what gets you where you are and that if you always push forward than you can accomplish anything. My grandmother is one of the sweetest women I have ever met, and she is always very honest with me. She has influenced me to be honest, caring, and compassionate and to always turn the other cheek. Together they have influenced me to be a great role model and have given me the power to know that I can achieve anything!
What is your proudest personal accomplishment (other than participating in this pageant)?
My proudest accomplishment outside of the pageant would have to be my involvement in the Meme Back to School fundraiser for the children in Haiti. I collected hundreds of school supplies for the students as well as teaching tools for the educators. The best part of the whole experience were the pictures that I got to see of all of the smiling faces on the children when they received all of the tools that they needed. Although I was not fortunate enough to go last year I am excited to be participating in this organization again and hopefully get to go and see first hand the impact that I have made.
What is the most interesting or unique thing that has ever happened to you and/or what is the most interesting thing about you?
I feel that the most unique thing about me is the fact that I am a woman. Though this may sound vague it is the truth. No two women are made the same, we do not possess the same qualities or looks. I was made unique in my own way and I wouldn't change a thing about myself. The most interesting thing about me is how much I enjoy useless facts I have one for every day and call it 'Felicity's Fun and Fantastic Fact of the Day'.
What is your career ambition and what are you doing or plan to do to accomplish that goal?
My career ambition is to become a Dental Hygienist and travel over seas with the dentists without borders organization to offer basic dental care to those who need it most. To reach this goal I plan to work very hard and diligently in my schooling, never give any less than one hundred percent, and stay focused.
What would be your "dream job" in life?
My dream job would be to be able to travel the world and influence the youth and elderly to follow their dreams and make the most of their lives, because as long as you're living your life is not over and you should make the most of it. I would love to speak at an international level and use my voice to speak against bullying and sexual equality all across the world.
Are you currently a student?
Currently I am deciding which college I would like to attend for my post-secondary education.
If yes, where?
Area of study:
I would like to be a Dental Hygienist.
Are you currently employed?
Yes I am currently employed.
If yes, what is your occupation?
At the present time I am a cosmetician at my local Shoppers Drug Mart as well as a supervisor in the front store.
Describe where you were raised and what your childhood was like.
I was raised in the lightening capitol of Canada known as Harrow! Harrow houses about 3,000 residents so it is very small, but it is the best place to grow up, and it is where I have lived my whole life. Being raised in a small town is one of the best experiences that I have ever had, you get to learn many things that I don't feel you can learn in the city. I have learned diligence in chores and that hard work can take you far. In a small town you get a huge sense of community and it's the place where everyone knows everyone. I was very fortunate to have a great childhood. My mother raised me, along with my sister. I have a very tight knit family and we all try our best to support each other. Just like any ordinary family we have had rough times, my parents were divorced when I was seven but I am lucky that they get along today and together support me in my efforts toward my dreams. I was always a very happy child and was raised that there would always be someone better than me. I feel that these words really helped me embrace my own unique confidence, and keep a level head.
List any interesting or unusual jobs you may have had.
When I was 12 years old to 14 I worked at a cider mill, it was hard work, but it was a lot of fun at the same time! Also some modeling jobs that I have taken part in were a bit unusual but always very professional and a blast!
List any volunteering you have done.
Wings Rehabilitation center caring for injured animals
Jack Miners Bird Sanctuary tending the animals
CN Tower Stair Climb to raise money for the GTA
Walk For AIDS
Terry Fox Run
Look Good Feel Better Organization Charitable Events
Personal Can Drives for the downtown mission of Windsor
The AIDS Committee of Windsor
Hosted a Spa day for abused women of Windsor at The Blue House
MeMe's Back to School Operation 2015 and 2016
Collected Supplies for a Local family who lost everything in a fire
Serve Lunch at Harrow Wood Retirement Living
Collected and donated clothes to the Food and Fellowship Mission of Amherstburg
As well as currently partnering up with Soles for Souls, and organization that collects new and gently used shoes for people over seas.
What is your most unusual talent?
My most unusual talent is that I can touch my nose with my tongue… I think.
Where is the most interesting place you have been to?
The most interesting place I have ever been to would have to be Austin, Texas. It is so beautiful and has so many majestic qualities. Plus they have really good food there, so that's definitely a bonus.
What do you hope to be doing in ten years?
In ten years I hope to be starting a family, having my career, and continuing to follow my dreams in inspiring those around me.
Is there anything you would like to add that we haven't asked?
I would like to take a moment to thank Denis and all of the Sponsors of Miss Universe Canada a HUGE thank you for the opportunity. I would also like to thank all of my personal sponsors and supporters including my friends and family. As well as huge congratulations to all of the young women who are competing this year, I hope that we can all become great friends and take in every moment of the experience!