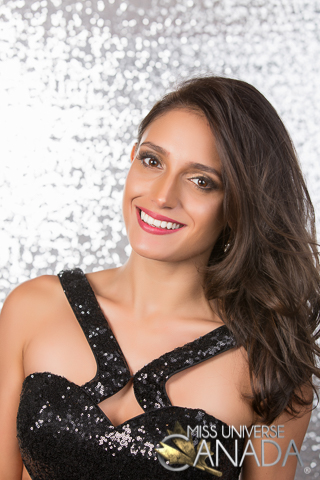 Height: 5'5″
Hometown: Windsor, ON
Jelena Komlenac was born and raised in Windsor Ontario. Currently at the age of 21 she is in her third year at the University of Windsor studying Biological Sciences. Her main focus is to finish her degree and go on to study dentistry. She not only has a deep interest in the sciences but in the arts as well. Throughout Jelena's whole life she has been active in her community's various theatre events performing on stage. Jelena believes that along with education, experience is key to gain knowledge about the world and yourself. From a young age Jelena has had a curious nature and it has led her to participate in many different hobbies from ballet, to the Martial arts, soccer, theatre and piano, just to name a few. She has been lucky to have supportive parents who gave her the opportunity to have so many educating experiences. Being a part of all these experiences has allowed Jelena to grow into the open minded, confident, and compassionate individual she is today. Volunteer work has always been a part of her agenda whether it be for annual fundraisers such as Moxies Golf Tournament for Ronald Mcdonald House, fashion shows or helping friends with school, Jelena has felt the need to continually be there for others and her community. Not only is giving her time to others essential, Jelena has a hard work ethic and believes it is an important facet of her identity. She has worked numerous jobs tutoring, teaching piano, in retail and the restaurant industry while still in school. These jobs have allowed her to build new relationships with people and acquire skills that will help her achieve long term goals. Jelena was born one year after her parents arrival to Canada, her name is a symbol of her cultural roots and she embodies the Canadian culture with her own in the best of ways. It is a constant reminder to work hard and be accepting of other cultures the way this country was accepting to her parents just over 20 years ago. Family is important to Jelena but her little sister is what gives her the drive and determination to be an amazing role model. Having a sister made Jelena realize that there are so many young girls in the world who may not have someone to look up to or care after them. This is why Jelena is competing for Miss Universe Canada, she hopes it will give her a bigger platform to be the inspiring role model she already is.
Sponsors:
Moxie's Grill and Bar, Synergy Wellness and Performance, Pure Day Spa, SKinov8ive Medical Aesthetics Inc, B-Vogue Boutique, Mezzo Ristorante & Lounge, Cabello Hair, Golden Time, Dimanti Stone Works, The Cook's Shop, Friends & Family
Languages spoken fluently (please include your native language if English is not your native language).
English, Serbian
What are your interests and what do you enjoy doing the most?
I have many interests but the ones I enjoy the most are reading, cooking, playing the piano and singing. I have a love for food and am constantly creating new dishes and exploring new flavors. At the age of 11 I started singing for any and every school event and at 14 I had a lead role in my first broadway show in front of a full house of 1100 people. My passion for music led me to start playing classical piano and I quickly achieved Grade 8 certification level in 5 years. Piano has been not only a hobby but an essential part of my happiness. I try to lead a balanced life and am constantly pushing my boundaries and trying new things to see where they'll lead me.
List any special training you have had (music, art, drama, dance, etc.).
Piano (Grade 8 Certification)
Singing
Acting
Cake Decorating
Kolo (Serbian Folk dance)
Ballet
In what sports, if any, have you participated?
From a young age I've participated in many different sports such as soccer, volleyball, track and field, swimming, figure skating, martial arts, snowboarding, dancing and tennis. Running is also one of my favorite physical activities I do on a daily basis.
Name one person, other than your parents, who has had the most influence on your life. Why?
There have been many people I encountered in my life that have all had an influence on who I've become, but the one person that has influenced me the most and created the woman I am today is my younger sister Teodora. Without her I would not be as compassionate, kind or patient as I am today. She is my constant reminder to never give up as she never does, stay focused on my goals as she stays focused on hers and above all to be her unwavering support. She is the reason I truly want to be a woman girls can look up to.
What is your proudest personal accomplishment (other than participating in this pageant)?
The moment when I had finally come to accept myself is one that I am extremely proud of. I think in a society that is dominated by social media we often tend to get caught up in others values and standards due to popularity. As a child I was often bullied and put down for being an outsider to the community and for having qualities that set me apart from my classmates. Eventually my characteristics were something I came to value and learned that along with my acceptance came the feeling that I could do anything because I now know who I am.
What is the most interesting or unique thing that has ever happened to you and/or what is the most interesting thing about you?
Ten years ago I created a friendship I now know will last forever with a girl who took the same leap of faith that I did. In a different country 2 girls from different cities created a lifetime bond and we continue to be there for each other to this day. That is one of the many friendships I have established around the world with many different people and it has made me realize how natural it is for myself to create these lasting friendships no matter the distance. I've been fortunate enough to travel extensively from the age of 6 and through that forge long lasting strong relationships with people that were once strangers from other country's.
What is your career ambition and what are you doing or plan to do to accomplish that goal?
I am an aspiring dentist about to finish my undergraduate degree. As a dentist I think that my abilities would reach beyond those linked to health and inspire confidence in patients. There is power in a smile and insecurities can sometimes come from people not being confident in theirs. If I could play a part in changing someone's smile that would be more than just a career, it would bring me happiness.
What would be your "dream job" in life?
My dream job would be one where I could apply my various skills and love of science to various jobs. I am an individual who loves to try everything and learn as much as I can, therefore this dream job would have to be one where I would continue to learn and better myself. I would hope to travel and acquire many skills and educate myself further on the cultures and religions that make up this world then be able to share my experiences with others.
Are you currently a student?
Yes
If yes, where?
Area of study:
Currently in my third year studying Biological Sciences at the University of Windsor
Are you currently employed?
Yes
If yes, what is your occupation?
I work at Moxie's Grill & Bar as a server, I teach piano and am co-owner of Angelina's Cakes.
Describe where you were raised and what your childhood was like.
I was born and raised in the border city Windsor, Ontario. Both my parents were immigrants so my childhood was a little different than that of most of my friends. Their determination and fearlessness of creating a new life was an influencing factor on many of my characteristics. As a child I witnessed the struggles they went through but also saw them overcome any obstacle. On the journey to their success they didn't have much, but they still helped others in the community. This taught me compassion and the un- importance of the materialistic. My parents value education and as a child I had the opportunity the be a part of many different activities and sports that filled any extra time I had that was not spent studying. I can say that I have had an amazing and eventful childhood and am lucky to have had the many different experiences I did.
List any interesting or unusual jobs you may have had.
At the age of 15 I started working as a 'painter kid' for Narmco; a metal stamping plant. It was a job that required me to perform all various sorts of odd jobs, from painting walls, to drilling holes and easy office tasks. This position allowed me to witness what it meant for an individual to really earn their money and what it means to work hard. It also helped me realize I wanted a career more oriented to my personality and helping others.
List any volunteering you have done.
Moxie's Annual Golf Tournament
Singing our National anthem for Windsor South Minor Baseball
Model for Annual Women's Day Fashion show
Volunteer for Relay for Race
Windsor's DeStress Event Model
Volunteer for various fashion events and Bridal Expo's in Windsor
What is your most unusual talent?
One of my talents that is a little unusual and unique is cake decorating which I started at the age of 10. My mother and I quickly developed an at home business finding a pattern of her baking and I decorating cakes for weddings, birthdays and special events. The patience and finesse I realized I possessed is what helped me discover my unique talent and was an influencing factor that helped me choose to pursue a career in dentistry.
Where is the most interesting place you have been to?
I am very blessed to have parents that see the value life experience has factoring into an enrichful education. Through travel I have been able to broaden my perspective, and deepen my understanding of others. I am thankful and fortunate that my parents gave me the opportunity to have this view of the world, as a self-aware and cultured individual. My family and I visited Postojnska Jama (Postojna Cave) in Slovenia, the caves went so deep you lose all sense of time. The most thrilling part was what lied at the end of the cave. In a pool, two Olms, were swimming also know as 'human fish'. Olms are a species with both gills and lungs, being a student that loves biology I have never been more fascinated by its rare, obscure existence. This struck me as an experience that I will always want to look back on as a reminder that I'm never done learning. The joy and excitement that comes from the world around me is what inspires my urge to grow as an individual. Travelling from the Caves of Postojna; to Neuschwanstein Castle in Germany; Navagio in Greece, I found that every place holds its own unique history and sense of wonderment. To choose only one of these places as the most interesting is impossible and what I have seen so far has only forced me to realize there might not be enough time for me to experience all the wonders this world has to offer.
What do you hope to be doing in ten years?
In ten years time, there are many different paths that I can see myself taking and I know that whichever one I choose I am sure it will be one full of family, friends, love and generosity. I hope to work in my field of study and use my education and skills to help those everywhere in need of a hand.
Is there anything you would like to add that we haven't asked?
My rule of thumb is to live with kindness. Kindness has a way of reaching out to every heart through any situation and I believe it should be a highly valued quality of every Miss Universe Canada. I believe that in the end all that humanity can rely on is the kindness of others.