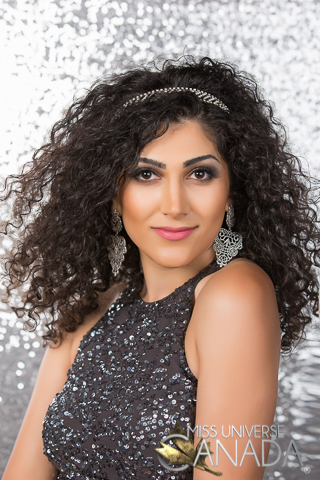 Height: 5'5″
Hometown: Saskatoon, SK
Morvarid Akhgar was born in the beautiful city of Shiraz, Iran, and moved to Saskatoon, Sk, Canada as a young child. She was born with blue eyes and blonde hair thus why her mother named her Morvarid which means pearl in Persian. Although the blue eyes and blonde hair was short lived, she possesses the qualities and rarity of a pearl. Morvarid strives to be different and not be like everyone else; as she wants young girls and women to know that it is ok to be different because it makes you unique and stand out.
Her love for travel and meeting new people started at a young age, namely when she moved to Canada and got to experience a country with strong multiculturism. Morvarid feels blessed to call Canada home because of the opportunities and freedoms that we don't think about in our everyday lives. She has had very many eye opening experiences while travelling abroad such as when she went to a mission trip to Belize to build homes for orphans.
She focuses a lot of her time on charitable causes in her community and abroad. One of the biggest and most enjoyable jobs she gets to do is pass on her skills and love for the sport of soccer with her under 10 girls soccer team that she coaches. Morvarid enjoys playing soccer and has played at a very high level since she was a little girl. Soccer has opened many doors for Morvarid, and she has received many awards and medals since she was young. The sport has had a huge impact on the young women that she has become today. Other than soccer, she enjoys playing other sports such as basketball and volleyball. She has a great sense of adventure and a love for the outdoors. She enjoys riding her motorcycle in the summer months as it gives her the adrenaline rush she seeks. She has accomplished many things in her life such as attending an Oscars after party, buying her own property, sky diving in Las Vegas, attending the FIFA World Cup in Brazil and back packing through south America on her own to name a few.
Her platform for mental health awareness in both youth and adults is something that she cares about deeply. She witnessed her mother's struggle with Bipolar Disorder as well as her own battle with anxiety, which made her push towards education and funding for this cause. She wants to show Canada that this is a real disease and needs to be treated as one, as there is a lot of stigma around mental health still today. She is not ashamed to admit that she's championed the illness, but it is not what defines her. She doesn't allow it to get in between her daily life and activities. Morvarid's mother is her true inspiration as she was able to get her PhD degree despite being diagnosed with bipolar disorder.
Morvarid is a confident, bright and family oriented individual who strives for greatness and wants to prove that there is no limit once you set a goal. She wants to show everyone what she is capable of and never takes a day for granted as every day is a blessing. This naturally curly haired girl with a big heart isn't afraid to see what the world has in store for her next.
Sponsors:
1Maids, Friends & Family
Languages spoken fluently (please include your native language if English is not your native language).
English, Farsi
What are your interests and what do you enjoy doing the most?
I have interests in a variety of different activities, most importantly health and wellness. I personally play a lot of soccer and do a lot of outdoor activities. I enjoy coaching my girls soccer team, 10 and under. I enjoy spending my weekend's picnicking, hiking and relaxing at the lake with my family. My friends are also a huge enjoyment in my life. I have a need for speed and adventure. In the summer time I love to ride my motorcycle and in the winter its snowboarding time.
List any special training you have had (music, art, drama, dance, etc.).
Soccer, basketball, swimming
Music-guitar
Dance-Belly dancing
First Aid & CPR
CLAC
Serve it right Saskatchewan
Correctional Service of Canada prairie region certificate
Respect in Sport-coaching certificate
Construction Safety Training System Certificate
License to drive an ambulance or a bus
In what sports, if any, have you participated?
Ever since I was a very young child, I've played soccer. I've played every single position, but my most favorite is midfield. I was born to play this sport and I strive to get everyone else into this sport, as it has done wonders for my life. It gave me the opportunity to travel, stay fit and keep a clear mind as well as come across some wonderful people who became lifetime friends. I have played competitively and in the highest division in my province for a long time. Some other sports I have also participated in include swimming, basketball and volleyball. Although I failed level 3 in swimming when I was 8 years old, I was the engine that never quit.
Name one person, other than your parents, who has had the most influence on your life. Why?
Although my parents have been amazing in their own rights and gave me a great life, my older sister Maryam has been a huge influence in my life and still continues to be. She has helped raise me as well as helped me with my passage into adulthood. She taught me to be patient, to care for others and be goal oriented. As a child my mother was ill and in and out of the hospital, and my father would work numerous hours in a day, which made her the mother figure I needed. Maryam did a lot of the cooking and cleaning in our house and made sure she was up to date in her own education as well as mine. Maryam is now an established business owner and encourages me to be an entrepreneur.
What is your proudest personal accomplishment (other than participating in this pageant)?
I have many great moments in my life that I am proud of, but buying my first home at the age of 22 is my greatest accomplishment. Owning my own property has been something I have been working towards for very many years. I set the goal of buying a property because I know in the long run it is a great investment and also helps me in starting my own business and building better credit. I currently rent out my condo and I have learnt a lot by being a landlord.
What is the most interesting or unique thing that has ever happened to you and/or what is the most interesting thing about you?
I'm all about soccer and as a child my favorite team has always been Brazil because of their amazing foot work with a soccer ball and their unique technical aspects of the game. Growing up Ronaldinho and Ronaldo Luis are who I looked up to. In the summer of 2014, the FIFA World Cup was hosted in Brazil and I was blessed enough to travel to Brazil and experience the biggest tournament in the world where peoples of all backgrounds come together for this amazing event. I was lucky enough to witness 6 live games all over Brazil, and see my all-time favorite team Brazil play against Netherlands in the 3rd place game. It was totally a dream come true.
What is your career ambition and what are you doing or plan to do to accomplish that goal?
My career ambition is to be successful as business owner/women and to have the financial freedom to help others in need and to have the time to spend with my family. The business world is very competitive; fast paced which intrigues me to go down that path. I like a good challenge and I tackle everything head on. I am currently working towards this goal by saving money and educating myself by reading and gaining experience through apprenticeship. I currently work around 60 hours a week and have many ideas for starting a business.
What would be your "dream job" in life?
My dream job would be to be my own boss. There is nothing more fulfilling then having the time and the resources to serve the community of the global village. Travelling is something that inspires me a lot and makes me want to be a better person, so having a job that would enable me to travel would be a dream.
Are you currently a student?
No
Are you currently employed?
Yes
If yes, what is your occupation?
Marketing for 1Maids
Server at 2 large restaurants
Coaching soccer
Describe where you were raised and what your childhood was like.
The first 5 years of my life, I grew up in Shiraz, Iran where I was surrounded by my loving extended family. I went to preschool and enjoyed my days in the hot climate with my dear friends. Shiraz is beautiful and it is the city of gardens and poets which I was lucky enough to get to know. My mother was awarded a scholarship to get her PHD at the University of Saskatchewan, which gave us the opportunity to move to Saskatoon, SK. At the age of 5 years old moving to Canada with no knowledge of English, a complete 360' of what I had to adapt to was difficult at first. Leaving my homeland, friends and extended family brought a great deal of culture shock. I spent my first 6 months learning English and adjusting to Canadian life. I was a complete tomboy when I was young and in fact commonly I was mistaken for a boy. Most of my friends growing up were boys which made me tough and made me not be afraid to get a little dirty.
List any interesting or unusual jobs you may have had.
I had the pleasure of working at the Juno Awards and the Grey Cup in the host city of Regina. They were interesting job opportunities as I got to work alongside some amazing artists and sportsmen. I was also backstage and got to see a lot of cool stuff and what goes on in a production like these events.
List any volunteering you have done.
Various modeling for Charity events
Building homes in Belize for orphans
Big Brothers Big Sisters of Saskatoon-Mentor
Eastside Soccer Association
Free the Children-We Day
Walk for MS Foundation
Kidney Foundation-neighborhood rep
What is your most unusual talent?
I don't know if this is an unusual talent, but I can juggle more then 200 times with a soccer ball using my legs.
Where is the most interesting place you have been to?
I am grateful to say I have been able to travel to many countries in my lifetime (Brazil, Belize, UAE, USA, Chile, Argentina, Argentina, and Uruguay) but the most interesting place I have visited is the Patagonia in Argentina. It was absolutely beautiful and breathtaking to see the glaciers and scenery in the southernmost part of Argentina. I highly recommend anyone to go there one day if they can, I was speechless.
What do you hope to be doing in ten years?
In ten year's time, I hope to be a well-established business woman alongside having a family of mine own. I hope to keep a well balance between my personal and business life. I hope to be able to give my family the best possible life that they deserve and be able to live comfortably financially. I hope to be living happily, be in great health and be physically fit.
Is there anything you would like to add that we haven't asked?
Life is too short to be anything but yourself.