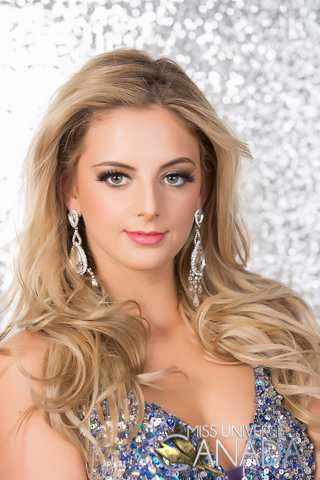 Height: 5'4″
Hometown: Windsor, ON
Zoe was born and raised in the border city Windsor, Ontario. Zoe is currently a first year student at the University of Windsor studying Communications, Media, and Film. She works very hard to earn high grades and hopes to pursue a career in broadcast journalism or production. Zoe was a competitive dancer for many years with the Dance Barre Elite company and is very passionate about performing on stage. She earned many first place scores as a solo dancer and with her Dance Barre team. She also auditioned against two hundred girls and was offered a professional dance position with the NBA Detroit Pistons! Zoe has travelled with dance to places such as LasVegas, Los Angeles, Detroit, and Chicago. Dance has taught Zoe how to take correction and criticisms with poise, be just as strong as a teammate as she is as an individual, and it has given her the confidence in life to take chances and not to let the fear of failing scare her away from an opportunity. After assisting under a highly esteemed Russian Ballet teacher, she now teaches a variety of dance classes to children at City of Windsor community centres, she loves to share something she is so passionate about with these young eager dancers. Zoe also has motivationally spoken to elementary school dance teams about following their dreams, and was the MC of the Windsor Essex elementary school dance competition "Inspire" in May.
Health and fitness are very important in Zoe's everyday life. She keeps fit and healthy through using many different types of exercises from weight training to yoga! She is always open to trying new things. Not only is exercising an absolute must for Zoe, but she also loves to eat clean and get cooking in the kitchen. She is always trying new clean recipes. Although Zoe likes to eat as healthy as possible, in her spare time she finds baking very relaxing. She loves to bake for family and friends and even raised money for Drouillard House girls to take ballet classes by selling cupcakes in 2011. Zoe loves to give back to her community through many different volunteer involvements such as Pennies for Pets for the Humane Society and Special Olympics for her high school. She is very excited about her recent volunteer work with the Pajama Angels that creates awareness, action, and advocacy for cancer and chronic diseases. Zoe is described as motivated, kind hearted, and passionate! Zoe hopes that Miss Universe Canada will give her a platform to continue charity work globally and inspire young girls across Canada.
Sponsors:
Cris Kambouris of Manor Realty, Sean Middaugh of Middaugh Financial Services Inc, Maurizio Mastroianni of Investors Group, Solace Windsor, Fakeit! Spray Tan and Beauty Bar, Spaxs Nail Bar, The Hair Lounge, Allison St. Pierre from Younique Beauty, Friends & Family
Languages spoken fluently (please include your native language if English is not your native language).
English
What are your interests and what do you enjoy doing the most?
Other than dancing and performing, I love to stay active and be outdoors. I am always walking my dog Mojo, swimming in my backyard, and going for bike rides at the River. I also love fashion and putting together new looks for myself. I think your personal style is a great way to show people your personality and leave a great first impression.
List any special training you have had (music, art, drama, dance, etc.).
Competitive Dance (ballet, jazz, tap, hip hop, lyrical, ballroom, pointe)
First Aid CPR training
High 5 (healthy childhood development training)
Drama and Scene study
Swimming
Cross Country Running
Gymnastics
Photoshoot experience
Runway experience
In what sports, if any, have you participated?
I danced at a competitive level with the Dance Barre Elite company for six years and trained with many different choreographers from all over the world in many different programs. There is an argument over whether dance is a sport or not, but I see dance as a blend of art and athleticism. I also have taken Gymnastics lessons, participated in school Cross Country, Soccer, and Swimming.
Name one person, other than your parents, who has had the most influence on your life. Why?
My Nana is one of my biggest influences. There is something to be said about being genuinely kind and that is exactly what my Nana is. I have always looked up to how she can be gracious in any situation, even when it may be frustrating. To me, that is true class. She has always taught me to be true to myself and has taught me the golden rule; do onto others as you wish others to do onto you.
What is your proudest personal accomplishment (other than participating in this pageant)?
I am very proud of not only my top five placement at the Western Ontario preliminary pageant that gives me this chance to compete in Miss Universe Canada, but also my award of "Best Body". I worked very hard on my body to get ready for the stage. I worked out everyday, even going out of my comfort zone at first and
trying weight training. It definitely takes a lot of hard work, willpower, and discipline and I am very proud of that.
What is the most interesting or unique thing that has ever happened to you and/or what is the most interesting thing about you?
I trained under and assisted a Ukrainian prima ballerina. She trained most of her life at a Ukrainian ballet academy and now teaches in Windsor. Training under her is very challenging and I was pushed very hard but being her assistant was an honour and truly rewarding. I am grateful that she saw my potential.
What is your career ambition and what are you doing or plan to do to accomplish that goal?
My career ambition is to become a broadcast journalist, I am currently studying communications, media, and film at the University of Windsor. After this, I hope to move on to a specific school for broadcast journalism. I continue to get involved with my community and public speak and I feel that this will help me greatly in my future career endeavors.
What would be your "dream job" in life?
I would love to use my communications degree to move on to broadcast journalism. I have a passion for being in front of the camera and on stage and would love to mix that with having a platform of bettering our communities and people. My own talk show would be ideal!
Are you currently a student?
Yes, I am currently studying Communications, Media, and Film at the University of Windsor.
Are you currently employed?
Yes
If yes, what is your occupation?
I work as a Dance Instructor and Day Camp Counselor at Optimist and Atkinson Memorial Centre for the City of Windsor.
Describe where you were raised and what your childhood was like.
I was born and raised in Windsor, Ontario into the most loving and hardworking family. I have so many heartfelt memories about my childhood. I am lucky to have been able to spend plenty of time with not only my parents but my aunts, uncles, grandparents, and even great grandparents! My family is very close and show a lot of love for eachother. My younger brother, Max, has always been my partner in crime and I am lucky to have a supportive and kind sibling. Within our busy lives, I always remember the time my family has made for eachother and the fun we have had, from family vacations to florida to backyard BBQ's. My parents are very successful and talented and have always taught to me work hard and follow my dreams with how they continue to better themselves within their careers.
List any interesting or unusual jobs you may have had.
When I was young my best friend Clarke, who was also my neighbour, had a large pool in his backyard. At the end of every spring when it was time to open that pool his parents would have us collect all the frogs that were living in the water on top of the cover with big fishing nets. We would put them in buckets of water and sticks and bring them to our local nature reserve; Ojibway Park.
List any volunteering you have done.
Sold cupcakes for Drouillard House dance classes
Pennies for Pets (Humane Society)
Sensational Sunday for Pajama Angels Wing Power Fund (raised money for cancer and chronic
disease)
STEPS program high school dances. (helped put on school dances for teens with disabilities in
Windsor)
Special Olympics volunteer
Pajama Angels head Wings and Wishes campaign volunteer
Performed at Sports and Sparkle Gala
Performed at the International Children's Games
Performed at the International Women's Day Gala
What is your most unusual talent?
I am able to put myself in a meditative state through deep breathing and strict focus. When I was sixteen, I was taken to the emergency room for extreme abdominal pain that ended up being appendicitis. While I was waiting in a very full ER, there was a patient suffering from seizures that the doctors were rightfully attending too. Unfortunately, this left me with no pain medication for over six hours. While I was in the most pain I have ever endured in my life, I was able to put myself in a calm, meditative rest until the doctor could get to me. It definitely taught me how strong your mind can be. So my unusual talent would be putting my mind over matter!
Where is the most interesting place you have been to?
I am lucky enough to have been able to travel to many places such as Los Angeles, Las Vegas, Florida, Detroit, Mexico, Aruba, Montreal, and Chicago for vacation and/or dance. Out of all the places I have travelled I have to say on of the most interesting and captivating to me was right here in our own country; British Columbia. From the moment I got off the plane I knew it was special, I took a deep breath of some of the freshest air I have ever breathed and knew I had just fell in love with the place. We explored many different trails, waterfalls, mountains, beaches, stores, and restaurants but the experience that has stuck with me so dearly was an 8km hike (mostly) uphill to the "Keyhole natural hot springs". The hike was very long and very challenging being that is was only half way marked and the rest of the way was just slightly marked by yellow tags from hikers before us. Although it was a tough hike it had to be some of the most adventurous fun I have ever had and not to mention the views the entire were so beautiful. The river running between mountains was a turquoise colour that I have never seen another body of water be, I got so close to a waterfall I could almost touch it, and not to mention the natural hot springs were BOILING hot! Two out of three hot springs were almost too hot to sit in and the last one being the perfect temperature. I have truly never experienced anything like it, especially it being right beside a river of glacier water. The natural beauty of our own country was an experience like no other and had to be one of the most interesting things I have ever experienced.
What do you hope to be doing in ten years?
In ten years I hope that I am a successful broadcast journalist and a household Canadian name. I would love to be a wife and mother, be well travelled, and have held the Miss Universe Canada title.
Is there anything you would like to add that we haven't asked?
I would like to say thank you to the Miss Universe Canada organization for this opportunity. I am very humbled to be competing with so many beautiful and intelligent women.