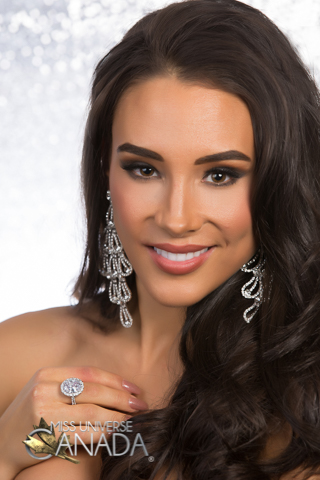 Height: 5'1.5
Hometown: Québec City, QC
Languages: English, French
Occupation: Sales Director for Mary Kay Canada
Alexandra Beaulieu was born and raised in Quebec City. She started her career in the fashion world at age 3 when she was selected as a flower girl for the Salon de la Mariée for three consecutive years. Later, she participated in her school fashion show and was semifinalist for «mannequin d'un jour» contest organized by Journal de Québec. She also did a few photo shoots. Her favourite was with Bob Bissonnette, an ex-hockey player turned singer in Quebec, which took place just a few weeks before his tragic death.
Being diagnosed with attention deficit disorder as a teenager was a big blow for her, but she never let that discourage her from achieving her goals. Her love for cosmetics and beauty products are what made her interested in this field of work in the first place, but her love for women and her strong desire to help others are what made her want to be a representative for Mary Kay Canada. She started her place in this company at 21 years old and only 3 months later, became Sales Director, making a name for herself as a businesswoman in Quebec. She is currently in second place for the Court of Sharing, making her the second person to share the most Mary Kay's values, which are faith, family and career.
Always one to want a new challenge, she now wants to become a National Director for Mary Kay Canada before she's 30 and wants her company to become international. She already started developing her company in Alberta. Being a very active person, she practiced dance, cheerleading, trampoline and fitness training. Those sports, especially fitness, taught her endurance, perseverance and discipline, which are values she applies to every part of her life.
Because of her work with Mary Kay, she hopes to pass on her own values of love, respect and acceptance. One of her biggest goals is to change the perceptions and prejudices people have towards one another, especially towards women in the beauty industry. Beauty isn't who we are, it's what we represent. Because of her own struggles with self-confidence, she hopes to make people realize that appearances can be deceiving and she hopes to one day start her own foundation for women who struggle with self-esteem.
Video
Q&A
What are your interests and what do you enjoy doing the most?
What I like to do most is to have an impact on other people's lives, to make them feel important and, most of all, make them feel like they matter.
List any special training you have had (music, art, drama, dance, etc.) 
Dance lessons in ballet, hip-hop, funky and contemporary, cheerleading and professional makeup artist training.
In what sports, if any, have you participated?
Dance, cheerleading, trampoline for École de Cirque de Québec and fitness.
Name one person, other than your parents, who has had the most influence on your life. Why?
Mary Kay, without a doubt. She is the proof that women can do it all. No matter how many people told her she dreamed too big, that it would never work, she never stopped believing. She never quit. She's a wife, a mother, a businesswoman and a philanthropist. She is a leader and a true example for women all around the world.
What is your proudest personal accomplishment (other than participating in this pageant)? 
My biggest accomplishment to date is to become Sales Director for Mary Kay Canada at age 21.
What is the most interesting or unique thing that has ever happened to you and/or what is the most interesting thing about you? 
In 2004, my dad had a life-changing accident. He went from being a construction worker to being wheelchair bound. It had a huge impact on me. My family life exploded but in a positive way. His accident showed me how life can be fragile but relentless and how love can help us overcome anything and everything. This ordeal made me grow and taught me to be strong, to be resilient, to never quit. Now, I'm unstoppable.
What is your career ambition and what are you doing or plan to do to accomplish that goal?
My goal is to become National Director for Mary Kay Canada. To achieve it, I share the company's values as much as I can and I try to apply those values to everything that I do. Most of all, I try to change the perception people can have towards women who dare dream of more.
What would be your "dream job" in life?
My dream job is my job, but even better. I would want my company to grow so that I can have an even bigger impact on people's lives in a positive way. In a perfect world, I would be able to give and not sell my beauty products to women to make as many of them feel good about themselves and confident in who they are.
Describe where you were raised and what your childhood was like.
I grew up in Quebec, in a home full of love. My brother and I never lacked anything. We were brought up in a home so rich in love. My parents gave me and keep giving me the perfect example of who I aim to become as a person. They always supported me and always believed in me. They encourage me in everything that I do. They're my biggest supporters.
List any interesting or unusual jobs you may have had. 
I was a dance teacher for 3 years at Lina Verreault's dance school.
List any volunteering you have done.
I've always been very close to my family, friends and pretty much everyone around me. I only wish them well and I always try to put a little more sunshine in their lives any way that I can. That's why my volunteer work took place in my own community. To give you only a few example, at age 12, I started babysitting for free. I never charged anyone because it was a pleasure for me to give the parents some well-deserved time off. Their smiles and gratitude were all the payment I needed. Also, for 3 years, I took part in Parade du Carnaval de Québec with my dance school. So twice during the winter season, we would dance to entertain the crowd and everyone who had come to visit Quebec specifically for this event and make their night memorable. In the future, now that my company is up and running, I would love to do a humanitarian trip. No matter where, as long as I can help people in need.
What is your most unusual talent?
I don't know how exactly, but I always find the positive in every person that I meet. People tend to confide in me and they always tell me that I have a way to make them feel important and help them cope with whatever is going on in their lives.
Where is the most interesting place you have been to?
Cuba. Unlike most travellers, I didn't go to an all-inclusive hotel in Varadero. My dance school and I went there to exchange with the students in a dance school over there. Dancing hip-hop is prohibited in Varadero, but they were allowed to try it for an hour while we were there. They taught us salsa, we taught them hip-hop. This experience showed me just how lucky we are in Canada. Ever since that trip, I appreciate even more what we have and I take nothing for granted.
What do you hope to be doing in ten years?
In 10 years, my professional goal is to be a National Director for Mary Kay Canada. My personal goal is to have created a foundation for women who lack confidence in themselves. I want to personally help them overcome their struggles with self-esteem and help them realize their full potential. I, myself, have a confidence problem that I've been trying to deal with for as long as I can remember. It's a work in progress, but my family and Mary Kay helped me in this journey and I hope to do the same for those women.
Is there anything you would like to add that we haven't asked?
To be a part of this pageant, it's for me. I always give to the people around me, any chance that I get. I try to be there for everyone and help everyone the best I can, any way I can. But for the first time, I do something for me only. I am doing this pageant to give myself an unforgettable experience, to help me overcome my lack of confidence, but, most of all, to show me that I can do it all.