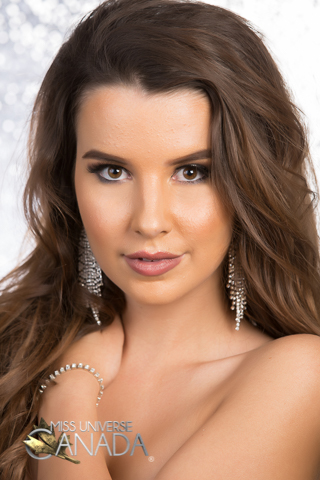 Height: 5'5
Hometown: Sudbury, ON
Languages: English
Occupation: Student at Canadore College / Nipissing University Nursing Program
Chelsey Pitfield was born and raised in Sudbury, Ontario in the small community of Valley East. She is a compassionate and dedicated individual, well known for her big smile and kind heart. She is currently attending Canadore College to be a nurse and works at Shoppers Drug Mart as a Beauty Advisor.
She has been an active volunteer in her community since the young age of 12 years old. Since then she has volunteered doing canned food drives each year for the Sudbury food bank; at sporting events; and for various charity fundraisers. Chelsey has also organized and planned events on her own for Northern Ontario Families of Children with Cancer; Soles for Souls; raising money and awareness for Trigeminal Neuralgia and Free the Children successfully raising over $21,000 in the past two years.
Chelsey has taken acting and modelling classes where she's had an incredible opportunity to walk in fashion shows and work with several photographers. Over the years, she has worked on several films being a featured background actor and has continued modelling for several businesses and companies. She competed in Miss North Ontario 2015 and that's where her love for pageantry began. Chelsey then moved on to be a Miss Teenage Canada National Finalist in 2015. She has leadership qualities, drive to help others and dedication to make a difference. Although Chelsey's only 18 years old she has what it takes to become Canada's next ambassador.
Sponsors
Pitfield Construction, Family and Friends
Video
Q&A
What is your proudest personal accomplishment (other than participating in this pageant)?
My proudest personal accomplishment occurred in the summer of 2015. My mother has been debilitated and very ill for the past four years with a rare neurological disease called Trigeminal Neuralgia. In 2015 I decided enough is enough, she can't keep living this way. I made a YouTube video "Trigeminal Neuralgia, April's Story" to help raise awareness and in hopes to find someone who has a cure. The video successfully spread across social media quickly and got over 40,000 views. CTV News got ahold of the video and contacted me to be featured in the news to talk about my mother's story. They named the story "Devastating Disease" and quickly after it was shown on TV I had many people reach out to me wanting to help. This news story helped me raise awareness and educate Canada about Trigeminal Neuralgia. I then organized two fundraisers to help with the cost of a surgery that had to be done in Detroit, U.S.A. We successfully raised thousands of dollars with the help of family, friends and the community coming together to help my mother. This is my proudest personal accomplishment because I had the opportunity to educate and to bring awareness to Trigeminal Neuralgia to thousands of people across Canada. It also taught me that I can accomplish anything I put my mind to.
What is the most interesting or unique thing that has ever happened to you and/or what is the most interesting thing about you?
I enjoy spending my spare time volunteering or planning fundraisers and events. I believe this is unique because I began being an active volunteer in my community at the young age of 12 years old. In the past two years I have raised over $21,000 on my own for various organizations and charities.
What is your career ambition and what are you doing or plan to do to accomplish that goal?
I'm ambitious to make a difference and to have an impact on others which is why I aspire to someday be a nurse. When I graduate from from school as a registered nurse I would like to work in pediatrics hopefully at Sick Kids Toronto or C.H.E.O in Ottawa. I'm going to complete my studies at college and university to achieve this goal.
I'm also passionate about bringing awareness to Mental Health. I want to break the stigma and help others feel as though they're not alone. One of the issues with mental health here in Canada is we have so many suffering yet so little help and opportunities to reach out especially in schools. In Canada, only 1 in 5 children who need mental health services, receives them. I have a goal to someday have it possible for counselors/social workers who are there specifically for mental health aide to be working in elementary schools, high schools and Universities/Colleges across Canada. This would allow easy access to help for students who are struggling. To achieve this goal I'm going to start by speaking in schools here in Northern Ontario about mental health. I will hopefully get the government's attention to make change and help students have easy mental health aide. Imagine the lives that could be saved and changed if we just had a little more help.
What would be your "dream job" in life?
My dream job is to be a nurse preferably in pediatrics because I love working with kids. However, being a nurse will give me the opportunity to work in a variety of different departments and places around the world throughout my career.
Describe where you were raised and what your childhood was like.
I was born and raised in Sudbury, Ontario "The Happiest City in Canada". My childhood was filled with playing sports, staying active, and going on several camping trips. My parents have always pushed positivity on my brother and I. They have taught us the value of working hard for what you receive and not having things handed to you. I have very supportive parents that have raised me to be an independent, responsible and ambitious young woman. When my mother got sick four years ago with Trigeminal Neuralgia, our lives were flipped upside down. My marathon running, active powerhouse mom became debilitated. Anything that increased her heart rate or things such as sunlight, talking, eating, smiling…etc would set off a series of "attacks" which would cause the worst pain known to mankind. It has been four years that we're never going to get back, but four years that have made my family and I stronger than ever before. Her story goes to show that you should appreciate the little things in life, the things we take for granted each and every day. This has also taught me that life never goes as planned and no matter what situation you're in you stay positive and never lose hope.
List any interesting or unusual jobs you may have had.
An interesting job that I've had was working at a bridal store "Nelia's Bridal Boutique and Designer Fashion." I started at the young age of 15 and I felt as though I was on the TV show Say Yes to The Dress, helping brides find the perfect bridal gown for their special day.
List any volunteering you have done.
Volunteered at:
2012-2016 Northern Ontario Families of Children with Cancer Golf Tournament
2013-2016 Northern Ontario Families of Children with Cancer Family Fun day
2013 Northern Ontario Families of Children with Cancer BBQ and Car wash
2013 Pink Glove party for Northern Cancer Foundation
2013-2015 Canned Food Drive for the Sudbury Food Bank
2013-2014 Linesman for volleyball tournaments
2013- 2014 Track and Field volunteer
2013-2014 Score kept basketball and hockey games
2013-2014 Cross Country Running OFSAA Volunteer
2014- Volunteered at the Elizabeth Centre
2015 Raised money for Northern Ontario Families of Children with Cancer at the Sudbury Women's show
2015-2016 Kiss Father Daughter Ball for Northern Ontario Families of Children with Cancer
2015- Sudbury kids and Pet Expo for Big Brothers, Big Sisters
2016- Spoke about Mental Health and Abusive Relationships with all of the grade 9 girls at Confederation Secondary School
My Fundraisers:
2015- Valley Vendors & BBQ (raising money for Northern Ontario Families of Children with Cancer)
2015- Bowling fundraiser for Northern Ontario Families of children with Cancer
2015- Movie Buyout at Confederation Secondary School (raising money for Northern Ontario Families of Children with Cancer)
2015- Crown the Night fundraiser (concert and dinner for Free the Children)
2015- Bottle drives for Free the Children
2015- Grocery Bagging at Food Basics for Free the Children
2015- Beauty at the Bell (Photoshoots with Chelsee Taylor Photography for donations for Free the Children)
2016- Bottle drives for Northern Ontario Families of Children with Cancer
2016- Rally for April (raising money and awareness for Trigeminal Neuralgia)
2016- Valley Vendors Winter Edition (raising money and awareness for Trigeminal Neuralgia)
2017- Shoe drives for Soles for Souls
What is your most unusual talent?
I can decorate cakes like Cake Boss.
Where is the most interesting place you have been to?
The most interesting place I've been to is Pancake Bay
which is right here in Ontario and is apart of Lake Superior. I've spent many summers camping there and the beach is so beautiful you'd think you're in the caribbean. There are also many hiking trails close by including the Edmund Fitzgerald lookout. You are able to see where the ship sank on November 10th 1975. This ship is so significant because in the 50s it was the largest ship on North America's Great Lakes. Along with this trail there are many others where you can learn about historical events that took place in the area.
What do you hope to be doing in ten years?
One thing I've learnt is that nothing in life is ever for sure because anything can happen or change. However, in ten years my goals are to be successful in my career, working as a pediatric nurse. I hope i'm making an impact on the lives of others and I hope I'm in good health and am happy. I also hope to someday have a family of my own.
Is there anything you would like to add that we haven't asked?
I would just like to add that I am so excited and appreciative of this opportunity to compete in the Miss Universe Canada pageant 2017! Since I was young this has always been a dream of mine and thanks to the Miss Universe Canada Organization, it's coming true! I love everything that the pageant stands for. To be Miss Universe Canada is so much more than just being beautiful. It's all about having a voice, wanting to make change, empowering others, being a role model and ambassador for Canada. The pageant itself will be a life changing experience on its own and I can't wait to be apart of it.