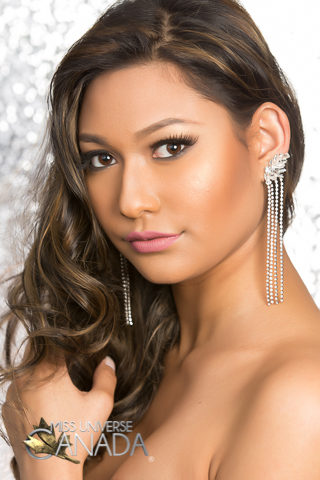 Height: 5'11
Hometown: Markham, ON
Languages: English
Occupation: Student at Ryerson University (Professional Communication)
Jasmine Mughal is a strong confident woman who exudes a bright aura that is infectious to the people around her. She strives to be the best version of herself, and believes that anything is possible with a positive attitude and hard work. Jasmine is proud to be from Markham, Ontario. She was raised there by her Guyanese mother and Kenyan father. Jasmine has not only embraced the greatness that is Canada, but her diverse background as well. Being the daughter of immigrant parents she has been able to immerse herself in her multicultural heritage and exemplifies diversity and acceptance of different cultures.
Jasmine is a triple threat who loves to sing, dance and act. These have been passions of hers since she was a little girl as she participated in choirs, plays and musicals growing up. But don't let the glitter and glam fool you; she also has a passion for sports. Growing up she competed in many sports at high levels including soccer and track and field. Academics have always been important to Jasmine, as she was on honour roll all four years of high school. She graduated with honours and received academic achievement awards in the courses, "World Cultures and Sport" and "History of the West and the World". She also graduated as a Specialist High Skills Major and with her high marks, received an entrance scholarship to Ryerson University. Jasmine is currently studying Professional Communication at Ryerson University, which is the only program of its kind in Canada.
Jasmine wants to create a platform to bring awareness to issues like equality and human rights. She wants to encourage people to be kind to each other and to spread love always because we are more alike than we are different. Jasmine hopes to inspire the youth to embrace who they are and to go after their dreams. She aims to eventually be the founder of her own charity that provides underprivileged children in third world countries with opportunities to participate in activities including music, acting and sports.
Jasmine is adventurous and is always willing to try new things and get out of her comfort zone. There is no challenge she can't take on, and she approaches every task with a smile. She hopes people can see a little of themselves in her, and she hopes to motivate people to always do their best, and look at life with open eyes, an open mind, and an open heart. Like Princess Diana, she hopes to be a queen in people's hearts.
Sponsors
Video
Q&A
What are your interests and what do you enjoy doing the most?
I enjoy public speaking, I am very comfortable in front of a crowd and I enjoy sharing inspirational messages that positively impact someone's life. I love to perform; it's a way to express myself. You will usually catch me singing or dancing during my free time. I also enjoy playing sports like soccer, basketball, and snowboarding. I am a free spirit and I like to try new things and get out of my comfort zone. I LOVE to travel. There is nothing like going to a foreign place and immersing yourself in its culture. Each destination has its own hidden treasures just waiting to be discovered. Travelling makes you rich with experiences and you learn a lot about yourself and about life. I travel not to escape life, but so that life doesn't escape me. I haven't travelled everywhere, but it's on my list! Some of my favourite destinations include The Dominican Republic, The Bahamas and New York City.
List any special training you have had (music, art, drama, dance, etc.) 
Flute
Alto Saxophone
Singing
Public Speaking
Specialist High Skills Major
In what sports, if any, have you participated?
I love all sports and have participated in most. Some include basketball, badminton, snowboarding, lacrosse, skating and rugby. Competitively I have played:
Soccer (Rep)
Triple Jump (Provincial)
Long Jump (Regional)
Sports have always been a huge part of my life. I think it is important to stay active and maintain a healthy lifestyle. I attended a specialized Sports high school called Bill Crothers in Markham, Ontario.
Name one person, other than your parents, who has had the most influence on your life. Why?
My loving grandmother has had the most influence on my life. Her name is Olive Khan and she inspires me everyday. She came to Canada in search of a better life for her family. She is living proof that with hard work, you can climb your way to the top. She always encourages me to do better, and be better. She reminds me to take on tasks with a positive attitude and she shows how proud she is of all my accomplishments. She's my best friend and I don't know what I would do without her.
What is your proudest personal accomplishment (other than participating in this pageant)? 
My proudest personal accomplishment was overcoming my anxiety. During my first semester of my first year of University I began to get anxiety attacks. I was not getting the high grades I was used to getting in high school, and it made me think that I was going to fail at life, and that I was going to have a bad future. With the support of family and friends I was able to remind myself that failure is just the stepping-stone to success. I learned that I couldn't let one bad test ruin my confidence or let a bad grade define who I am as a person. I was able to cope with my anxiety and I started to believe in myself again. Having anxiety only made me stronger as a person and I just worked harder to get better grades, and now I am back to being an A student and I have not had an anxiety attack since.
What is the most interesting or unique thing that has ever happened to you and/or what is the most interesting thing about you? 
Something interesting that has happened to me is that one day I heard screaming coming from outside my house so I went to see what was going on. My neighbor's baby was going in an out of consciousness, and they told me she had choked on something. I was in high school and I was trained in CPR so I took the baby and started preforming compressions, trying to ensure she stayed awake until the paramedics arrived. Once the paramedics arrived they took her immediately to the hospital. The baby ended up being okay, and she returned home the next day.
Something interesting about me is that I love Latin American Culture. I love the food, dancing, music, and people. I enjoy empanadas, bachata music, dancing salsa and my favourite female singer is Selena Quintanilla.
What is your career ambition and what are you doing or plan to do to accomplish that goal? 
I want to be either a TV Host or a publicist in the entertainment industry. I like those professions because they are fast paced, every day is different and they require strong leadership and communication skills. They are powerful roles and I want to demonstrate hard work, persistence and determination. To complete this goal I plan to finish my BA in Professional Communication, do an internship to get my foot in the door and network with people in the industry. I want to exemplify that anything is possible and there is nothing that you can't do as long as you believe in yourself, never give up, and work hard.
What would be your "dream job" in life?
I would have my own TV show called "A Whole New World with Jasmine Mughal" and I would travel around the world exploring new places and cultures. I would interview people native to that place and ask them to share their life story. The goal would be to open the audience's eyes to a new perspective of life.
Describe where you were raised and what your childhood was like.
I was born and raised in Markham, Ontario. It's a beautiful city full of rich culture and diversity. It's a very safe community with a quiet atmosphere. I have fond memories of going to the park with my dad and making new friends. I used to go to camp during the summer and created memories and friendships that will last a lifetime. I was always the artsy and athletic kid growing up. The perfect combination of girly, girl and tomboy. I got bullied in school for having a super outgoing personality, but I was always unapologetically myself. I learned that it was okay to be different and that being unique is what makes me special.
List any interesting or unusual jobs you may have had. 
Hostess at Moxie's – every day is different and you meet very interesting people from different backgrounds and experiences
Camp Counsellor – children say the funniest and sweetest things
List any volunteering you have done.
Toronto 2015 Pan/Parapan American Games – Event service host and event management crew
Assistant teacher – helping grade and teach lessons to students
Daily Bread Food Bank – packaged food to be distributed to the less fortunate
Right to Play – organized activities for school groups to participate in
Loblaws company party – supervised children playing in bouncy castles
What is your most unusual talent?
My most unusual talent is that I am always smiling. You will always catch me with a smile on my face, and I make a genuine effort to ensure that the people around me are also happy and smiling. Life is too short to spend it sad or upset, so I try to always exude positive energy and vibes.
Where is the most interesting place you have been to?
The most interesting place I have been to is Times Square in New York City. I have been there three times and every time I go I have a different experience. You are bombarded by bright flashing screens everywhere, the sound of car horns, and the pungent NY scent. But if you just live in the moment, look around and really soak it in, you will find magic. It's as if time stops for a moment and you get to reflect on life, and everything that lead up to that moment of you standing there, in Times Square surrounded by people from all over the world. It's where People from a variety of countries, backgrounds and religions come together, and you get exposed to multiculturalism there in one place, isn't that magical? It really is a beautiful place full of so many stories.
What do you hope to be doing in ten years?
Ultimately my only goal in life is to be happy. I want to be doing a job that I love, surrounded by great friends and family. I hope to have made my mark on the world and done something positive and impacted people's lives in a positive way. I want to be a role model for youth, and teach them to never stop dreaming. I hope to motivate people to be the best versions of themselves. I also want to inspire people to feel with their heart, because the most beautiful things in life are felt with the heart.
Is there anything you would like to add that we haven't asked?
I would like to thank the Beauties of Canada Organization for selecting me to compete in the Miss Universe Canada 2017 competition. I hope to make my friends and family proud.
Message from Jasmine: I hope you find richness in life. You are the author of your own story, so take the pen and begin to write. Make every experience count, and create memories that will last a lifetime. Learn and grow, and be everything that you always dreamed of in life. You are one of a kind and don't let anyone try to dim your light. Now write till your hearts desire, and never stop, never stop being you.