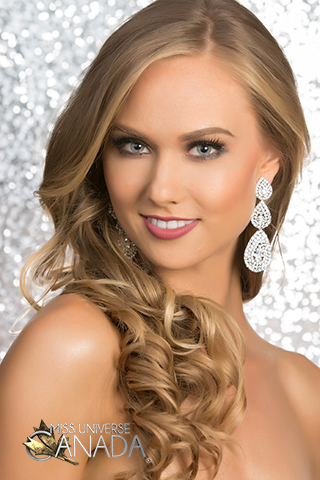 Height: 5'9
Hometown: Toronto, ON
Languages: English, French
Occupation: Entrepreneur
Lauren is a recent Industrial Engineering graduate who is working as a project manager, actress, model, sports host and entrepreneur. As a self-proclaimed "geek", Lauren is passionate about using digital tools to develop creative and innovative solutions to problems facing both businesses and people in need. She aims to encourage young women to explore STEM-related fields and provide them with the technical knowledge they need for success and creating lasting change in their communities.
Lauren is a health and fitness advocate who enjoys photography, filmmaking, hiking, scuba diving, snowboarding and surfing in her spare time. While studying at the University of Toronto, she realized how creative ideas combined with science and technology have the power to shape the world we live in. For example, she traveled to high density, low-income neighbourhoods of Mumbai with an organization to help design and implement sanitation facilities that use waste recycling technologies to create grey water and biogas.
Having been a provincial field hockey athlete, sports and fitness have always been central to her life. While in her final two years of University, she worked as the In-Arena Host for the Toronto Maple Leafs. This involved her speaking to a live audience of 20,000 individuals at each home game, regularly interviewing athletes, alumni, special guests and some of the best fans in the NHL. She has also hosted for the IIHF World Juniors, the 2016 Toronto Pan Am Games, the 2016 Grey Cup and the 2017 Rogers Cup. After graduating, she worked in Sales Strategy at adidas Group Canada. Across all these experiences, she began to see the direct impact of how sport has the power to change lives. Lauren strives to continue this mission through her continued involvement in the industry.
Having traveled to all seven continents by the time she was 19 (including Antarctica!), Lauren has always had a natural inclination to learn about different cultures. She has volunteered with multiple not-for-profit organizations internationally, including Ghana, India, Peru and Nicaragua and has photographed the Norwegian Arctic under the mentorship of a National Geographic photographer. Using the reporting skills she has developed throughout her life, Lauren aspires to create short films that will help amplify the voices and stories of individuals whose voices are not heard as loudly as the rest of the world.
Lauren's public speaking skills, education, humanitarian nature, ambition and determination compliments her pageant experience as Miss Teen Canada 2011, 4th Runner Up at Miss Teen World 2012 and 2st runner up at Miss Universe Canada 2014. Lauren is determined to make Canada proud on the Miss Universe Stage.
Sponsors
Video
Q&A
What are your interests and what do you enjoy doing the most?
I am a naturally curious person who loves to seek out new adventures, find "hidden gems" and learn about new people and their cultures. My mother always raised me to venture off the beaten path, especially when it comes to travel, and to learn by immersing yourself into local culture. When in the city, I enjoy training through different types of sports and programs. A favourite activity of mine is boxing. It requires high levels of both physical and mental effort as you need to remain focused at all times. That forces you to stay in the moment and remove all other distractions from your life. In it's own way, it can be quite meditating. Although boxing is great way to stay healthy, it is extremely important to me that we are teaching women the skills they need in order to properly defend themselves in case they are ever faced with a dangerous situation. In addition, I also love healthy cooking, photography, scuba diving, surfing, coding, design and learning about ways business and technology can be used to improve peoples lives.
List any special training you have had (music, art, drama, dance, etc.) 
I was mostly involved in athletics growing up, but did play piano for over ten years. While at University, I began taking acting courses outside of school and fell in love with the art right away. This helped establish a comfort for being on-camera, which ended up helping tremendously as the host for the Toronto Maple Leafs. Having the opportunity to speak in front of Air Canada Centre on a regular basis further developed my public speaking and improvisation abilities.
In what sports, if any, have you participated?
I was involved in a little bit of everything growing up including softball, soccer, track and field, cross country running, gymnastics, horseback riding (very briefly!) and volleyball. Eventually, I found a strong love for field hockey. This led to some memorable experiences including captaining my high school Varsity team and having played for Field Hockey Ontario, McGill University Varsity and representing Canada for an international tournament on Sydney Olympic Stadium Turf. Staying fit and active is an extremely important part of my life. While I enjoy changing up my training program to include new challenges, the most unique sport that I participate in might be surfing because it isn't exactly the easiest thing to find when you live in Toronto!
Name one person, other than your parents, who has had the most influence on your life. Why? 
Aside from any of my family members, I would say my mentors. I cannot stress enough importance in having wonderful mentors in your life, both professionally and personally. These individuals have not only been inspiring role models, but they also challenged me to step outside my comfort zone and set goals to levels that would previously have seemed unattainable. I hope to inspire many young women to do the same through Miss Universe Canada.
What is your proudest personal accomplishment (other than participating in this pageant)? 
Graduating from the Industrial Engineering program at the University of Toronto and receiving an offer as the In-Arena Host for the Toronto Maple Leafs stand out as two proud moments of my life. I am proud of how I was able to balance the two at the same time, especially as a full-time student. Both of these accomplishments involved overcoming a challenge seemed, at times, not possible. An engineering program is certainly not a walk in the park. It requires a lot of hard work, long nights and dedication. When the pressure and stress would build, it became critical to keep looking forward towards the finish line. For me, a part of that motivation involved knowing that only 33% of our class was female and I wanted to make sure that number didn't drop by a single percent by graduation. After a friend had forwarded me the application for the position at the Leafs, I first felt unqualified and nervous. An engineering student up against candidates with years of broadcasting experience and graduates from professional programs? The chances seemed slim. I didn't have the experience or training! By silencing these fears and focusing on my own performance, I landed what was a dream job for a born-and-raised Leafs fan and am forever grateful to those who made it possible. The underlying theme that I want young women to know, is that you should never take yourself out of the running for something you want in life because of doubt or fear.
What is the most interesting or unique thing that has ever happened to you and/or what is the most interesting thing about you? 
I love sharks! As a child, I was obsessed the ocean and especially these animals. At the age of 7, I dreamed about making a documentary about sharks and the threats that they face. When I was 13, a documentary called Sharkwater was released. The filmmaker, the late Rob Stewart, became an instant hero of mine. This film sparked conversations around marine conservation that were not being discussed. It changed policies around the globe. I've only been on seven shark dives up to date, but have promised that the next one will involve bringing a video camera along to capture the story and to help continue what Rob has started.
What is your career ambition and what are you doing or plan to do to accomplish that goal? 
At the end of the day, it is my goal to ensure that everything I do in life creates a lasting, positive impact on the world and the people around us. As a child, I loved film because it used the power of storytelling to move and inspire us. Documentaries help give a voice to people who otherwise may not have the opportunity to do so. In school, I learned how science and engineering have the power to develop creative, new and impactful solutions to problems people face globally. This drew me to pursue a formal education in Industrial Engineering and I am proud to be a female in this space. There is still work to be done about breaking stereotypes in this field. For example, undergraduate engineers receive an Iron Ring upon graduation. I was once asked by a group of male engineers working for a successful organization if I "was really an engineer or just wear that ring for fun". This is my motivation. This is why I want to use my platform to inspire young women to challenge the status quo and empower them to be the change makers of the world. While in University, I was privileged to work as the In-Arena Host for the Toronto Maple Leafs. This opened up opportunities to host many other events including the Toronto Pan and Parapan American Games, the Canadian Women's Hockey League All Star Game, the IIHF World Junior Championships, the Grey Cup and the Rogers Cup. After graduating, I worked in Sales Strategy for adidas Group Canada while continuing to work part time in media. Now I am continuing with a career in film and television while pursuing entrepreneurial ventures. My goal is to use these platforms to encourage and empower women to pursue fields in STEM-related fields.
What would be your "dream job" in life?
My "dream job" isn't described by a job title but rather the characteristics of what it would entail. It is the chance to leverage design, technology and creativity to develop solutions to problems people are facing. It is a position that works towards providing a positive impact to society. One example of an innovative company that I am inspired by is Zipline. This organization uses drones to help deliver medial supplies to rural parts of Africa. It is impossible to predict where life will take me 5 years from now. At the moment, my dream is to have a successful career in film and television and use this platform to lend a voice to those need it while simultaneously pursuing my entrepreneurial endeavours.
Describe where you were raised and what your childhood was like. 
I grew up with a very small, tight-knit family in Toronto, Ontario. As an only child with a single mother, we have always had a very close relationship. She has been a driving factor in my life and has helped shape some of my most important values including prioritizing education, making large challenges feel attainable and that you always need to help the people around you. The rest of my family, my grandmother, uncle and aunt, have all also been incredibly supportive of my goals, dreams and ambitions. I was fortunate enough to be able to travel with my mom to unique parts of the world, learning about different cultures since an early age. This helped shape my inherent nature to learn about people, hear their stories and share them with others.
List any interesting or unusual jobs you may have had. 
All the hosting opportunities I have worked have been the most unique and fun jobs I have had, but it was still a professional job that needed to be taken seriously. Often, I would be incredibly focused on executing a specific promotion or live interview and it wasn't until it was over that I had to think to myself… "did that just happen? Did I just interview my childhood hockey hero Mats Sundin?". Surreal doesn't begin to describe what emotions were felt. Another interesting job I had was my first one where I became a licensed insurances sales representative at the age of 18. I would discuss a policy on the phone with clients and it wasn't until they came into the office when they realized how young I was!
List any volunteering you have done.
Maple Leaf Sports and Entertainment Foundation: This was our main foundation in which I participated in and hosted at various events that helped raise funds for various projects. One project involved the development of the Regent Park Athletic Grounds.
Free The Children: I traveled to Udaipur, India to build a school in a rural community and have spoken at two separate We Day events as Miss Teen Canada 2011
Ladies Learning Code: Teaching young women essential programming skills
Additional Volunteer experience includes
Maple Leaf Sports and Entertainment
Easter Seals Ontario
Michael Landsberg's Sick Not Weak Program
SOS Children's Villages
Operation Smile
Sick Kids Hospital
St. Josephs Hospital
Traveled to neighbourhoods in Ghana, Peru and India to build community centres and schools through Disaster Volunteers of Ghana, Earthquake Relief Program and Free The Children (respectively)
What is your most unusual talent?
I have a tendency to sometimes break out into random accents. It's probably not quite a talent, but definitely unusual.
Where is the most interesting place you have been to? 
This is a difficult choice to limit it to one! Having swam in both the Arctic and Antarctic Oceans was an exceptional experience. Both the Arctic and the Antarctica trips were boating expeditions that I mother and I both went on. In the Arctic, we traveled around Svalbard, which is a Norwegian island within the Arctic Circle. In Antarctica, we traveled to the Falkland Islands, South Georgia Island, the Antarctic Peninsula and through the infamous Drake Passage. These locations are some of the most untouched parts of the world. The ability to interact with animals that have never been hurt by man before takes your breath away. I was fortunate enough to be taken under the wing of a National Geographic photographer and realized that film and photography can help tell a story to share the important of why we need to be working to protect the planet we live on.
What do you hope to be doing in ten years? 
I believe success happens when preparation meets opportunity. The currently opportunities in which I am a part of, and are pursuing, will help with the preparation portion of this formula. What will change is the unpredictable nature of opportunity, and this is exciting! Ten years from now, I will be proud of my accomplishments if I have started a company of my own, found success in a career I am passionate about, filmed a social-issues based documentary and created a program that helps empower young women in science and technology.
Is there anything you would like to add that we haven't asked?
I entered Miss Teen Canada originally looking for scholarship opportunities. After my first competition, any type of stereotype surrounding this world was shattered. The group of women there were inspiring, passionate, accomplished and ambitious. It is extremely important that people question stereotypes and take the chance to know what each and everyone one of these contestants is about. To compete for Miss Universe Canada takes hard work, discipline and determination and each and everyone of these women have an incredible story to share.