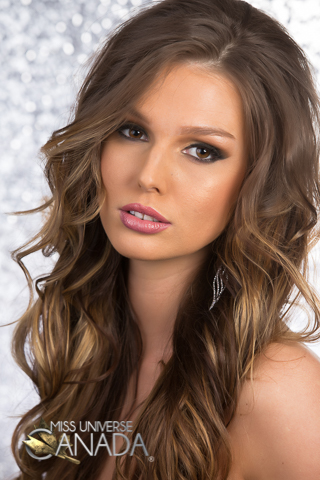 Height: 5'9
Hometown: Windsor, ON
Languages: English, French, German, Polish
Occupation: Student at St. Clair College (Biomedical Engineering Technology)
Marta Magdalena was born in Warsaw, Poland, and was raised by a strong mother in Windsor, Ontario, Canada. Growing up in a country that beautifully embraces multiculturalism has helped her find pride in both her Polish and Canadian heritage. She is fluent in English as well as Polish, as well as conversational French and German. She is nearing the halfway point of her studies at St. Clair College, ambitiously earning her diploma in biomedical engineering technology with a 3.95 GPA.
After she graduates, she hopes to pursue a bachelor's and master's degree in the biomedical engineering field, and wishes to work to improve robotic prosthesis in order to improve the quality of life for patients, particularly children. While education is a topic she is passionate about, she also feels that it is important to be well rounded. She achieves this through art and modelling, beginning her modelling career at the age of 14. That year, she appeared in fashion magazines and walked in fashion shows. By 15, Marta was signed to a mother agency, as well as in Toronto and Paris, spending modelling in the French capital. At the age of 16, she travelled to South Korea for work, as well as New York and Los Angeles. Currently, Marta is signed with agencies in Toronto, Miami, London, England and Zurich, Switzerland. She actively travels between those cities for photoshoots, castings and events. While she considers herself a business woman in this field, she also adores the creative and romantic aspect of her modelling career. She enjoys extending her art expression to paper and canvas through drawing and painting. Marta is extremely grateful for the ability to travel to multiple countries and continents through her work. She enjoys discovering and learning about foreign cultures, traditions and religions. She believes that doing so helps us better understand people, their actions and world around us. As Mark Twain said, "Travel is fatal to prejudice, bigotry, and narrow-mindedness."
Even with a very busy schedule between school and a modelling career, Marta enjoys giving back to the community and volunteering her time to help others. In the past, she has taken part in charity events to raise money for breast cancer. She also enjoys volunteering her time for tutoring and teaching young children. Marta wishes to inspire young women, both in her generation and the coming ones, to build their confidence, self esteem and promote healthy body image. Marta also desires to 'lead by example' and inspire young girls to pursue a career in technology or the sciences, and inspire a movement of females in male-dominated work fields.
Video
Q&A
What are your interests and what do you enjoy doing the most?
Travelling is one of my favourite things to do. France, South Korea, and Switzerland have been some of my most memorable places to visit. I feel that experiencing other cultures helps us see the world with a more open mind. Aside from that, I also love gardening, working out, cooking, learning new languages and anything that allows me to be creative.
List any special training you have had (music, art, drama, dance, etc.) 
Growing up my mother always pushed me to try new things, because she believes the key to being a woman is being well-rounded.
I was raised in an artistic environment, and quickly developed a passion for drawing and painting. I favour working with mediums such as graphite, charcoal, acrylic paints and watercolours. I've taken an extensive amount of classes on the craft. Aside from visual art, I have been playing the guitar since I was 12, and have taken extra curricular language classes for Polish and German.
In what sports, if any, have you participated?
I started swimming at age 6, and continued well into my late teens. What's funny is that the only reason my parents signed me up for swimming was because I was terrified of water. It took me three entire lessons before I went inside the pool! They were right though: you need to confront your fears head on to overcome them. In the end, I ended up loving it, and my passion for the sport kick started a devotion to healthy living at a young age. I took diving for several years alongside the swimming lessons. Other than water sports, I have had experience with gymnastics, yoga, track and field, and kickboxing. It's beautiful to see how strong the human body really is, and how far you can push yourself.
Athletics have taught me the value of dedication and hard work, and no matter the goal, it's within reach with these essentials.
Name one person, other than your parents, who has had the most influence on your life. Why? 
My "babcia". That means grandmother in Polish. She is one of the happiest and most loving people I know. Even when she was going in for open-heart surgery, she was optimistic and told us not to worry about her. Prior to my family's immigration to Canada when I was a child, she played a huge role in raising me. She always helped me with whatever creative idea I wanted to put to the test — and by test, I mean testing my mother's patience.

I know she instilled values in me when I was young that helped shape me into the woman that I am today. She taught me to love with your whole heart. I will never be able to thank her enough for that. My grandmother always has so much time for me, and I maintain a very close relationship with her to this day. She's one of my best friends.
What is your proudest personal accomplishment (other than participating in this pageant)? 
My proudest accomplishment is becoming the person that I am today.
What is the most interesting or unique thing that has ever happened to you and/or what is the most interesting thing about you? 
I began my modeling career at 14. I was able to travel for my work and experience different cultures. I feel like seeing the world so young really molded my personality through experiences that cannot be replicated. It showed me the beauty of having an open mind, of taking risks and experiencing new things. I also became very independent at a young age because I was away from all family in foreign countries by myself.
What is your career ambition and what are you doing or plan to do to accomplish that goal? 
I am currently studying biomedical engineering at St. Clair College. I hold a 3.95 GPA. Upon completion of my diploma, I will pursue a bachelors and masters degree. I have my heart set on Wayne State University. I am extremely passionate about my field; it's something that I can talk for hours about. I am fascinated by, and wish to work to improve robotic prosthesis in order to improve quality of life for patients, particularly children. I would really love to work to make these things more accessible to people, particularly those with lower incomes. I feel that with such strides and advancements in technology, nobody should be missing out.
What would be your "dream job" in life?
I think the ultimate goal when it comes to one's career is having a job that doesn't even feel like work. My dream job is a position that would allow me to reach out, and inspire/help other people. I would want to achieve success while doing something that makes me happy. This is one of the reasons why I want the Miss Universe Canada title – it would give me the platform to market myself and thus reaching out to the public regarding causes/issues I feel passionately about.
Describe where you were raised and what your childhood was like.
I was born in Warsaw, Poland. I grew up in a house that was in my family for over a century. My childhood in Poland was cut short by my family's immigration to Canada.
Immediately after our immigration my father left my mother and I. My mother didn't speak English, had no job, no money, and no family. What I vividly remember from that time is my mother turning into superwoman: learning an entire language in a matter of months and providing for her 7-year-old daughter. Somehow she still managed to give me some of the best memories in the toughest of times.
We struggled, but that is something that I wouldn't necessarily change. I learned so much during that time: the power of determination, what unconditional love is, and that you have to make the best of what you get in life — even if it's not what you want. Above all, I witnessed first hand what miracles a woman is capable of. I hope this inspires young women to realize that we are capable of so much more than we think.
My childhood shaped me into the person I am today — appreciative, humble, determined and strong.
List any interesting or unusual jobs you may have had. 
I worked at a factory that produced car parts during my first year of school. It was a physically demanding job that made me understand the value of teamwork, and appreciate the value of hard earned money.
List any volunteering you have done.
I've helped raise money for breast cancer and kidney disease. I've also spent lots of time working with children at a Polish language Saturday school, and at multiple community events.
What is your most unusual talent?
I'm not sure if this is a talent or not, but I can hold my breath under water for a really long time.
Where is the most interesting place you have been to? 
One of the most interesting places that I've travelled to would have to be South Korea. The culture was so different, and I learned so much from the locals' outlook on life, their core values, and principles. One thing I really loved about Korean tradition was the way people embrace and celebrate aging, and that people look up to elders as wise members of society. As Confucius wrote, "Filial piety and brotherly respect are the root of humanity." It was very evident to me that the culture values respect above everything else, which is something we should all strive for.
What do you hope to be doing in ten years? 
In ten years, I would love to be an established and successful biomedical engineer, working towards new innovations in my field. By that point, I want to have a master's degree under my belt. I would also love to have my own family as well. Truthfully, whatever it is that I'm doing, I just hope to be happy and have the ability to enrich the lives of others.
Is there anything you would like to add that we haven't asked?
As an immigrant, I have so much love for Canada because of the life this country has given me. I've been presented with opportunities that I wouldn't have otherwise had — including this one. I'm so honored to be a finalist.