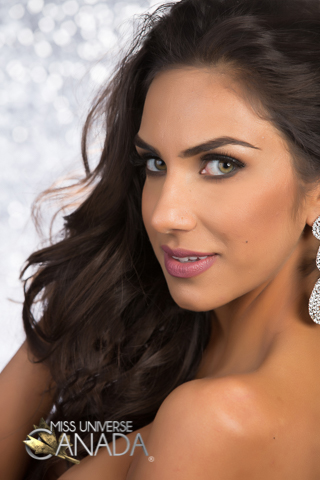 Height: 5'9
Hometown:  Port Alberni, BC
Languages: English, Hindi, Punjabi
Occupation: Insurance Advisor
"Fearless, confident and unstoppable." Three words Mina would not have imagined using to describe herself ten years ago. As a small town girl growing up as an introverted tomboy, traveling internationally to compete in various beauty pageants was not a life she dreamt of. Now, having travelled to over 20 different countries, she has been able to combine her passions of exploring different cultures, volunteering, and learning new ways to align her mind, body, and soul. Mina places high importance on self-growth and achieves this by constantly challenging herself to step out of her comfort zone; it was those challenges that have helped her realize that she is the creator of her own destiny.
Mina had a unique upbringing of being raised by newly immigrated Indian parents in a Canadian society that allowed her to see life through two different lenses. Mina learned how to speak English by watching cartoons and would later translate for her parents during parent-teacher interviews. In December, she would learn about Christmas at school and then celebrate the holidays at home by eating curry chicken and naan. "Combining cultures on a daily basis is the true definition of growing up a Canadian," explained Mina. She is proud to be born and raised in a country that not only respects all people, religions and ethnicities, but also celebrates diversity.
While studying sociology in University, Mina had the desire to volunteer on a global level. "Even though I had never left the country, I independently made the decision to move to Africa," said Mina. Mina volunteered in Ghana for 6 months teaching English to school aged children. While living in a rural village, she immersed herself in the daily tasks alongside the locals. Mina was taught how to fetch water from a well that was kilometers away, how to build fires to cook rice and beans, and how to hand wash her clothes using limited resources. No matter how difficult the task at hand was, Mina noticed everyone around her was always enjoying their time. Being surrounded by such hardworking people, who had very little, yet lived very happy lives, proved to her that happiness is truly a state of mind.
Over the years Mina has learned the importance of achieving inner happiness. Mina first discovered what makes her internally happy while on a journey through the Himalayan Mountains in Northern India. It was a day spent near the Dalai Lama Temple where a spiritual leader challenged her to quiet her mind and connect with her inner being. It was the challenge that led her to discover new ways to nurture her mind, body, and soul. Today, Mina finds inner happiness by being outdoors, practicing meditation, yoga, and holistic healing. Mina wishes to share her findings with others in order for us all to attain happiness and become the best versions of ourselves.
"Miss Universe Canada is more than a title but a celebration of who I am." Mina strives to be an example of what a powerful Canadian woman stands for; independent and free thinking. "When I walk down the centre stage, I will remember the little girl who was too shy and afraid to step outside her comfort zone. I hope my journey will inspire everyday girls in Canada and internationally to challenge the norms of society, gain the courage to resist fear, and become the best versions of themselves. I have never been more prepared to proudly wear the crown and represent Canada at Miss Universe."
Sponsors
Video
Q&A
What are your interests and what do you enjoy doing the most?
Meditation
Yoga
Hiking
Travelling
Cooking for Friends & Family
List any special training you have had (music, art, drama, dance, etc.) 
Anupam Kher Acting School – Mumbai, India
Yoga Teacher Training
In what sports, if any, have you participated?
Softball
Cheerleading
Volleyball
Martial Arts
Swimming
Name one person, other than your parents, who has had the most influence on your life. Why?
To identify one person would not do justice as there have been coaches, friends, colleagues, and mentors that have influenced my journey. Throughout my life every lesson, conversation, and relationship has left an emotional impact on me. Whether it be my leadership coach in high school who motivated me to apply for the Canadian Student Congress, or my Sociology professor who supported my decision to volunteer in Ghana, I am lucky to say that I have had many influential people around me. Using the words and wisdom of each individual has led me to constantly seek personal growth, and has challenged me into becoming the woman that I am today. Hopefully one day, I can positively influence others in the same way.
What is your proudest personal accomplishment (other than participating in this pageant)? 
To have travelled the word fearlessly and independently. Whether it be living in India as a model, soaking up the sun selling timeshare in Mexico, or even volunteering in Ghana as an English teacher, I have always found the courage within to continually step out of my comfort zone and challenge myself.
What is the most interesting or unique thing that has ever happened to you and/or what is the most interesting thing about you? 
I am hands down the best baker you will ever meet. (So I have been told by two very reputable sources.)
What is your career ambition and what are you doing or plan to do to accomplish that goal? 
Through the course of my life I have learned to place importance on personal health and wellness. I am always seeking to get in touch with my inner self by aligning my mind, body and soul because it guides me closer to my divine purpose. I enjoy attending yoga retreats, meditation seminars, fitness classes, and healing workshops. I hope to have my own health and wellness centre that will allow people from all walks of life to reconnect with their inner being and become the most powerful versions of themselves. Life is a journey of constant learning and to provide an ever-evolving facility for people to learn and grow together would be truly rewarding.
What would be your "dream job" in life?
"Welcome to Khtaria's Kitchen!" It sure has a nice ring to it, doesn't it? My dream job would combine two of my biggest passions of food and travel. I would love to travel from country to country, sampling food from all around the world on my very own TV talk show! I have had the opportunity of trying the most amazing cuisines from around the world, and would love to showcase them for everyone to see!
Describe where you were raised and what your childhood was like.
I grew up in a humble, close-knit community called Port Alberni on Vancouver Island, BC, raised by newly immigrated parents. I was one of the few first-generation Indo-Canadians in my school. This allowed me to grow up with two cultures simultaneously. I was able to share my mom's Indian cooking on potlatch days at school, as well as explore the outdoors with classmates by learning how to fish, set up a tent, cliff dive, and hike mountains. The amalgamation of my Indian culture at home and Canadian culture at school provided me a very unique upbringing.
List any interesting or unusual jobs you may have had. 
I am not even exagerating, I have had 25 jobs from the ages of 16 to 26. From scooping gelato at a local parlour, to directing international beauty pageants in South Korea, it is fair to say I have done it all!
List any volunteering you have done.
UNICEF Syrian Refugee Camp in Arsal, Lebanon
Access Life Childhood Cancer Care Centre in Mumbai, India
Sankofa Children's Home in Eguafo, Ghana
SOS Children's Village's Foundation
World Vision
Where is the most interesting place you have been to?
Nzulezo, Ghana. This village exists in the middle of a lake and is built entirely on stilts and platforms. The thing I found the most interesting about Nzulezo is that the children would canoe one hour each way to attend school in a nearby village. Those kids sure were fit, strong and smart!
What do you hope to be doing in ten years?
Often, we have an idea of what we would like our lives to look but ultimately the universe has a divine plan. One thing I truly desire is to be in a loving relationship, raising healthy children, and exploring the world together as a family.
Is there anything you would like to add that we haven't asked?
Of course, you will just have to meet me and ask me in person!