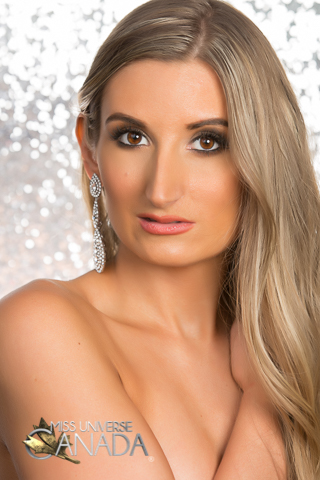 Height: 5'5
Hometown: Belleville, ON
Languages: English
Occupation: Publisher and Sales Executive
Stephanie was born in Stratford, Ontario and moved to Belleville, Ontario where she was raised from the age of 7. She grew up loving sports and the outdoors from an early age, which led to her now being an avid golf, soccer, softball, hockey and badminton player.
In 2014, Stephanie graduated as the Class President with honors in Business Sales and Marketing at Loyalist College. During her time in school she interned with the Detroit Red Wings, Belleville General Hospital Foundation and completed a teamwork and leadership course with the Walt Disney World Executive team.
Currently, Stephanie is a Publisher for real estate magazines and the only female sales executive in her office. Her love of the Toronto Blue Jays, New England Patriots and sports all around makes it easy to work and remain competitive in the male dominated field of advertising sales.
With a passion for helping others, Stephanie actively volunteers with Samaritans Purse for Operation Christmas Child, which sends shoeboxes of supplies and goods to less fortunate children around the world. She also loves to participate in the annual "Walk a Mile Quinte" in Belleville with her father, which raises money for Three Oaks Women Shelter for abused women and children in the Belleville area.
Stephanie would be honoured to represent Canada on the Miss Universe Stage and hopes to inspire young girls everywhere to work hard and follow their dreams.
Sponsored by: Ikon Salon, 95.5 Hits FM & Cool 100.1, Tan on the Run, 6° Studio, Smart Building Apps, Emma's Bridal Boutique, Friends and Family.
Video
Q&A
What are your interests and what do you enjoy doing the most?
I enjoy playing sports including golf, baseball, soccer, hockey and badminton. I'm a huge Toronto Blue Jays and New England Patriots fan so I enjoy watching sports on television as well as going to as many Blue Jays games as I can in the summer.
List any special training you have had (music, art, drama, dance, etc.) 
Modeling
Public Speaking
Smart Serve
Leadership and teamwork through Walt Disney World
In what sports, if any, have you participated?
I was born into an athletic family that organizes an annual multi-generational family golf tournament so learning to golf was practically required! It spawned a love of the outdoors, which pushed me to enroll in co-ed junior soccer at the age of 5. Throughout school, I played varsity badminton; rugby and curling but never lost my love of the outdoors. In my teenage years, my family began canoeing and trekking into Algonquin Park's wilderness backcountry. Canoe tripping and overnight portaging showed me so much beauty in this country not seen from the highway. I continue to actively play recreational softball, indoor and outdoor soccer, golf and hockey.
Name one person, other than your parents, who has had the most influence on your life. Why?
My paternal grandfather was an amazing person and typified to me what a "true gentleman" was. He was raised in the depression of the 1930's and spent his young adulthood in the navy in World War II. He had seen and suffered more in his first 23 years than many of us could imagine, yet he was the kindest, most generous, most positive person I have ever known. You never spent even a few minutes in "grandpa's" presence without getting a kind word or compliment. He taught me patience in the face of struggles, tolerance in the midst of turmoil and hope in the darkness of distress. Having seen the world at its worst, he was determined to live a life of love and kindness and made sure that his 7 children lived the same way. As his very proud granddaughter, I could only hope to fill those shoes and follow in the footsteps of one who loved so much.
What is your proudest personal accomplishment (other than participating in this pageant)?
My proudest accomplishment was a combination of graduating top of my class with honors in the Business Sales & Marketing program and then getting a job in my field and moving to Toronto. I worked very hard in college graduating with a 97 average and being the class President because I had paid for it myself and took my education very seriously.
I absolutely loved my small town upbringing but I knew I wanted to move to a big city to pursue my dreams.
What is the most interesting or unique thing that has ever happened to you and/or what is the most interesting thing about you?
I have always tried to make myself open to new experiences and meeting new people. Therefore, when I moved to Toronto to pursue my publishing career 3 years ago, I made of point of attending as many conferences and social events as I could. As a result, I have met such dignitaries as the late Rob Ford, former mayor of Toronto, Dragons Den's Bruce Croxon and my role model Arlene Dickenson. Since moving to Toronto I have become very much a "yes person" and learned so much of life takes place when you put yourself out there and in the midst of what you want to accomplish.
What is your career ambition and what are you doing or plan to do to accomplish that goal? 
I am currently a Publisher and Sales Executive for a multi media platform company responsible for industry trade publications across Canada. I am the only female Publisher and sales executive in the office and I lead the department in sales. I am using my work experiences to develop my sales skills and wish to combine them with my love of sports to move into a position in a major sports arena. I really enjoyed my intern opportunity with the Detroit Red Wings and discussed a position with the Ottawa Senators before I accepted my current position. I continue to made contacts within Maple Leaf Sports and Entertainment as well as the Toronto Blue Jays and will hone my skills to make a move into that sector in the near future.
What would be your "dream job" in life?
My dream job would be working for the Toronto Blue Jays in a sales or marketing role. I would love to continue working in the field I graduated and have 3 years of experience in and incorporate my love for sports into the job.
Describe where you were raised and what your childhood was like.
I was raised the oldest of 2 children in Belleville, Ontario. I took part in Brownies, Girl Guides and Pathfinders. I played youth soccer and softball from an early age and in high school I participated in the Social Justice program, Retreat Team, Choir, Badminton and Curling teams.
I always looked forward to camping in Algonquin Park every summer with my parents and brother where we would go portaging and hiking. Growing up, I bonded with my father over sports and volunteering in the community which l believe lead me to be the headstrong woman I am today and pursuing a career in a typically male dominated industry.
List any interesting or unusual jobs you may have had.
One of the most interesting jobs I had was being a scribe for the Department of National Defense when I was 20 but like the majority of the Canadian population, my first job was at Tim Horton's when I was 15.
My absolute favourite job was when I was 19 working at Presquile Provincial Park on the maintenance team weed whacking and cutting the grass all summer.
List any volunteering you have done.
Volunteering was something that I started at an early age as my dad is on the local radio station in Belleville so I would tag along with him to events. My volunteer experiences include:
Alter serving at my church in Belleville
Volunteered with Free the Children in high school as a part of the Retreat Team
Samaritans Purse and Operations Christmas Child – building, collecting, packing and shipping shoeboxes around the world for less fortunate children every year
Taking part in the annual Walk A Mile Quinte to raise money for the Three Oaks Women Shelter for abused women and children in the Belleville area
Volunteering with the Belleville General Hospital Foundation before and after my internship
Relay for Life for the Canadian Cancer Society
What is your most unusual talent?
My unusual talent would be being able to balance and carry a canoe portaging while interior camping. I started portaging with my father when I was 14 where I learned all about canoeing and interior camping for days into Algonquin Park.
Where is the most interesting place you have been to?
Going to Boston and attending a New England Patriots home game! It was absolutely surreal being surrounded by thousands of fans in their home stadium, it was something I had really wanted to do since I was young and I was finally able to cross it off my bucket list last December.
What do you hope to be doing in ten years?
In ten years I hope to be working in the sports industry and married with children. I have always been so focused on my career and goal driven I hope I will have kept up my ambition but also be able to have a successful work and family life balance.
Is there anything you would like to add that we haven't asked?
I am honored to be a Miss Universe Canada National Delegate. As a small town Belleville girl, I never imagined I would be able to stand amongst such an inspiring and intelligent group of young women. I hope that young girls in Canada can grow up with strong role models that teach them that anything is possible with hard work and a dream.