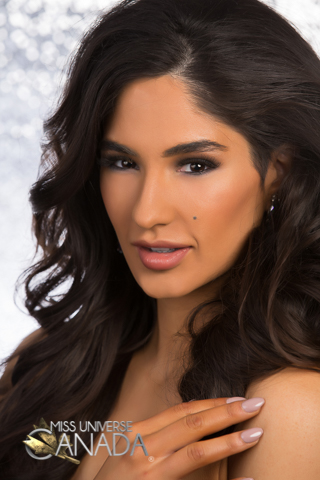 Height: 5'6
Hometown: Fort McMurray, AB
Languages: English
Occupation: TV Show Host, and United Nations Project Manager and Ambassador.
Vanessa Chauhan is an award winning humanitarian, fitness enthusiast, ambassador for the United Nations Association of Canada, television show host and lifestyle journalist. This tenacious and talented beauty stays active by raising awareness about racial discrimination and promoting inclusion in youth while also fundraising for her favourite charities and pursuing a role in today's media.
2016 was a whirlwind year for Vanessa when she was forced to evacuate from her home in the city of Fort McMurray due to the wildfire occurring just before the Miss Universe Canada 2016 competition. Despite having no personal belongings during her month-long evacuation, she persevered and even managed to raise funds for those affected by the wildfires before heading to Toronto to compete for her dream of becoming Miss Universe Canada.
For her humanitarian work and global volunteerism, Regional Municipality of Wood Buffalo Mayor and Council recognized Vanessa with the 2016 Citizen Recognition Award, noting her passion for numerous causes and charities, her volunteer work in the community and her assistance of other Fort McMurray evacuees.
When she is not in front of the camera, writing articles or at the gym, Vanessa plans charity events and United Nations youth programs. She is an ambassador and project manager for the United Nations program that focuses on eradicating racial discrimination and promoting inclusion in schools. She has had the privilege to speak to youth about anti-bullying, anti-racism, acceptance and confidence, as well as how leading a healthy, active lifestyle can have a profound effect on your well-being.
Subsequent to her personal experience during the wildfire of 2016, Vanessa brings renewed strong Canadian pride to this pageant as a reflection of the incredible national support she received during the competition of 2016. She is a shining example of the strong and resilient spirit of the people of her community, she will forge ahead despite all challenges to achieve her goal.
Deeply passionate about humanitarian work, a Television Show Host, journalist, an ambassador of the United Nations of Canada, and advocate for a healthy balanced lifestyle, Vanessa hopes to use the Miss Universe Canada 2017 title as a larger platform to share her passions and work with the world.
Sponsors
Allure Medi Spa, Achieve Wellness Spa, Don Scott Law Office, Maxx Dental, Family & Friends
Video
Q&A
What are your interests and what do you enjoy doing the most?
I am fortunate to be the videojournalist host for Fort McMurray Shaw TV's "Galas and Giving" show, which showcases one of my passions! I have the opportunity to attend charity galas in Fort McMurray and highlight the amazing work being done in our giving community through interviewing the supporters, organizers and volunteers who make it all happen. I write lifestyle articles for a local online newspaper. And I am also an Ambassador and Project Manager with the United Nations Association of Canada Sport-in-a-Box program, which focuses on the eradication of racial discrimination and promoting inclusion in youth. I love working with youth and this ambassadorship has enabled me make a difference in my community. It has always been one of my goals to work with the United Nations and I am so proud to now do so!
When I am not filming the "Galas and Giving" show or working on an event with United Nations Association of Canada, I am usually planning charity events for the causes I support or spending time at the gym. I have my own website and blog as well on www.missvanessachauhan.ca where people can keep up with my preparations for the competition as well as my work in the community.
Lastly, I run and strength train nearly every day! And when I have extra time, I squeeze in a few photoshoots.
List any special training you have had (music, art, drama, dance, etc.).
Hair and makeup training
• Runway lessons
• Photoshoot experience
• Radio/TV hosting
• Event hosting
In what sports, if any, have you participated?
My love for fitness was fostered purely through my love of sport. I have participated competitively in numerous sports. Primarily, I participated in volleyball, badminton and track and field, placing both locally and provincially. I now love running and just getting to the gym for a good strength training session. I know that my involvement in sports brought me to the balanced lifestyle I lead now.
Name one person who has had the most influence on your life. Why?
I really can't name just one person, but undoubtedly my parents have been a strong influence. They have always encouraged me to be a strong woman and make a difference in the world. During my youth, my father introduced me to the history of women's rights in Canada and my mother pursued a full time career in addition to her role as a mother. Both have extremely giving natures and both were great figures to help me shape my life. Their encouragement is why I persevere through difficult times; I hold the values they taught me to this day. Because of the way they raised me, I know that if I put my mind to it, I will make the world a better place.
What is your proudest personal accomplishment (other than participating in this pageant)?
My proudest accomplishment is raising money for Fort McMurray evacuees in 2016. I was an evacuee as well and heading to the 2016 competition in less than a month at the time the evacuation occurred, but I felt that it was important to give back to the community that supports me in achieving all my goals. For my humanitarian efforts and volunteer work, I was awarded the Regional Municipality of Wood Buffalo Mayor and Council Citizen Recognition Award. Our MLA also wrote a personal letter thanking me for my work in the community and congratulating me on winning this award. I am tremendously proud of this accomplishment because humanitarianism is a huge focus in my life and to be honored by the leaders of my community is an important achievement for me.
What is the most interesting or unique thing that has ever happened to you and/or what is the most interesting thing about you?
It may have arisen from being impacted by a terrible natural disaster, but being evacuated during the Fort McMurray wildfire in 2016 really affected the way I see life. I was evacuated the day that my gown arrived in Fort McMurray, so when I left the community under the mandatory evacuation order I did not have a gown or my belongings for the 2016 competition. Luckily I have a great support system and I was still able to compete with a gown that Natalie Glebova arranged to be sponsored for me from Antoniette Catenacci. Because of my evacuation, I reached out to my role model and met a designer that I have admired for years, something I never would have experienced had I not been in that situation. It also gave me more perspective and determination to help others and reinforced why I want to become Miss Universe Canada.
What is your career ambition and what are you doing or plan to do to accomplish that goal?
My career ambition is to eventually have my own charitable organization that would work alongside the United Nations and aid children in third world countries who do not have a stable home life or the proper amenities to develop fully. Accomplishing this is one of my life goals, and I am already on the path to achieving it through working with the United Nations Association of Canada.
What would be your "dream job" in life?
My dream job is the position of Miss Universe Canada. The crown is the ultimate microphone and platform for making change happen. Becoming Miss Universe Canada is an unparalleled opportunity to draw attention to those who are silent and do not possess a strong independent voice. Through my ambassadorship, volunteerism, and charity involvement I know I embody all the attributes a great titleholder needs to have an impactful reign.
Describe where you were raised and what your childhood was like.
I was raised in a small town called Stony Plain, Alberta. It's one of my favourite places in the world. Everyone is very friendly, and it is one of those places where everyone knows everyone. The school system and town placed a lot of emphasis on developing good citizens. Volunteerism, sportsmanship, mental resilience and manners were an integral part of our school curriculum. My parents worked very hard and made sure I grew up understanding the value of a dollar, which lead me to my first job at the age of 13 as a newspaper delivery girl. I have always loved academics and sports and excelled and earned awards in both during my educational years. My achievements provided me with the opportunity to participate in a Japanese student exchange program in my final year of high school. I was very blessed to grow up in such an encouraging community.
List any interesting or unusual jobs you may have had.
I have modeled for a few years and served as an event MC numerous times. Recently I have had the chance to act as the host of the "Galas and Giving Show" with Fort McMurray Shaw TV, and I am really enjoying the experience. Writing for our local newspaper about how I live my life to be happy, healthy and organized has been a unique experience. I am learning about media more and more every day.
My favorite job however is the role I enjoy with the United Nations Association of Canada. I love that I get to address youth and the struggles they are facing. Speaking to them about the importance of promoting inclusion in schools and eliminating racial discrimination is something I am proud to say I have been able to do. Being of half South Asian and half Caucasian descent, I know it is imperative to educate our next generation about multiculturalism and respect for other backgrounds, religions and ethnicities.
List any volunteering you have done.
For several years I have actively planned charitable fundraisers for Operation Smile Canada Foundation, the SPCA, the United Nations Children's Fund, and the Canadian Red Cross.
Through my work with United Nations Association of Canada, I have been able to be an ambassador to youth and inform them about eliminating racial discrimination and promoting inclusion in daily life. Planning numerous events and providing youth with the tools needed to prevent bullying and racism has been one of my favorite opportunities and I believe it is more critical in our society than ever before.
Some other organizations I have volunteered with are:
Community Cleanup 2014, 2015, 2016
Canadian Breast Cancer Society
The Food Bank
Sick Kids Foundation
Edmonton Hope Mission
Goodwill Industries of Alberta
The Salvation Army
2013 Calgary Flood Relief
RMWB- Culture Days
Where is the most interesting place you have ever been to?
I adored travelling to Czech Republic this past winter, and the most interesting place I visited was called Cesky Krumlov. It is paved completely in cobblestone. Everything looks like it is from the medieval era, and there are so many shops with handmade wooden toys for children, garnet jewelry, sweets and gift shops. The city is separated by a river stream, with a castle on the other side. It was so breathtaking, I felt like I was transported to another time! The food was definitely the highlight. People from Czech Republic love hearty meals and plenty of sweets to accompany each meal. I was definitely well taken care of and in love with how much history and culture there is to enjoy!
What do you hope to be doing in ten years?
In ten years I would like to come back to congratulate Miss Universe Canada 2027 as a previous Miss Universe Canada (one can dream right?). I also hope to be running my own business and charitable organization. In addition, I see myself having a family eventually. My ultimate aim is to maintain a healthy balance between family and career, but I also want to make sure that I am following the goals that I have outlined, including being able to make a difference in the world for those less fortunate than I have been.
Is there anything you would like to add that we haven't asked?
I would very much like to express what the Miss Universe Canada title means to me. I applaud the legacy of the women who have come before me, attained the crown and made a difference in the world not only for the affiliate charities that the organization partners with but also for women around the world, youth and Canada. The title has been a goal I have been pursuing since I was a little girl, and I am proud to be living in a splendid time when women and their impact are celebrated in society. We are the change makers, the humanitarians, the entrepreneurs and the leaders of tomorrow. The title of Miss Universe Canada means that I would have a platform to show the change one woman can make with her voice and dedication to her goals. I believe we need a strong message sent out to the universe: we are strong, beautiful and confident, and armed with a passion to make a difference.