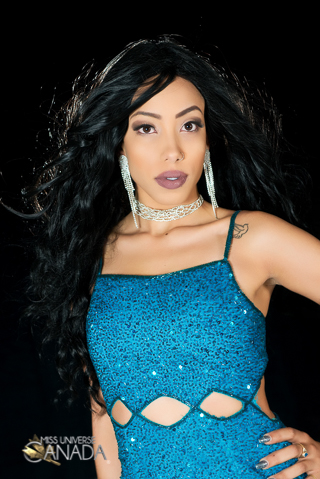 Height: 5'9
Hometown: Windsor, ON
Ambitious and religious Tre'Sea Talbot-Lalande is one of the most positive people you will come to meet. Growing up in a very multicultural city of Windsor she strives to keep her family and friends as happy as she is. She carries her positive energy and smile with her everywhere she goes to ensure that no matter what anyone is going through they still have someone that will try their best to see a smile. Her number one motivation is her family. A young sister, a young brother and an older sister who she works hard to make sure that they will never go without. Tre'Sea has always been a hard worker and has been working from the age of seventeen. Her main focus is on her studies she will be attending Fanshawe College to further her education and knowledge in hopes of becoming a Flight Attendant.
21 and so full of life travelling around the world and meeting new people with their many cultures and beliefs, food, clothing and religions is all something she wants to learn more about. Being very accepting of everyone she wants to gain knowledge on the way others live and maybe even educate others on the way she was brought up. Tre'Sea never had much growing up and that is the number one reason she is working hard to be as successful as possible to make sure that her earnings come back to her family, the community, and the church she was brought up in. The bouncy curly hair, the huge smile , the loud laugh , the beauty marks all over her face, juicy pink lips , the dimple right under her left eye and just the way she carries herself are all the things that make her most confident.
On the slim time off that Tre'Sea has she tries to keep busy by either spending time with her family and friends or volunteering at Mackenzie Hall. Every year for black history month she helps out with the catering and setup and also with bringing awareness to the community on the many historic people that have changed the way we view and live life. Awhile back in 2012 she won the Jr. Windsor Emancipation Beauty contest and after that her confidence reached sky high and has taken on every opportunity to showcase how being different can have great affects.