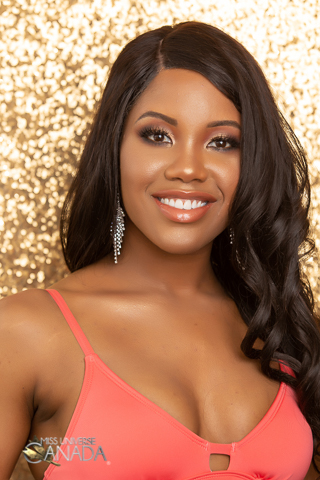 Height: 5'8
Hometown: Pickering, ON
Languages: English, French, Spanish
Occupation: Guest Relations Coordinator
Britany-Anne Dawes was born and raised in Toronto, Ontario and currently resides in Pickering, Ontario. Her cultural background consists of her ancestry including Jamaican, Syrian, English, and Scottish. She is extremely grateful to live in such a vast, multicultural city in which she can experience and absorb numerous, varying cultures and obtain differing perspectives and views. She is a Business graduate who previously attended Centennial College and the University of Toronto. With the increasing economic and health-related challenges in society, she is interested in creating solutions to resolve these issues and has decided to return to her studies in which she is currently pursuing a Bachelor of Arts Degree in Health Administration at Athabasca University. At present, she is working in Administration with the Princess Margaret Cancer Centre. She is passionate about helping those in need which is why she started an event planning group which seeks to help bring awareness and fundraising efforts to a variety of charities through social events.
Brittany-Anne has always had the desire to uplift and empower individuals to seek their true potentials and self-worth. In high-school, she travelled throughout the Toronto District School Board mentoring her peers on the consequences of succumbing to peer pressure and having the courage to stand up for their morals/beliefs. She continues to give motivational speeches and lead workshops stressing the importance of putting your best foot forward at all times and being the best you can be in everything you seek to accomplish. She has been featured in the Share Newspaper and excerpts from a speech she gave at a Toronto public school was shown on CP24.
In her spare time, Brittany-Anne particularly enjoys engaging in one of her favourite hobbies: researching. She loves acquiring wisdom through learning new things whether it's through studying a different culture, reading a book or cooking a new recipe. It intrigues her to gain new and varying interests/experiences. She also enjoys travelling, art and visiting museums as she views becoming cultured as an important aspect of being able to relate to many different people. Her love of language led her to take courses in Spanish and French in the past. She is an avid Disney fan and enjoys partaking in collecting all things Disney. From a young age, participating in a movie as an extra, plays and screenplays, she had fallen in love with the art of acting and also seeks professional training to improve her skillset. Health and fitness plays a vital role in Brittany-Anne's everyday routine and she participates in eating clean, gym activities and sports on a regular basis. Having been involved with the community from a very young age and continuing to volunteer with several organizations, Brittany-Anne believes in making a difference in the community by building a safe and positive infrastructure. She aspires to be a voice for individuals who are often not heard through her social event efforts.
Miss Universe is a title that holds great respect and honour. Becoming Miss Universe is an excellent platform that can be utilized to transform lives of all ages and motivate individuals to follow their dreams. It teaches values such as respect, self-confidence and pride, and to hold them in high regard. It encourages you to be an active participant in improving the community and society at large. Brittany-Anne's values and goals are in alignment with those of the Miss Universe organization. If given the opportunity, she would be determined and committed to carry out these attributes/responsibilities if crowned Miss Universe.
Sponsors
Pavin Caffe
,
Unique Flooring GTA
, GTH Lining,
Grace Foods
,
Life Time Athletics Ajax
,
Caryl Baker Visage Pickering
,
David's Tea
, Pearlina Dawes,
HelloFresh Canada
, 
Xploration French Camp
,
D'Juvayne Christian
, Family and Friends
Video
Q&A
What are your interests and what do you enjoy doing the most?
A favourite hobby of mine is researching. I love acquiring wisdom by learning new things whether it's through studying a different culture, reading a book or cooking a new recipe. My many curiosities intrigue me to gain new and varying interests/experiences. Currently, I am in the process of developing my knowledge of the Spanish language and improving my French. In 2013, I had the amazing opportunity to take part in a Spanish immersion program. I travelled to Pamplona, Spain in which I stayed with a wonderful family. I was immersed in the culture and was able to quickly learn many phrases and sayings. I also enjoy travelling, collecting different Disney items, exercising, art, and visiting museums.
List any special training you have had (music, art, drama, dance, etc.)
While in elementary school, I was trained to play the trumpet and recorder. I also dabbled a bit in learning to play the piano. While in high-school, I took an interest in belly dancing and sought professional training. From a very young age, I have always had a love for dramatic/theatrical acting and have received professional training in that field. My adoration has led me to take part in plays and be an extra in a movie.
In what sports, if any, have you participated?
Growing up, I was heavily involved with track and field. I competed in high-jump (I was the champion twice against other school regions), relay, and sprints. I also took part in cross-country running. In high school, I participated in my school's basketball team and was the co-captain of our cheerleading team. Currently, I am on a baseball team. I also enjoy playing volleyball and field hockey. Maintaining a fit and healthy lifestyle is very important to me and I continue to go to the gym multiple times a week and participate in many of the classes offered.
Name one person, other than your parents, who has had the most influence on your life. Why?
My grandmother, Carmen McLeod, has been a great mentor to me. She has always instilled in me to see my self-worth and values. She has taught me to always strive for greatness and continually encourages me in all my ventures. She has taught me to always put my best foot forward in everything I seek to accomplish. She has been an amazing role-model and supporter of mine.
What is your proudest personal accomplishment (other than participating in this pageant)?
One of my proudest accomplishments was initiating a peer pressure mentoring workshop for youth at my church. In high school, I was a part of a team that encouraged youth and taught life skills to prevent them from falling into peer pressure. I used this approach with the youth of my church who were just entering in to high school. High school can be a very challenging time however, a supportive environment that prepares them for this reality can assist in overcoming some of the obstacles they may face. It is important to remember that it takes courage to remain true to yourself and your values.
What is the most interesting or unique thing that has ever happened to you and/or what is the most interesting thing about you?
One of the most interesting things about me is that I was born 3 months premature. I weighed only 2 pounds at birth and the only thing that could fit me when leaving the hospital was a Cabbage Patch Doll dress. I know I gave my parents a scare, but I was eager to see the world. My mother and the amazing staff at Mount Sinai hospital revived me.
What is your career ambition and what are you doing or plan to do to accomplish that goal?
My ambition is to be in a position in which I am able to empower and inspire individuals from all walks of life. To be a positive role-model and ambassador of self-love, confidence, selflessness and strength. I plan to succeed in this venture by continuing to motivate others through social events, educational workshops and motivational speeches.
What would be your "dream job" in life?
Sometimes in order to make a difference in the world, heartfelt stories need to be visualized to demonstrate the boundless things people are willing to do. These stories inspire us to strive for greatness while concurrently helping those less fortunate. For this reason, acting is my dream job as I would be able to use multiple forms of emotions and skill to encourage people to continuously go above and beyond.
Describe where you were raised and what your childhood was like.
I was raised in Toronto, Ontario and moved to Pickering, Ontario in my adult years. I was always very optimistic as a child. I was very fortunate as I was able to participate in activities both in and outside of school. I enjoyed academic challenges and graduated from elementary school with honours. I was also surrounded by and experienced love and support from my family on a continuous basis.
List any interesting or unusual jobs you may have had.
One interesting job I had was working with a touring company as an Activities Director on a weekend tour that travelled to Montreal, Quebec and Ottawa. The tour consisted of either Toronto District School Board Grade 6 students or International students.
List any volunteering you have done.
RBC Blue Water Project
Toronto Humane Society
Por Amor Community Enhancement Initiatives
Black Business and Professional Association
SOS Children's Villages
Toronto Santa Claus Parade
What is your most unusual talent?
I have an artistic nature and enjoy creating artistic pieces using different mediums.
Where is the most interesting place you have been to?
One of the most interesting places I have been to is Pamplona, Spain. I was given the amazing opportunity to take part in an exchange program while attending Centennial College and got to partake in the wonderful culture/language and interact with some delightful people. This was my first time travelling on my own and I absolutely loved the experience. It forced me to brave new experiences while learning more about myself.
What do you hope to be doing in ten years?
I hope to be in a position that will afford me many opportunities to help those in need. One of my passions is event planning and I hope to bring awareness to a variety of charities through hosting events that will help fundraise in support of these charities. One such passion is working with the Canadian Mental Health Association due to the stigmatization and challenges individuals that are diagnosed with this illness face.
Is there anything you would like to add that we haven't asked?
When faced with a closed door, do not consider this to be a failed opportunity. Use it as an impetus to propel you forward. There are so many possibilities which you can discover through networking and working diligently to fulfill your hopes and dreams. A passion of mine is to encourage and empower individuals to strive to reach their aspirations no matter the difficulties they may have faced in the past. I am honoured to be a part of the Miss Universe Canada pageant which encourages young women to make a difference in the world and within their communities. It is also my great pleasure to meet such amazing women of esteemed backgrounds.