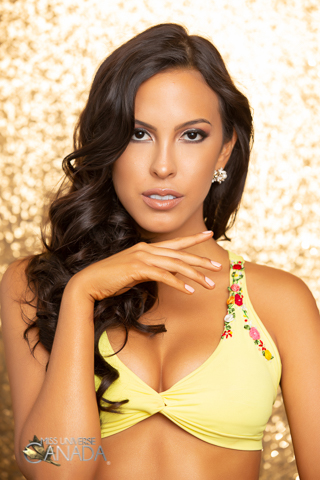 Height: 5'9
Hometown: Toronto, ON
Languages: English, Spanish, French
Occupation: TV Host
Camila Gonzalez is a 21-year-old journalist from Toronto, Ontario. She was born in Cali, Colombia and moved to Canada when she was three. She considers herself a charismatic, empathetic and hard-working woman who likes to laugh at just about everything. Despite being one of the youngest contestants, she is mature and has been working as a professional journalist for almost 8 years. She currently works as a television host and producer for TLN Network in English and Univision Canada in Spanish, and as a model with Plutino Models.
Her passion for journalism has driven her to explore new perspectives, reach out to diverse people and create content that recognizes different ideas about our world. She has worked in radio since she was 13 years old. Her first job as a radio host was on a children's show where she discussed current issues in a fun and educational manner with kids in her community. When she was 18, she began a new job with a Toronto radio station as a news and entertainment reporter. She began her new job as a television host and producer in the beginning of 2018.
Having been a competitive figure skater for most of her life, she has gained a strong athletic discipline that carries over to this day. She loves running, figure skating, hiking, kickboxing, and dancing. In her spare time, she likes to read, learn new languages, travel and tell stories. She also taught herself how to play guitar and ukulele because she really wanted to sing along to her favourite songs. Her job as a radio and television host has also developed her spontaneity, improvisation and curiosity, which makes her a creative and unique individual.
She is confident and loves speaking in front of cameras and crowds. As a journalist and an international ambassador, she has the ability to speak to anybody, from the president of a country to a vulnerable source that needs to be assured that their voice matters. Her experience competing in pageants around the world has given her the opportunity to speak with people from all occupations in places like China, Bolivia, Panama and Colombia. She has dealt with international press and worked with marginalized communities and non-profits to raise funds, awareness and give them a voice.
This has turned into one of her greatest strengths because it has given her a sense of empathy. She is able to observe others and analyze what they say, do, and how they are influenced by their surroundings. She considers her empathy to be vital in her career and in Miss Universe because you can be a great doctor, an entrepreneur, an exceptional writer or the best engineer in the world, but if you cannot connect with someone, build their trust and truly understand them, then you will not have an impact on their lives.
Her professional, academic and extracurricular achievements have given her the confidence, charisma and dedication that is necessary to be the next Miss Universe Canada. Having placed third runner-up at Miss Universe Canada 2016, Top 8 at Miss All Nations 2016, and being the first Canadian representative at Reina Hispanoamericana 2017, she knows what it takes to bear the Canadian flag with pride. She is ready to bring all of the skills and learning experiences that the past few years have given her to be a strong representative on the Miss Universe stage.
Sponsors
Dr. G Smile / Smile Studio Miami
,
Xtreme Beauty Centre
,
Nikita Curins – Personal Trainer
,
Faulhaber Communications
,
Fabian Chacon
,
Diego Fernando Marin
,
Luxy Hair
,
Jadore Evening Dress
,
Vitti Spa Bogota
,
Ines Di Santo
, Family and Friends
Video
Q&A
What are your interests and what do you enjoy doing the most?
One of my biggest passions is connecting with people. Everything that I do in my life always relates back to finding stories and seeing the world through other's perspectives. My happy place is in the middle of an interview sitting next to a stranger who is telling me about their life and what this crazy world means to them. Through journalism I can give a voice to the silenced, and a platform to those who need it. I've interviewed an eccentric and diverse collection of people from politicians, musicians, athletes, children and members of marginalized communities. Through these different platform, I have been able to reach over 3 million people and share their stories.
List any special training you have had (music, art, drama, dance, etc.) 
Runway and modelling workshops
Improv Training
Media training
Social media branding
Public speaking
In what sports, if any, have you participated?
I was a competitive figure skater for over ten years, it taught me elegance, discipline, freedom of expression and to trust myself going into each element and jump. It also showed me my own perseverance and faith against adversity after a hip injury forced me to go through surgery, learn to walk again, and finish my final semester of high school from my bedroom. Despite the hardships, I don't regret a single minute of it, because being on the rink made me happy and free, and now, it's made me strong too.
Name one person, other than your parents, who has had the most influence on your life. Why?
One person that has had a significant influence in my life was a teacher that I had in twelfth grade. When we were talking about careers one day, she told me that I was going to "waste my life" if I went into journalism. I remember vividly when she told me that I should go into medicine or engineering because math and science were my strongest grades. That moment really made me question all the decisions and the goals that I had made up to that point. But it was at that moment when I gained clarity on what I wanted to be in the future: happy.
I knew I wasn't going to be happy doing anything else other than journalism. I didn't want to spend the rest of my life doing what this teacher thought I was meant to do. I wanted to write, tell stories, talk to people, travel the world and help those around me find their voice.
This teacher influenced me because she made me think critically about what I believed in and taught me how to use my intuition. I trusted my gut and followed what I knew would bring me happiness and ever since then that is what I try to do.
What is your proudest personal accomplishment (other than participating in this pageant)?
My proudest personal achievement is being chosen as one of seven undergrad students at Ryerson to travel to Hong Kong to produce a multimedia documentary, using traditional journalism techniques and experimenting with virtual reality and 360 technology.
We travelled there this past May/June and had the chance to produce stories about Hong Kong's waste management system, diversity in media, LGBTQ issues and dying artisanal traditions. Our goal was to help others understand the contrasting and conflicting nature of the city by seeing it first hand.
As part of our project we were invited to attend the N3 Global Journalism Conference. We also visited the Google HK headquarters, South China Morning Post, Bloomberg and CNN International to further develop our foreign reporting skills and resources.
It was an exciting challenge, because we had to find interviews and sources without speaking Cantonese, while telling a story that inspired others and left an honest impression of the city. At times it seemed impossible, but I am so proud of the work we were able to do.
My biggest takeaway from the trip was the pride and gratitude that each person I met had for their daily lives. Whether they cooked, sewed, or picked up plastic on beaches for a living, their faces lit up with joy whenever they talked about their jobs as a contribution to their family. It taught me to take pride in what I do, who I am and where I come from. It's inspired me to be unapologetically grateful for everything in my life.
What is the most interesting or unique thing that has ever happened to you and/or what is the most interesting thing about you?
A few years ago I was celebrating Cinco de Mayo at Danny Trejo's taco restaurant in LA. He came by and after we took some pictures he told me that I was going to be a movie star. I'm not sure how reliable of a fortune teller he is, but I'm still waiting for that moment to come.
What is your career ambition and what are you doing or plan to do to accomplish that goal? 
My career ambition is to be of use to society. My career is based on truth-telling and fairness. As a journalist I want to always be faithful to what the people being interviewed want to say, and not what the rest of the world wants to hear. To accomplish that goal, I will put my values above everything else and always maintain a strong journalistic integrity. I want to produce content that shares new ideas and explores new perspectives. I want to apply my talents as a storyteller and as a content creator to build conversations and open up dialogue about issues that are repressed. Everyday I strive to do a job that is useful and meaningful. And that is what I hope to be doing for the rest of my life, each day reaching a bigger audience and breaking larger boundaries.
What would be your "dream job" in life?
My dream job would be to have my own late night television show. Late night shows are one of the biggest platforms in television, where you can share a story and in seconds, reach millions. Where you can talk to interesting people and connect with others around the world. I want to have a show where I can talk about things that resonate with my audience; real issues that can spark a conversation that otherwise would be ignored. I want to produce passion in people and create empathy in those who watch my show. We live in a world that is full of hate and deception, but my dream job involves sharing happiness, hope, and bringing people together to watch something that will make them smile and educate them.
Describe where you were raised and what your childhood was like.
I was born in Cali, Colombia and lived there until I was three years old. That was when my parents and I moved to Canada. My childhood was quite interesting because I had to learn to speak a new language, adapt to a new culture and grow up living far away from the rest of my family. My mom, dad and I are very close since it has always been the three of us chasing our dreams. I am an only child, so I didn't grow up around a lot of people my age. That made me independent, mature and adaptable. I am extremely grateful for my childhood because I grew up with the warmth, craziness and excitement of a Latin family, but I also got to grow up with the diversity, calmness and innovation that Canada offers. I am the woman that I am today because of the opportunities and experience that Canada gave to me.
List any interesting or unusual jobs you may have had.
I have had a lot of interesting jobs. I have been working since I was 8 years old, and working as a professional journalist since I was 13. But there are a few jobs that stick out to me as quite unusual… When I was 12 years old, I used to design Tumblr blog themes with HTML and I would sell them. People thought I was a lot older and they liked my designs so they would trust me to create their webpages. I actually bought my first DSLR camera with that job. A few years after that I taught children with cognitive disabilities how to use computers and technology. One of my students is currently in college for photography, which is really exciting for me! And most recently, I was the official translator at a wedding because one family only spoke English and the other one only spoke Spanish. I had to recite the vows, give the toasts and host the entire ceremony in both languages!
List any volunteering you have done.
I have worked with the following organizations:
Operation Smile Canada
Heart and Stroke Foundation
Run for Heart
Operation Smile Colombia
Sick Kids Hospital
All Star Gala for Sick Kids (Ambassador)
Canadian Breast Cancer Foundation
Wounded Warriors Canada
I even ran in a 10k once to raise funds for Operation Smile Colombia, where we raised enough to pay for the surgeries of over 240 children.
What is your most unusual talent?
I can ride a unicycle, play the ukulele and instantly translate anything from English to Spanish without an issue.
Where is the most interesting place you have been to?
The most interesting place that I have visited is Lake Titicaca in Bolivia, which is the highest navigable body of water in the world. It is absolutely breathtaking. I went this past October, and I was blown away by the clear blue sky, the mountains, and the frigid air. I spoke with locals and learned that it is considered to be the birthplace of the Incas. They told me legends and spoke with pride about their ancestors. From there, I took a boat across the Strait of Tiquina and visited Copacabana as well, which is a vibrant, historical town at the shore of Lake Titicaca. It was a trip full of history, culture and traditions that I will never forget.
What do you hope to be doing in ten years?
In ten years I want to continue growing as a professional journalist. I want to travel, explore and connect more people around the world. I want to be a role model of just, fair and real journalism for the future generation of reporters. We are facing a difficult situation due to fake news and discrediting of our career, but I believe in the excellence of humans. I believe in honest opportunities for anyone who works with respect and honesty. And in ten years I know that I will have a strong and honest platform and an audience that will transfer those values over to their day to day lives. Journalism is my passion. People are my passion. And I want to do this everyday for the rest of my life.
Is there anything you would like to add that we haven't asked?
I'd like to thank the Miss Universe Canada and Beauties of Canada organization for the opportunity. I competed for the first time in 2016, as the youngest contestant with no previous pageant experience. The woman that I am today is largely due to the lessons that I learned thanks to Miss Universe Canada. Since then, I have grown immensely, as a professional, as a role model and as a Canadian ambassador. I have had the chance to represent Canada internationally, in pageants and in journalism, which has made me more confident, empathetic, hard-working and taught me to be impeccable with my word. I know this year's opportunity, once again, will bring excitement, hardships, learning experiences and friendships. I am so thrilled and thankful to be a part of this life-changing event one more time. If only everyone could see how powerful and how important pageants are to women, because I know that they have helped shape me into the person that I am.