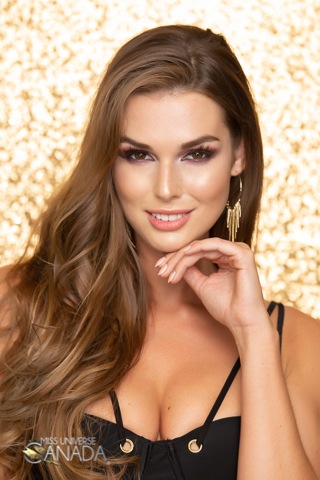 Height: 5'9
Hometown: Windsor, ON
Languages: English, French, German, Polish
Occupation: Student at St. Clair College (Biomedical Engineering Technology), & Applied Researcher
Marta was born in Warsaw, Poland and was raised in Windsor, Ontario, Canada. She is entering her last year of her biomedical engineering technology studies, and is working as an applied researcher, and model. Marta is extremely passionate about her field of studies, and hopes to inspire young women to not shy away from STEM fields, but rather to shatter glass ceilings and break barriers.
Education has been a lifelong focal point of Marta's life. A passion for technology and an admiration for modern medicine inspired her to pursue a career in both fields. Currently, she holds are 3.96 GPA and is going to be completing her final year of biomedical engineering technology studies at St. Clair College. She is also completing a certificate through the HMX Fundamentals program at Harvard Medical School in genetics and immunology in her spare time. Her love for education and STEM has given her opportunities to work as a researcher, and improve the lives of others by doing what she loves. This love, along with along with her passion for giving back to the community, led her to becoming an ambassador for Le Petit Écolière – a Toronto based company that works with Plan Canada and Plan International in order to provide young girls the means to an education.
Modeling has been a huge part of Marta's life, beginning her career in the industry at the age of 14. After being scouted, she signed with a mother agency in Toronto. By the time she was 15, she was signed in Paris and Seoul, and was actively working at her career and traveling often – all while balancing it with completing her high school education. Currently, she is signed in Toronto, Canada; London, England; Miami, USA; and Zurich, Switzerland. She has worked with brands such as Charlotte Tilbury, Lululemon, Schwartzkopf, Beach Bunny, Naeem Khan, and Selfridges, shot campaigns for David Shoe Stores, Hello Kitty, and Calla Blanche Bridal, and appeared in dozens of publications. It's given her the opportunity to see the world at a young age, which helped shape the strong independent woman she has grown into today.
Travelling the world through both modeling and pageantry allowed Marta to better understand the world and people around her. It also opened her eyes to the issues in the world, and made her determined to become part of the solution to said problems. She currently focuses her efforts to end stereotypes, and inspire young women to follow their ambitions, through her volunteering and guest speaking opportunities.
Though pageantry has been a new challenge for Marta, she feels that it encompasses many of the things that are important to her in life – modeling, education, volunteering, and above all, making a positive impact on her community and the world. After placing 1st Runner Up at Miss Universe Canada 2017, she went on to receive the title of Miss International Canada 2017, and compete at Miss International that year. Marta also represented Canada at Reinado Internacional del Café 2018 (Miss International Queen of Coffee) where she placed 1st Runner Up – a pageant where Canada hadn't placed at since 2006. Her pageant experience has taught her how to overcome barriers, and stand up for what you believe in. Marta is actively and ambitiously working towards proudly representing Canada on the Miss Universe stage.
Sponsors
Polonia Centre (Windsor) Inc.
,
Image Clinic
,
Ana Stulic Designs
, Walker Dental Clinic,
Bahama Mama's Tanning Cabana
,
BVogue Boutique
,
Spax's Nail Bar
,
Padrone Barber Shop
, Wayne Chambers Fitness,
Victoria Boutique
,
Rain Fitness Boutique
,
Fantastic Hair and Esthetics by Raj
,
Salon Kosa
,
Healthy Creations
,
The Wrap Shack
,
Moxie's Bar and Grill Windsor
, Family and Friends
Video
Q&A
What are your interests and what do you enjoy doing the most?
Travelling is hands down the thing I enjoy the most. The experiences I have gained from visiting various cultures, cuisines, and environments are priceless. Some of my most memorable destinations have been Paris, London, Seoul, and Zurich. I have been blessed that my modeling and pageant career has allowed me to travel to numerous locations worldwide, sparking not only my love for travelling, but also my love for new experiences and adventure.
I am naturally a very artistically inclined person, so I really enjoy visual arts. I particularly enjoy working with mediums such as graphite or watercolours, and creating portraits. I enjoy the "digital" arts as well: graphic design, photography, and working with photo editing software. I've even designed websites in the past.
This time of year typically I spend a lot of time in my garden as well. I really enjoy growing my own fruits and vegetables, and using them in my kitchen when it's time to harvest them. I'm a major foodie, so cooking is easily one of my top interests as well.
Overall, I think what I currently enjoy doing the most is dedicating time to my studies. I know that in the future, it may lead to something that can change a life. Personally, I'm astounded by the technological advancement and modern medicine: a combination that led me to pursuing an education in biomedical engineering. I hope that my passion and career path will spark an interest in young women to break stereotypes and pursue careers in STEM fields. I'm a huge advocate for girls and women in science, and often attend events to support the cause.
List any special training you have had (music, art, drama, dance, etc.) 
My mother really pushed me in my childhood to try my hand at new things, and encouraged me to be well rounded. I've always been very creative. I took lessons all through elementary and high school in painting, drawing, sculpting and woodworking. Oil paints, watercolours, graphite, and acrylics were just some of my favourite mediums to work with. I took classes for photography as well.
My creative side definitely didn't stop with art. I learned to play flute at 13 years old, and guitar at age 12. I took lessons in guitar for about 4 years, and really developed a love for music. I also took some dance lessons in jazz and hip-hop for fun.
In what sports, if any, have you participated?
My experience with sports began when my parents noticed I was afraid of water as a child. They did what any loving parents would do: decided I needed to conquer my fears, and signed me up for swimming lessons. It took me three whole lessons to get in the water, and eventually, I began loving the sport. I began swimming at 5 years old, and diving at around 13. I continued with both until my late teens. It taught me how important persistence and hard work is. It sparked a love for an active, healthy lifestyle at an early age.
Along the way, I've enjoyed multiple other ways of keeping my body healthy, with badminton, gymnastics, yoga, kickboxing, and track and field.
Now, I keep active by going to the gym, and focusing on strength training and flexibility. To this day, I still love to swim recreationally whenever I can.
Name one person, other than your parents, who has had the most influence on your life. Why?
The one family member that's had a huge impact on my life is my grandmother – "babcia". She was the character of my family. Growing up, she had a "tough love" approach that I'm so grateful for, because it prepared me for the real world. She always knew what to say to bring your feet back onto the ground and always gave the best advice. She was a strong, single mother (to my father), and knew exactly how to deal with obstacles and barriers in life. From her, I learned how to be strong, persistent, determined, and to never let anyone walk all over you.
She passed away last October, but she will always be in my mind and heart.
What is your proudest personal accomplishment (other than participating in this pageant)? 
Maintaining a 3.96 GPA in an engineering field stands out as one of my most proud accomplishments. After being told that "engineering isn't for you" or "you can't go to school and model at the same time", it fueled a fire inside of me – I was determined to succeed. I wanted to succeed not only for myself, but also for my mother, who, too, is an engineer, but was faced with many obstacles in her career path.
I'm proud that while I focused on studies, I was still able to maintain a balance in my life. Between keeping up grades, actively volunteering, pageantry, research, modeling, and relationships, life was bound to get a bit hectic. I'm proud of my work ethic and ambition, and I feel very proud of the person that I have grown into.
What is the most interesting or unique thing that has ever happened to you and/or what is the most interesting thing about you? 
I was scouted by a modeling agency and began my career in the fashion industry at 14. My life quickly turned into castings, photo shoots, fittings, and travelling alone to far away destinations. Travelling around the globe gave me the opportunity of a lifetime to experience different cultures – I'm so grateful for that because I feel like it molded my personality and character. I learned so much about life: value of open-mindedness, the necessity for acceptance in the world, and the importance of family. I was faced with many obstacles and difficult situations – primarily at the beginning of my career. I learned who I wanted to be, and what I wanted out of life.
I'll be celebrating my 10-year anniversary of my modeling career this coming September.
What is your career ambition and what are you doing or plan to do to accomplish that goal? 
I am currently entering my last year of my studies at my college in biomedical engineering technology. After completion, I would like to pursue a bachelor's and later, a master's degree in my field of biomedical engineering.
I've always wanted to have a career that allows me to better the lives of others. I'm so fortunate to be studying this because the field provides many different paths to take. There are so many career options that the biomedical engineering field encompasses. Potential career goals in my future are working with robotic prosthesis, tissue and genetic engineering, or bioinformatics.
Robotic prosthesis is a field I'd love to work in, and make more accessible to those from lower income families. Tissue engineering is something so cutting edge and life changing, and I would love for that to be a part of my career in the future.
I've also taken a serious recent interest in genetics. Over the past few months, I've been completing a certificate through the HMX Fundamentals program at Harvard Medical School's online learning platform in genetics and immunology. It's such an exciting time right now in genetics and medicine. The rapid advancement in technology currently allows us to do things that seemed impossible just 20 years ago. I would love to explore potential career options in genetic engineering and bioinformatics.
What would be your "dream job" in life?
In a way, I feel as though my current research position is my dream job. At Miss Universe Canada 2017, I described my dream job as something that doesn't feel like work, and a position that would allow me to reach out, and help others people. I absolutely love my research position and the field that I'm studying, biomedical engineering, so my job doesn't really feel like work to me. The project that I am working on allows me to better the lives of others, which is rewarding far beyond a paycheque.
The only thing that would make my current job my absolute dream job would be the opportunity to do this on a much larger scale, and helping people globally.
Describe where you were raised and what your childhood was like.
I was born and raised in Warsaw, Poland up until the age of 5. We lived in a large house that had been in our family since the late 1800's. My grandmother lived with my parents and I, which I warmly remember. She always had time to spend with me, and let me to do what my mother normally wouldn't allow (sorry mom)!
My life took a drastic turn when my parents and I immigrated to Canada in 1999. I grew up rather quickly after that. My father left almost immediately, and my mother and I were left alone with nothing. Neither one of us spoke English. To this day I don't know how she pulled it off, but in a matter of months, my mother learned a new language, found a job, and created a new life for us from nothing – all while being supermom. Despite the circumstances, she gave me an incredible childhood. I'll always admire her for that.
Sometimes you just have to play the cards you've been dealt – even if they aren't what you want. Though it wasn't easy, my childhood made me the strong person I am today.
List any interesting or unusual jobs you may have had. 
Some of my more interesting jobs have been a factory worker at a car manufacturing plant, and I've also been a cleaner.
Modeling has also provided me with some interesting jobs as well, like shooting wedding gowns for Today's Bride in a foot of snow, climbing mountains and eating kimchi in South Korea for a promotional video, or a Hello Kitty campaign in Paris when I was 15.
List any volunteering you have done.
Volunteer tutor for youth in math, physics and languages
Fundraising for Windsor Regional Hospital's Breast Cancer Unit
Operation Smile
Knock out Kidney Disease
National Pancake Day by IHOP to benefit Children's Miracle Network
BC Children's Hospital
Stollery Children's Hospital
Motivational speaking and mentoring for young girls (with emphasis on the importance of education)
Promotional Events for Tourism Japan at the Japanese Consulate
Quo Vadis
Natalia Kusendova (Ontario PC Candidate for Mississauga Centre) – Call Center Volunteer
SOS Children's Villages
…among others.

What is your most unusual talent?
I'm really good at navigating airports… I like to think of it as a talent.
Where is the most interesting place you have been to?
My recent trip to Colombia left a lasting impact on me. I went there just one and a half months after the passing of my grandmother. It was my first trip to South America, and I fell in love with the culture: the music, the food, the dancing. Above everything, it was the Colombian people that absolutely captured my heart. The people I met had such an optimistic approach to life; they welcomed it with open arms. Their attitudes and positivity were admirable. I learned so much while I was there, especially about facing your battles, and giving life a smile even when things are difficult.
What do you hope to be doing in ten years?
Ten years from now, I'd like to have a bachelor and masters degree in hand, and have a successful career in biomedical engineering. I want to focus my efforts and talents to better the lives of people with technology. I would really hope that I could work in particular to make these technological advancements available to everyone, regardless of financial status.
Career aside, I'd really like to be married, with children of my own. I'd want to adopt children in the future, as well as have biological children. My overall future goal would be to create a loving home for my entire family, and give them everything I can.
Is there anything you would like to add that we haven't asked?
I'm really grateful for this opportunity, and I'm so excited to participate in Miss Universe Canada. I hope to have the opportunity to once again represent Canada on an international stage, and make both Canadian and Polish communities proud.