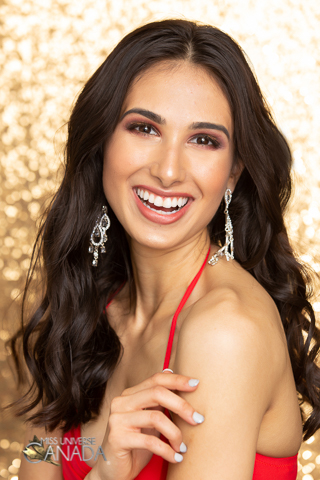 Height: 5'8
Hometown: East St. Paul, MB
Languages: English
Occupation: Student at University of Manitoba (Science Honors) Genetics
Paris is pursuing an honors degree in the field of Biological Sciences with a focus on Genetics. Currently finishing her second year, she has an interest in becoming a Physician, which had initially sparked because of her older brother who was born with a rare genetic syndrome called Cornelia De Lange. Paris is an avid learner, who is consistently interested in discovering what has yet to be discovered. She also volunteers at a local hospital where she enjoys spending time to help care for the elderly patients by providing comfort and a listening ear.
Paris has worked tremendously hard over the past fifteen years to attain and maintain a second-degree, martial arts black belt in Tae Kwon Do. As a result of her hard work and abilities she was invited to join a high-performance team representing Manitoba, and to travel to different countries and compete at an International level. Through martial arts she has learned the value of discipline and many other important qualities such as respect for others and herself, commitment, and confidence. The values she has inherited from this commitment has attributed to success in all aspects of her life. Paris was elected head of the student body in her senior high school year where she was able to voice her opinions, speak on behalf of the students for changes within the school and learn valuable leadership skills that are still with her today.
As a recipient of the Duke of Edinburgh award, Paris has a keen interest in exploring new places and gaining a better understanding of herself and the cultures around her. While on the wildness retreat, Paris gained an interest in exploring and appreciating the world and nature around her. Meeting new people, bonding over campfires and hiking, Paris has developed a desire to continue seeking new adventures. Paris is an avid "foodie" and in her spare time; she loves following Gordon Ramsay tutorials and cooking up new creations. Her specialty in the kitchen is cooking Svalka, a traditional Slovenian delicacy with her grandmother.
Paris hopes to be a role model for younger girls, as she advocates for them working towards jobs in the STEM field. She is passionate about being an activist in order to encourage confidence and independence. She is a proud Winnipegger and has grown up loving the brash winters and beautiful beaches and lakes in the summers. She is excited to share her journey throughout the Miss Universe Canada competition and is excited to represent Canada on the global stage.
Sponsors
Video
Q&A
What are your interests and what do you enjoy doing the most?
I love to experience cultures different than my own. By going to different places in the world, I start to identify deeper within myself. Not to mention, there's always something new to taste. I love to cook as it allows me to take a step back from my everyday life and showcase my creative side.
The Slovenian in me loves to cook up and share authentic recipes with friends and family. I also enjoy reading, skiing, volunteering and learning new things.
List any special training you have had (music, art, drama, dance, etc.)
At the age of five I had taken my first martial arts class, and have loved it ever since. Over the past fifteen years I have worked incredibly hard to attain a Second Degree Black Belt in Taekwondo. I was invited a place on the high performance team representing Manitoba, and have travelled abroad to compete in international competitions.
In what sports, if any, have you participated?
Apart from Taekwondo, I am a Water Safety Instructor but I also love to swim independently. Other sports I have participated in hockey, track, soccer, badminton, volleyball, and dance.
Name one person, other than your parents, who has had the most influence on your life. Why?
I know it sounds like a cliché, but the true answer of who would be the one most influential individual in my life would, have to be my mother. When my oldest brother was born with a rare syndrome she fought to keep him alive. My mother never took a "no" from anyone and developed a product that has helped my brother. Doctors encouraged her to sell the product and now it's sold across Canada and in the USA. A close second, would be my grandmother. Immigrating from Slovenia to Canada in her twenties, she was a strong confident woman leaving her home to build a better life in Canada. She, along with many other immigrants traveled on a grueling boat journey with just a single dollar in her pocket and not understanding the language. Despite all the adversity she faced when in Canada, she confronted every challenge head on.  My mother and grandmother have instilled in me the quality of tenacity which has taught me to face every challenge in life with dignity and strength.
What is your proudest personal accomplishment (other than participating in this pageant)?
There area number of accomplishments that I could be proud of but rather than just one, I am most proud of the accomplishments that took hard work and dedication. Some of these accomplishments have been: attaining my second degree black belt in Tae Kwon Do, and becoming a certified water safety swim instructor. These accomplishments have truly taught me in order to achieve, one must work hard, be tenacious and never give up in what you believe in.
What is the most interesting or unique thing that has ever happened to you and/or what is the most interesting thing about you?
I believe one of the most interesting qualities about myself, my tenacity. When I set my mind to something, I never give up, especially when in the face of a challenge. I believe dedication and perseverance are two important qualities that Miss Universe Canada should exemplify.
What is your career ambition and what are you doing or plan to do to accomplish that goal?

I would like to pursue a career in medicine, specializing in paediatrics. I easily connect with children and believe that we as a society should protect the most vulnerable, children and the elderly. Being able to treat children would be a privilege as a future physician. My brother who has a rare genetic disorder has gone through countless hospital surgeries and tests. As being being constantly involved in the medical community, is what has inspired me to help others as part of my career goals.
What would be your "dream job" in life?
My dream job would not necessarily be what we picture as a typical job but rather I picture myself waking up everyday excited to make a difference in both my life and the lives around me. I eventually would like to leave behind a legacy, and leave this world better than it was before me. By choosing a career in paediatric medicine, I believe this will be a direct path for me achieving this goal. There is always new innovation in science and medicine and I hope to be able to not only be a part of it but possibly contribute.
Describe where you were raised and what your childhood was like.
I was born in the beautiful city of Winnipeg where I currently reside and I was very lucky to grow up with two brothers who I love very much, as well as my inspiring and supportive mother and father. We are a small family, my parents, 2 brothers and my 2 grandparents and we are very close. I had an extremely happy childhood and had the opportunity to travel every year to beautiful destinations for holidays. I was fortunate enough to attend an all girls school which I believe brought about my independence and confidence as well as help prepare me to further my education.
List any interesting or unusual jobs you may have had.
I have not had much experience in the job market as I am currently attending University with a heavy course load in sciences. I currently work part time as a Water Safety Swim Instructor, as well as volunteer at my local hospital during the week.
List any volunteering you have done.
Concordia hospital
Student Council
Winnipeg Harvest
Peer tutoring
Youth in Philanthropy
Girls for the World
Girls for the Cure
What is your most unusual talent?
I love to experiment with new foods and try to compile a new recipe, using what I know. This may not be a talent (as my mother, official taste tester would say), but she would most definitely claim the dishes are unusual and interesting for her taste.
Where is the most interesting place you have been to?
I recently had the opportunity to travel to Costa Rica. This was a complete culture shock to me. It evoked the adventurous side in me, and I found myself exploring the vast landscape, crystal clear oceans, and exotic fruits. However above all of the physical beauty of the nation, I also found myself falling in love with the spirit of the people. Although some people had very little, they always offered what they had and were more than happy to share. In addition I have learnt to appreciate a lot of things that I had taken for granted at home in Canada.
What do you hope to be doing in ten years?
I picture myself as a successful paediatrician with a family. I am looking forward to volunteering internationally, and offering my time and skills to those in need. I intend to live my life with a passion and purpose.
Is there anything you would like to add that we haven't asked?
I would like to thank the creators, directors and all others involved in the creation of this pageant. I would most like to thank my mom for encouraging me to pursue my passions and goals. I am excited to share my platform with the strong capable women competing along side me.