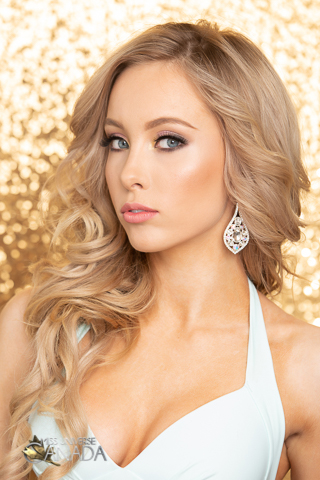 Height: 5'4
Hometown: Calgary, AB
Languages: English
Occupation: Student at University of Calgary (Psychology)
Ciara is a proud born and raised Albertan. She began pageants at the age of 14. Being involved in the pageant world has given Ciara countless life and growth experiences. Such as being an ambassador for her beloved city of Calgary, representing it as Miss Teen Calgary 2017. Ciara is grateful for the opportunities that have allowed her "voice" to be heard. She is an ambassador for the Kidney Foundation of Canada, a cause very close to her heart. She has been working on raising awareness for kidney disease for nine years. One of Ciara's fondest memories is knitting stuffed animals for children with kidney disease and being able to give them out at Kids Kidney Camp this last summer. Volunteering at Youth Link Calgary is another privilege. Youth Link is a City of Calgary Police Services program designed to prevent Calgary's youth from falling through the cracks of social influences and pressures in society. Ciara teaches modelling classes in her free time at the Patti Falconer Agencies. These classes work on helping teens become more confident, they teach life and modelling skills, which in turn empower young people. Ciara has dedicated 16 years to her ballet, including training, volunteering and teaching preschool classes. An Honours' Society student, Ciara will be attending the University of Calgary to pursue a Psychology Degree this fall. Her ultimate goal is to become a Human Rights Lawyer. This is due to her wanting to make an impact on the injustices prevalent in today's society that surround human rights. "Have courage and be kind" is a quote she incorporates into each day. She does this by doing her best to carry on the legacy of Patti Falconer, her mentor. Patti always dedicated her personal time to help others become the best versions of themselves, no matter what the entailed. Ciara's wish is to spread a little kindness and love to everyone around her. She has been fortunate enough to do this on a well-supported platform two years back to back in Calgary. Ciara is the first back to back winner of the Patti Falconer Calgary titles, first Miss Teen Calgary 2017 and now Miss Calgary 2018. With these fortunate opportunities, she learned valuable life skills such as perseverance and dedication.
Sponsors
Video
Q&A
What are your interests and what do you enjoy doing the most?
I am passionate about spreading awareness on Kidney Disease through the Kidney Foundation of Canada. I am inspired by the strength of my younger cousin Sophia who has battled a rare form of Kidney Disease called FSGS. Having seen the effects of Kidney Disease on my cousin I started to volunteer my time at the Kidney Foundation making stuffed animals for affected patients and families. This has brought me joy knowing I am comforting the children through knitting; one of the activities I enjoy the most. I have also been interested and passionate about dance for sixteen years. Throughout my journey with dance, I have struggled with physical and emotional hurdles; both of which have taught me that nothing worthwhile happens overnight, everything takes time. These hurdles have also taught me more about myself, which is why dance interests me so much.
List any special training you have had.
I have successfully completed extensive modelling and acting training with Patti Falconer Agencies. This training taught me not only the fundamental skills of acting and modelling but also self-confidence. This self-confidence has transferred into my daily life and allowed me to step out of my comfort zone. The confidence in my own abilities has allowed me to help others in the industry. Finally, I am proud to say I am classically trained dancer with the School of Alberta Ballet and have been training with them for six years. I started my dance training when I was three years old.
In what sports (if any) have you participate in?
I enjoy swimming, skating, skiing and I have participated in track and field events such as 100 meter, 200 meters, 100-meter relay, 200-meter relay, hurdles, and long jump. I fully enjoyed my time during track and field but decided to focus on dance, specifically ballet.
Name one person, other than your parents, who has had the most influence on your life. Why?
The person who has had the most influence on me is Patti Falconer. Patti inspired me to become a better version of myself in all aspects of life. Patti introduced me to pageants with Miss Teen Calgary back in 2015. She kept encouraging me to compete year after year until I won Miss Teen Calgary in 2017. This was my sole goal, besides volunteering and my schooling, to become Miss Teen Calgary. Patti's mentorship and belief in my abilities taught me how to persevere and helped shape me into the young woman I am today. She also taught me that grace and kindness are very important attributes that one must hone. Patti's ultimate goal for us was to win Miss Universe Canada! I will do my best to carry on Patti's legacy by working hard and being the best version of myself day in and day out.
What is your proudest personal accomplishment?
One of my greatest accomplishments was winning Miss Calgary 2018. A goal Patti and I set and it was the first time I had competed in a Miss pageant. Being only 18 I am very proud of myself for this accomplishment.
What is the most interesting or unique thing that has ever happened to you and/or what is the most interesting thing about you?
An interesting thing about me is that my name is pronounced Key-are-uh even though it is spelt See-are-uh. It is the Gaelic spelling. I also love to cross stitch and knit both of which are pretty unique skills for someone my age.
What is your career ambition and what are you doing or plan to do to accomplish that goal?
A career ambition I have is to become a human rights lawyer. I am currently enrolled at the University of Calgary taking an undergraduate degree in Psychology, once I am finished my undergraduate degree I'm hoping to complete a law degree.
What would be your "dream job" in life?
Human rights lawyer, because I want to help people facing injustices in our society. Anything that would make a positive change in peoples' lives would be my dream.
Describe where you were raised and what your childhood was like.
I was raised in Calgary Alberta, born in Whitecourt Alberta. I lived in Red Deer until I was three years old. Since then I have been blessed to call Calgary home. Calgary is a beautiful vibrant city and we are so fortunate to have the mountains in our backyard. I am an only child but I have two dogs that are are like my siblings.
List any volunteering you have done.
Sick kids camp with Kidney Foundation
Alberta Ballet performances
Teaching preschool ballet
Stampede breakfasts
Where is the most interesting place you have been to?
Dubai! It was so beautiful. I got to meet so many kind people and experienced so many things that I wouldn't have been able to back home in Calgary.
What do you hope to be doing in ten years?
I hope to be a Human rights lawyer with a beautiful family, being happy and successful.