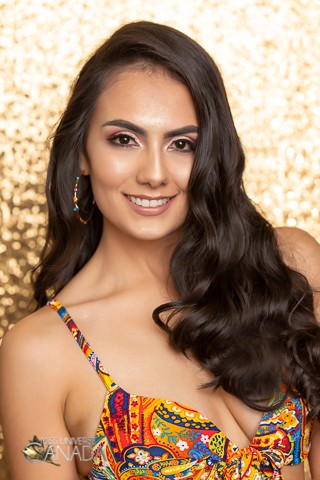 Height: 5'9
Hometown: London, ON
Languages: English, Spanish
Occupation: Office Administraor & Freelance Model
Karol Lopez was born in a very small town called Pacho, in Colombia. She moved to London, Ontario when she was 14 years old and has since considered Canada her true home. She came to Canada as a refugee fleeing the war in her native country. She flew from Colombia to Miami to New York to Buffalo by herself and stayed at a homeless shelter for a few days before being able to cross the border into Canada where she was welcomed as one of its children. Karol is thankful to have her family here with her now and considers herself to be blessed to be able to call Canada her home. As a refugee she believes that immigration and multiculturalism represent what the Canadian essence is all about, and because of this, she feels like she embodies and exemplifies that essence.
Karol graduated from Wilfrid Laurier University in 2015 in journalism and contemporary studies. She also obtained a post-graduate certificate from Conestoga College in Broadcast journalism and documentary Production. And finally, she graduated from Fanshawe College as an office administrator and is currently learning French as her third language after Spanish and English. Karol is passionate about education and she believes that the knowledge you gain is the only thing that cannot be taken away from you.
Karol is described as perseverant, brave, and courageous and these are the traits that she wants Canada and the world to see when she has the opportunity to represent Canada internationally. She has learned that in order to be happy and successful all she needs to do is follow her dreams. A reminder of this lesson is her favourite quote by the author Paulo Coelho: "Tell your heart that the fear of suffering is worse than the suffering itself. And that no heart has ever suffered when it goes in search of its dreams…"
Karol has graced the runway for many national and international designers and has walked at Toronto Fashion Week, International Fashion Encounter, Latin American Fashion Week in Canada, Fashion Art Toronto just to name a few. Through her modeling work, Karol has volunteered with many special causes and charities such as SickKids, Children without Borders, Youth Day, Fashion against Poverty, Easter Seals Charity, and many more.
Sponsors
Family and Friends
Video
Q&A
What are your interests and what do you enjoy doing the most?
I enjoy reading, dancing and going hiking. My favourite book is "The Alchemist" by Paulo Coelho. It is about a boy who goes in search of his treasure by following his dreams and his heart.
Dancing has always been a part of my life. When I was little I was part of a Colombian Folklore dancing group and although I do not dance professionally, this is an activity that helps me relax and is great exercise.
Hikes help me restore my energy. Going on long walks in one of Ontario's beautiful hiking trails is special for me because I feel connected to the universe while being reminded that nature and humans depend on each other to be alive. Sometimes we forget to take care of our planet and we do not realize that this by hurting nature we are hurting ourselves.
List any special training you have had (music, art, drama, dance, etc.)
Growing up, I was part of a Colombian Folklore group for many years until I was 14 years old. I also was part of my towns' drama club and had the opportunity to be part of a few plays. I also took runway and modeling training. I am in the process of learning French and have taken the Explore French Immersion Program (level 1-3) as well as French as a Second Language at College Boreal (level 1-2)
In what sports, if any, have you participated?
Recently I started to practice kickboxing. It is a great way to stay active and to add to a healthy lifestyle while having lots of fun.
Name one person, other than your parents, who has had the most influence on your life. Why?
When I was 17 years old I went camping one day and some friends and I decided it was a good idea to jump off a cliff and into the water. When I jumped, I landed wrong in the water and broke my spine. My L1 to be exact. I didn't know what was happening. I knew I felt an intense pain in my lower back and I felt tired, so I decided to walk back to the campsite to sleep. On my way back to the campsite a nurse saved me. She was walking the other way and when she saw me she asked me if I was okay. I told her I was fine, just a little tired. She said "I am a nurse and I can tell you are in shock, tell me what happened". She said that if I went to sleep while in shock I would fall into a coma. I do not know her name, I do not know where she is but she saved my life and because of this she is one of the most influential people in my life.
What is your proudest personal accomplishment (other than participating in this pageant)?
My proudest personal accomplishment was when I traveled from Colombia all the way to Miami, New York and Buffalo by myself at the age of 14. I stayed at a homeless shelter in Buffalo for 3 nights and 2 days before being able to cross the border to Canada. I then lived in Canada without my mother and siblings for three years until I was 17 years old. This is my biggest accomplishment because it taught me to persevere, to fight for my dreams, to face adversity with a smile and to overcome hardships by myself.
What is the most interesting or unique thing that has ever happened to you and/or what is the most interesting thing about you?
When I was 17 years old I had a spinal fracture on my Lumbar 1. Before surgery my parents and I were told that it was a high risk surgery and that I had a 75% chance of never walking again. We went through with the surgery and everything went as planned. I was able to walk without difficulty and I am now 100% recovered. I have learned to love and embrace my scar. My scar along my lower back is a reminder that I am a strong woman and it is also something unique about me.
What is your career ambition and what are you doing or plan to do to accomplish that goal?
I am a journalist graduated from Wilfrid Laurier University with a postgrad in Videography and Documentary Production. After a series of unexpected events, I decided to change my career and went back to school for Office Administration. Today, I am proud and happy to say that I completely fell in love with it and do not regret my decision. My career ambition is to own and manage my own office or agency specialized in offering information and resources for newcomers and refugees in Canada. I believe I could use all of the skills I have developed at work, in school and in life in order to help future Canadians reach their goals and potential.
What would be your "dream job" in life?
My dream job in life would be to work closely with government run facilities that help new immigrants and refugees settle in Canada. As a refugee and a first generation immigrant I believe that there is a lack of resources available for newcomers who may not speak the language and who may be alone and scared in a new place.
Describe where you were raised and what your childhood was like.
I was raised in a really small town called Pacho, Colombia. It is located two hours south of Bogota. When I look back on my childhood I have warm memories of spending time with my 4 siblings, climbing up trees to eat fresh oranges, guavas, or mangoes. Memories of my friends and me playing soccer in the streets, and memories of the beauty and warmth of my neighbors. I moved to London, Ontario when I was 14 so I also had the honour to be raised here. London is known as "The Forest City". I think it is a beautiful town full of opportunities. It is a quiet enough city to raise a family, yet a big enough city to be able to hold a great career. Londoners are warm, friendly and helpful people who are always ready to lend a hand. Ever since I arrived in London I have never felt like I didn't belong, I am so fortunate to be able to call London my home.
List any interesting or unusual jobs you may have had.
An unusual job I had was working in the tobacco fields of Leamington Ontario. I was picked up by a van at 5 in the morning, driven to the farm and taken back home at 7 in the evening. I needed this job because I was still under age at the time and my family was still back in Colombia and I needed to help them raise enough money for them to be able to get their passports. Although this is one of the hardest jobs I have ever needed to do, it taught me to be self-disciplined.
List any volunteering you have done.
Through my modeling work, I have volunteered with many special causes and charities such as:
SickKids,
Children without Borders,
Youth Day,
Fashion against Poverty,
Easter Seals Charity
I also hosted a dancing party in order to raise funds for SOS Children Villages.
What is your most unusual talent?
My unusual talent is the ability to dance all three major Latin dances: Bachata, Salsa and Merengue. Despite being a common ability where I am originally from, this is an unusual talent in Canada as I find it difficult to find partners who can dance the whole night.
Where is the most interesting place you have been to?
The most interesting place I have been to was Banff, Alberta. I was completely blown away when I saw Lake Louise for the first time. I could not believe that a place so beautiful, peaceful and clean could exist. I had always seen pictures of the lake and I always thought it was beautiful but when I was there, looking at it with my own eyes I realized that pictures are not enough to showcase the beauty of the place. I sat on a rock for at least two hours just looking at the lake, with the snowcapped mountain behind it. Breathtaking.
What do you hope to be doing in ten years?
In ten years I hope to be able to successfully help change the lives of newcomers in Canada with my own non-profit agency. I want to inspire immigrants and refugees to become the best Canadians they could be and give back to the community as much as they received and more. I believe that most of the people who come to Canada come with dreams and goals of becoming fully functioning members of society and have a lot to offer to our country's economy.
In 10 years I would like to develop and open my own modeling agency and coach talented girls on how to become great models. Modeling has been a great part of my life and is something that I am truly passionate about, so having my own agency would give me the opportunity to give back to the modeling and pageantry community what it has given to me.
Is there anything you would like to add that we haven't asked?
I would like to thank Miss Universe Canada and Beauties of Canada for giving me the chance to compete for honour of representing this wonderful country internationally. Ever since I came to Canada I have had the dream of representing my country internationally. I want to make Canada proud of having me as one of its citizens. I remember staying up late every year for as long as I can remember to watch Miss Universe as the beautiful contestants each represented their nation with pride and courage. I have always told myself that one day I will be there too, representing Canada with the same pride and courage as the women before me.