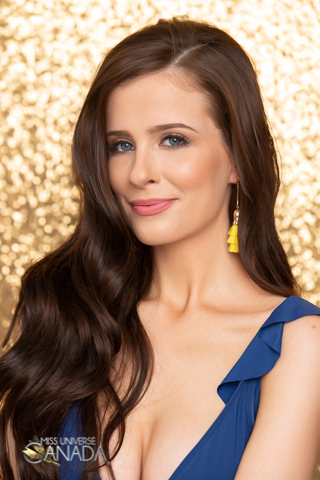 Height: 5'6
Hometown: Bedford, NS
Languages: English, French, Slovenian
Occupation: Student at Berklee College of Music (Music (voice) performance and songwriting)
Nika Gantar was born and raised in Bedford, Nova Scotia, but spent many of her summers travelling through Europe, including regular visits to the picturesque country of Slovenia where her dad was born. She graduated from the Halifax Grammar School with high honors and received her IB Diploma in 2016. Currently, she is studying at the Berklee College of Music in Boston on an $80,000 scholarship, pursuing a degree in music. She participated in the Kiwanis music festival for several years, placing in every category, and winning first place on five occasions. She has received several awards, including the Chico Berardi award, and the Castillia Performance Arts Award. In high school, she established a charity called "Malala's Dream", and raised thousands of dollars for the education of women in third world countries. For her humanitarian efforts, she received the Halifax Community Service Award, as well as the Lieutenant Governor's Medal. She has played the lead in several musicals and plays, including Charity in Sweet Charity, and Patrice in 13. Her parents instilled a love of reading in her from a young age, and she continues to be an avid reader as well as an aspiring poet and songwriter. Nika speaks four languages, plays the piano, and took dance lessons for over ten years. She is convinced that performing is the greatest gift in the world, because it allows her to surpass what is conceivable and decide what can be (and she doesn't mind the applause!).
Sponsors
Family and Friends
Video
Q&A
What are your interests and what do you enjoy doing the most?
My main interest is performing (singing, dancing, and acting), and writing music. I also love to read and write poetry.
List any special training you have had (music, art, drama, dance, etc.) 
I have had over ten years of dance training (ballet, some contemporary, jazz and musical theatre). I also have had 10 years of training in piano, 6 years of vocal training, and 2 years of theatre training. I have been participating in plays and musicals for over 12 years. I study music (voice) professionally at the Berklee College of Music in Boston.
In what sports, if any, have you participated?
I played soccer when I was younger, and now I do mostly hot yoga and workout at the gym.
Name one person, other than your parents, who has had the most influence on your life. Why?
My piano teacher, Natalia, was the first person to recognize my vocal ability and encourage me to pursue my career in singing. She has since supported me with every concert, performance and event that I have ever done. She is an incredibly talented musician, and an even better person. She brings joy and light into my life every time that I have the opportunity to play piano or sing for her.
What is your proudest personal accomplishment (other than participating in this pageant)? 
My proudest accomplishment is getting into my dream school, the Berklee College of Music, with an $80,000 scholarship. I am also extremely proud of myself for graduating high school with an IB Diploma with top marks (Higher levels- 7,7,6, and a 100% on my extended essay).
What is the most interesting or unique thing that has ever happened to you and/or what is the most interesting thing about you? 
The most interesting thing about me is that, up until this pageant, I haven't had any form of social media. I also love to do impressions and write poetry! An interesting thing that has happened to me is that I was contacted to participate on an American reality TV Show, but I couldn't because I'm Canadian (and proud of it).
What is your career ambition and what are you doing or plan to do to accomplish that goal? 
My career ambition is to become a professional singer and actress. I would love to be able to write my own music and perform on Broadway or the West End one day. My plan to accomplish these goals is to continue to study singing at the Berklee College of Music. I also plan to take a two-year program in acting before I pursue my acting career. I have also started recording my original songs, and plan to produce them and release them on my social media and Spotify, etc.
What would be your "dream job" in life?
My dream job would be to perform every single day on stage, while simultaneously inspiring young women to follow their passions and dreams.
Describe where you were raised and what your childhood was like.
I was raised in two places: Bedford, Nova Scotia and Ljubljana, Slovenia. My childhood was filled will travel, theatre, and books. From a young age, my parents taught me to love literature, and I have continued to be an avid reader ever since. I fell in love with novelists like F. Scott Fitzgerald and poets like Pablo Neruda. I spent a lot of my youth studying for my IB Diploma at the Halifax Grammar School in Nova Scotia. My favourite teacher, Ms. MacNeil, furthered my love for literature and poetry. I began to write my own poetry, and eventually, my own songs. It was also at this school that I started my humanitarian work. I created a charity called "Malala's Dream" to raise money and awareness for the education of women in third world countries. I did this by organizing various coffee houses, bake sales, and even a school production of the play "7 Stories". I also volunteered at retirement homes and food banks. I constantly performed in plays and musicals both at the Neptune Theatre, and at school. I spent my weekends participating in theatre, dance, singing and taking piano lessons.
List any interesting or unusual jobs you may have had. 
My most unusual job was working as a cocktail waitress at the Lower Deck (yes, it was as bad as is sounds).
List any volunteering you have done.
Nova Scotia Food Bank
Performing at various retirement homes
Malalas' Dream fundraising and event planning
What is your most unusual talent?
I think my most unusual talent is being able to do impressions of a variety of singers; for example, Marilyn Monroe!
Where is the most interesting place you have been to?
The most interesting place I have been to is a town in Slovenia called Bled. It is one of the most beautiful places in the world, and I am half Slovenian, so that definitely helps!
What do you hope to be doing in ten years?
In ten years I hope to play strong female characters such as Hedda Gabler, as well as continuing to pursue my career in singing. I would love to have an album out by then. I would also love to be continuing my humanitarian work for the advocacy of women's rights. I hope to be able to expand my charity and make it national and eventually, international, so that I can help empower and educate women everywhere.
Is there anything you would like to add that we haven't asked?
I am so honored to be able to participate in a pageant that values the intelligence, hard-work, and talent of young women across Canada. It has always been one of my greatest passions to empower women and show them that they are capable of doing anything, and I truly believe that Miss Universe Canada is doing exactly that.