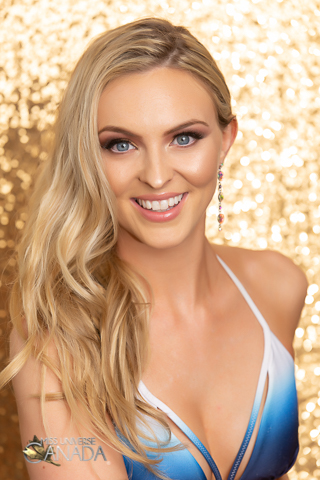 Height: 5'3
Hometown: Belle River, ON
Languages: English
Occupation: Student at University of Windsor (Dramatic Arts, with a minor in Psychology)
Tasha Toulouse was born and raised in Belle River, Ontario. She is currently enrolled in her last semester at the University of Windsor specializing in Dramatic Arts, with a minor in psychology. Along with a passion for drama, Tasha has a newfound dedication to her own health and fitness. She enjoys paddle-boarding, rollerblading, and working out. She is quickly becoming an advocate for remaining active and eating well, as it has boosted her confidence and she wishes to share that with friends and family. She does so by encouraging others to participate in physical activities and outdoor events.
Not only does Tasha support her friends and family in their endeavors, she also prides herself for her involvement in the community. Volunteering has always played an important role in her life. She enjoys giving back by working with charities and organizations including the Windsor-Essex Therapeutic Riding Association, Free the Children, and the Canadian Breast Cancer Foundation. Many of her other volunteer work centers around lessening our environmental impact by cutting down on unnecessary waste, to help both our country and our planet.
Tasha hopes to inspire others in both her community as well as across the country to remain active, give back to their community, pursue their passions and be confident in their own skin. She is a relatable role model who believes that it is important to love the life you've been given and to make the best of all the experiences that come your way.
Sponsors
Family and Friends
Video
Q&A
What are your interests and what do you enjoy doing the most?
My interests are being active outdoors, especially in the summer by paddle-boarding and rollerblading, working out, singing and animals. Throughout my life I have taken singing lesson for fun, and especially love to sing with my little sister. We harmonize together and could spend hours having fun and singing old songs! I am also very passionate about animals, so I tend to spend a majority of my time with my pets. One may even say that I have a menagerie of them, from my leopard geckos to my Quaker parrot, anyone who knows me can attest that I love them with all my heart. Cleaning cages and teaching people about my animals is something that makes me happy and I have always enjoyed to do the most.
Name one person, other than your parents, who has had the most influence on your life. Why?
The person who has had the biggest impact on my life has been my singing teacher Crystal. I look up to her for her confidence and drive to pursue a career in what she is most passionate about. She dedicates hours per week to teaching students and bettering herself for her career, yet always finds the time to support those in her life. Not only does she encourage me to be the best version of myself, she has always been there to lend an ear and support me when I needed someone to simply listen. It's important to me to have people like Crystal in my life as they keep me motivated to pursue my passions with dedication and focus.
What is your proudest personal accomplishment (other than participating in this pageant)?
Entering the final semester of my Dramatic Arts Degree. Throughout my experience in post-secondary education I have faced many obstacles and self-doubt. As a student, it has taken dedication and perseverance to reach that point and be proud of myself for the steps I have taken to better my education.
What is the most interesting or unique thing that has ever happened to you and/or what is the most interesting thing about you?
The most interesting thing that has ever happened to me was when I was cast as a minor role in a movie called "The Birder" which was filmed near my hometown in Windsor, Ontario. At the time I had never acted on a camera and was even given a line in the movie. After completion we were able to see the movie in theatres and it has been seen in many places across the world.
What is your career ambition and what are you doing or plan to do to accomplish that goal?
My career ambition is to be in an animal related practice which would allow me to educate as well as help the lives of animals in my care. To accomplish that goal, I am currently finishing my university degree before planning to return to school in an animal related field. It is only after I finish both programs that I believe I will be able to use all my skills to attain a career where I may have a positive impact on both people and animals.
What would be your "dream job" in life?
My dream job would be to become a zoo keeper at a large zoo, such as the Toronto Zoo or San Diego Zoo where large efforts are being placed on breeding program to benefit animals in danger of becoming extinct. In this career I would be working to benefit the lives of the animals in zoo care, aiming to reverse the negative impact on a species, and be given a chance to educate the public on the ways we can save animals and make a positive change in our lives to change the world we live in today. It is a career like this which would allow me to combine all my passions and skills in a field I would love to be in.
Describe where you were raised and what your childhood was like.
I was raised in a small town where everyone knows everybody. I loved being able to walk to school and spend time with family and friends. My childhood was spent playing outside and singing whenever I had free time. I'm proud to be from such a small area where I felt safe and at home walking down the streets, and where supporting local businesses is something that we all enjoyed doing. Growing up, I also had many pets. I have had everything from hamsters and mice to guinea pigs and bearded dragons which has only helped guide me to my passion for animals today.
List any interesting or unusual jobs you may have had.
Worked during the dance season of 2018 as an Emcee for Shooting Stars Dance Competitions.
List any volunteering you have done.
Windsor-Essex Therapeutic Riding Association
Make Children Better Now
Scouts Canada
Canadian Breast Cancer Foundation
Free the Children
Where is the most interesting place you have been to?
Ochos Rios Jamaica! I was able to see the culture and the diverse environments that they have in their country. My favourite place there was the Dunn's River Falls, which are 600m long travertine falls which flow spring water directly into the ocean.
What do you hope to be doing in ten years?
In ten years I hope to have completed my schooling and have spent some time working, before returning to school once again to further my education in my second passion. With further education, I hope to be seeking a career in an animal related field such as wildlife rehabilitation, zoo keeper/educator or large animal veterinary medicine. In one of these careers I would be able to use my drama skills to speak to the public about animals and make an impact on the way we care for them and our world. Most importantly, in ten years I hope to be happy with the choices that I have made today, and to continue to remain active in my community and volunteer efforts.