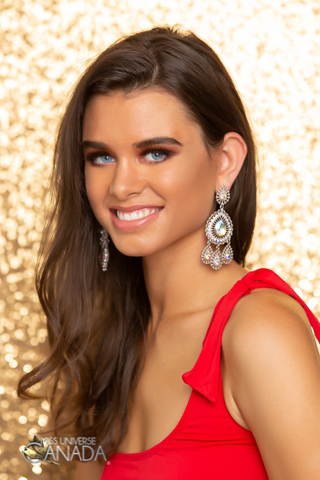 Height: 5'10
Hometown: Sudbury, Ontario
Languages: English, French
Occupation: Student at Laurentian University (Behavioral Neuroscience)
Véronique Langis was born and raised in Sudbury, Ontario. She is the middle child with a little brother and an older sister who are loving and very supportive She's from a francophone community and she can speak english and french. She graduated from high school last June. Véronique has done most of her volunteering helping out with the school. She will be going to Laurentian University to complete her bachelor's in behavioral neuroscience. Currently she's working as a science demonstrator at Dynamic Earth which is a tourist spot in Sudbury, where you'll see the big nickel.
She was a delegate at Miss North Ontario 2018 and made it to the top 15. This is where she found her passion and love for pageantry. She was rewarded with the Top Model Search Canada scholarship, which she also attended last year. Véronique hopes to achieve her goals to become a successful model. Travelling the world is one of her many goals because she loves exploring different cultures.
Véronique loves stepping out of her comfort zone and taking on new challenges. She always has a smile and always tries to keep a positive mind. She lives by the motto "your life is only as good as your mindset".
Sponsors
Video
Q&A
What are your interests and what do you enjoy doing the most?
I'm really interested in fashion and I love visual arts. I took art classes all throughout high school. I like hiking, working out, travelling and spending time with my family and friends.
List any special training you have had (music, art, drama, dance, etc.) 
When I was younger I took swimming lessons and I figured skated for about 5 years. I also have my first aid and cpr.
In what sports, if any, have you participated?
I figured skated for 5 years, I played for my high school volley-ball team for two years, I played basketball for one year and I joined the swim team for one year.
Name one person, other than your parents, who has had the most influence on your life. Why?
The person who had the most influence in my life is one of my best friends that I used to be close to. For this reason is because, she really got me into the things that I'm passionate about today. I got into the art of makeup, fashion, and pageantry because of her. She's really determined to accomplish something when she's really passionate about it and that really influenced me because it encouraged me to do the same. I really look up to her because of that. She motivates me to go out of my comfort zone and be the best that I can be.
What is your proudest personal accomplishment (other than participating in this pageant)? 
My proudest personal accomplishment was being chosen to attend a national event last year called Top Model Search Canada and I'm proud to say that I'll be attending again this year. Getting to the Top 15 at Miss North Ontario 2018 was also a great accomplishment for me because all the hard work paid off. In the end it really built up my self-esteem and confidence.
What is the most interesting or unique thing that has ever happened to you and/or what is the most interesting thing about you? 
The most interesting thing about me is that I have a higher pain tolerance than the average person. I went through many stiches when I was younger and never shed a tear. When I got my wisdom teeth removed, they only used freezing on me, and I was awake throughout the entire process.
What is your career ambition and what are you doing or plan to do to accomplish that goal? 
Modelling is my dream but for now it's more of a side job. My main career ambition is to have a career in the psychology field. What I plan to do to accomplish that goal is to get my bachelor's degree and then get my master's.
What would be your "dream job" in life?
My dream job would definitely to be a Victoria's Secret model. Walking the runway for big brands like Dior, Chanel, Versace, Michael Kors and a lot more.
Describe where you were raised and what your childhood was like.
As a kid I was raised in Sudbury, Ontario. As a child I spent a lot of time in arenas because of my figure skating practices and watching my brother play hockey. Me and my brother are close in age, I consider us best friends and we played games together all the time. Me and my brother played outside a lot so we did a lot of outdoor activities.
List any interesting or unusual jobs you may have had. 
My first job was my most interesting job. I worked as a teacher's assistant for two weeks in august a few years ago. It was a program called "Apprend p'tit" and it with the French catholic school board. The objective of this program is to prepare kids to get used to the school routine before they start kindergarten.
List any volunteering you have done.
A couple times in high school, we did an activity where we would sleep in a box overnight in a grocery store parking lot. Outside the store we asked people for funds, the money would go to the homeless and it counted for our volunteer hours. I have done score keeping and lines for some volleyball games at school. Christmas caroling for donations to the food bank. Helped out when my school they had open doors for new students to see the school.
What is your most unusual talent?
My unusual talent is belly dancing because I have never took any dance classes.
Where is the most interesting place you have been to?
The most interesting place I have been to was New York City. I was really fascinated with all the city lights. I went to the top of the rock which is at the top of the Rockefeller building at night, it was the most beautiful view I have ever seen with my own eyes.
What do you hope to be doing in ten years?
In ten years I will be twenty eight years old so I hope that I'll still be looking good and I'll be walking in the Victoria's Secret Fashion show and hopefully still involved in the fashion industry.