Elisha Jolly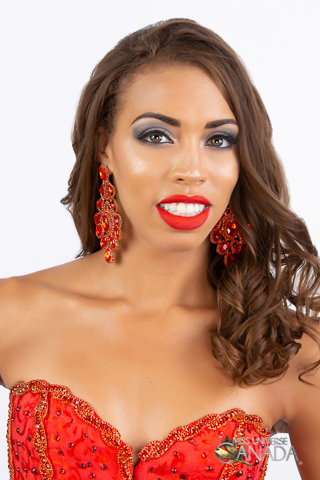 Height: 5'6
Hometown: Toronto, ON
Languages: English
Occupation: Volunteering
Elisha Jolly was born and raised in Toronto, Ontario; she still resides in Toronto, Ontario currently. Elisha strives to be a proud Canadian Citizen, while always putting her best foot forward and leading with integrity. She graduated from Centennial College in April of 2018 with honours in Social Service Work and Indigenous Studies: First Peoples Stories. Although this may not be the direct path Elisha chooses to pursues in her life, the wealth of knowledge she gained from her studies opened her eyes about Power, Privilege and Oppression on the micro, mezzo and macro level within a society. Elisha continues to explore alternate avenues through volunteering and taking courses that interest her; she is not ready to settle just yet in a specific career, however she hopes to excel in the business world. She has an undeniable passion for learning anything and everything, because knowledge is power, and whatever she pursues she is prepared to do it with determination, hard work and above all passion and love.
This is Elisha Jolly's first time ever competing in a beauty pageant; it is a big step forward for her as she has always had an interest in modeling and acting. Elisha can be described as humble, patient, strong, confident, and rather clumsy at times; she is without a doubt hilarious with a very bubbly addictive personality. She has no shortage on friends or meeting new people, as people are attracted to her charisma. Elisha is a very earthy person, she supports global warming in reducing her carbon footprint by driving an environmentally friendly electric car, and also she is an animal lover as she has three cats and two dogs and would love to open an animal shelter one day! Health and fitness is very important to Elisha, she eats at least one green fruit or vegetable a day religiously.
Elisha has been through many trials and tribulations as child, an adolescent and a young adult, she uses self-reflection and mediation often to understand the unfortunate events that occurred throughout out the different phases of her life, this is her mechanism for release of negative lingering feelings that only would hinder her success. Elisha comes from a family riddled with cancer and mental health, unfortunately her brother one year older then her was diagnosed with drug induced schizophrenia at 19. Elisha is capable of understanding and relating empathetically to other families going through the same thing from beginning, middle and ending stages of this illness. She donates $25 a month to CAMH foundation and remains hopeful for a break through with such a complicated intricate brain illness.
Elisha has an abundance of support from family and friends. She would like to bring a heightened awareness to mental health, sexual harassment, and the vulnerable groups within society, such as, children, youth, single pregnant women, and elderly people. She believes young people today is what will shape our society in the future and we need to instil proper education, programs, and guidance to withstand adverse impacts to which they are exposed to on a daily basis. Elisha Jolly believes that her experiences gave her the back bone she needs to fight for what is right and advocate for the voices not heard, her personal values and beliefs gives her strength, and empowers her to commit to this journey, and be the best person she can be, she is ready to represent Canada in Miss Universe 2019 competition.
Sponsors
Family and Friends
Video
Q&A
What are your interests and what do you enjoy doing the most?
I enjoy exercising, such as, running, roller blading, and swimming. I enjoy making people laugh and creating memories with family and friends. I enjoy reading because I love learning new things. I enjoy playing with furry four legged friends!
List any special training you have had (music, art, drama, dance, etc.)
Growing up, I was involved in cross country long distance running for many years, I learned proper breathing techniques and perseverance, I always pushed myself to run faster, longer and harder in order to win the race. I took a few acting classes through a modeling agency when I was 15, I learned how to catwalk and the importance of posture.
In what sports, if any, have you participated?
I was involved in many sports growing up my favorite being cross-country long distance running and track and field, specifically 100 meter dash and relay racing. I played soccer, I did gymnastics, I enjoyed playing volleyball and I also did karate. I love being active!
Name one person, other than your parents, who has had the most influence on your life. Why?
My teacher in college Mrs. Donna Hinds, she is of Jamaican decent, a very successful women with her Masters degree in Social Work and currently working towards her PHD, she taught me how women of colour need to support and stand up for each other, she taught me to not take things at face value but to question everything. She was such an inspiration to me, motivating me to do better and achieve a higher standard for myself, every semester I aspired to take her classes. While I was attending college, the passion she has for teaching is remarkable, she always pushed me to never give up and she always told me she saw greatness in me that I often over looked, her faith in me gave me the confidence to become the women I am today because of Donna Hinds I will reach for the stars and keep trying at my dreams.
What is your proudest personal accomplishment (other than participating in this pageant)?
I participated in a LeaderShape Institute program through my school, 60 students went away for a week, to develop their inner leader, through this one week excursion I grew so much as an individual, and met many great student leaders, I was able to develop in ways I never thought I could and still today, I carry what stuck with me most; to lead with integrity.
What is the most interesting or unique thing that has ever happened to you and/or what is the most interesting thing about you?
I am a survivor, no matter what card life has dealt me. People assume that being pretty and young I've been very privileged and I had it very easy in life, however, this is not the case, I've had a lot of struggles in life and persevered through it emerging as a stronger and more resilient individual, I am one of those people who believes if "life gives you lemons you can make more then lemonade with it".
What is your career ambition and what are you doing or plan to do to accomplish that goal?
My career ambition, is to one day host my own talk show about life, where I would invite participants on my show, to share their experiences and inspire others to never give up as counseling therapy was always of interest to me. For a small person I have a very strong personality with a dominating voice that people gravitate too. Currently I am enrolled in private acting classes.
What would be your "dream job" in life?
My dream job would be to win Miss Universe, use my status to advocate for issues dear to my heart such as having clean water for indigenous communities within Canada.
Describe where you were raised and what your childhood was like.
I was raised in North York, Don mills and Lawrence, I come from a biracial family and I was raised in a single parent household, with my other two siblings. Growing up I watched my mother struggle to raise us and provide the best up bringing she possibly could between working shift work and maintaining the household, as well as ensuring we did not lack anything growing up. I attended daycare and summer camp until grade 5. Although my dad supported my brothers and I financially he never played a full active role as a father figure in our lives as he had other obligations with his own immediate.
List any interesting or unusual jobs you may have had.
Working in a hotel as a housekeeper for a year, I developed a newfound respect for housekeepers in general, who have made this a career and work tirelessly to make sure everything is impeccable. Considering the amount of work they put in on a daily basis their hourly salary does not justify the their job requirements.
List any volunteering you have done.
New Circles Community Services
Military base located at Downsview Park
What is your most unusual talent?
Not sure if this is qualified as an unusual talent, I can eat as much as I want and not gain a pound, I am a food connoisseur, I love to eat. The reason I say this is because numerous occasions throughout my life I've had people ask me if I eat, I feel I have a very interesting genetic make up.
Where is the most interesting place you have been to?
Jamaica for me so far, because that is where my other side of my family is from, some of whom I met for the very first time at 22, being in Jamaica opened me up to my cultural roots that I had not been exposed too, I felt a sense of belonging. Having said that I would like to travel the world and see the seven wonders.
What do you hope to be doing in ten years?
I hope to fulfill most of my goals and dreams, I want to make a name for myself, possibly build a brand and have a positive impact on society as a whole. Also I hope to get married and raise a family of my own and be the best mother I can be just as my mother was to me.
Is there anything you would like to add that we haven't asked?
My Affirmation:
I KNOW I CAN DO THIS
LEAD WITH INTEGRITY
WORK WITH WHATS PRESENTED TO YOU DO NOT WORK AGAINST IT
IT WAS ALWAYS MEANT TO BE!!!!