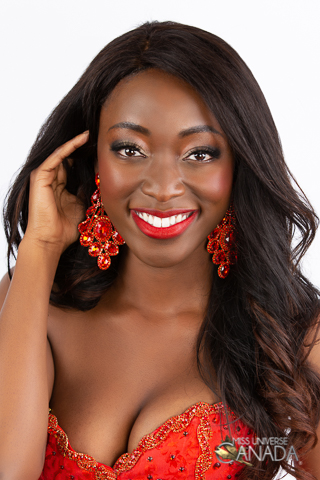 Height: 5'10
Hometown: Whitby, ON
Languages: English, French
Occupation: Student at Carleton University (Sociology)
Grace Diamani was born in Quebec City but raised in Ontario and, is the last of 6 children. She grew up not only in a big family but in a multicultural environment. As a result, she naturally likes to be around people and mostly learn about different cultures and their social issues. In fact, one of the many social issues that is dear to her heart is violence against women and children. In DR Congo, her country of origin, rape and violence against women are used as weapons of war. This inspired her to pursue a degree in Sociology at Carleton University in hopes of one day being able to counsel those in needs and work towards finding better ways to handle social conflicts.
Although she is a still a student, Grace's passion for fashion and modelling not only got her to work in fashion retail but also got her to book a few jobs here and there in the industry. One of her most memorable moments was when she was named Miss Grand Canada 2018 and got to travel to Myanmar to represent the country in the international competition. It was an opportunity of a lifetime which perfectly correlated with her love of travel. Her most recent trip was to Mexico. Whenever possible, she likes to explore the world and connect with people to discuss diversity, self-empowerment, refine her knowledge of exotic teas or even debate about Marvel movies!
Sponsors
Q&A
What are your interests and what do you enjoy doing the most?
I love dabbling in a bit of photography when I have the chance. I also really enjoy painting and reading poetry.
List any special training you have had (music, art, drama, dance, etc.) 
No special training in these areas.
In what sports, if any, have you participated?
When I was very young, I played soccer for a little bit. I also did Track & Field my last two years of high school.
Name one person, other than your parents, who has had the most influence on your life. Why?
I would have to say that all 5 of my siblings have had a significant influence in my life. Being the youngest, I feel that I have learned so many valuable things from each one of them, that I still carry with me today.
What is your proudest personal accomplishment (other than participating in this pageant)?
One of my proudest moments would be when I was named Miss Grand International 2018-2019.
What is the most interesting or unique thing that has ever happened to you and/or
what is the most interesting thing about you?
I have been told that the most interesting thing about me would be my admiration for learning about different cultures and my passion for equality
What is your career ambition and what are you doing or plan to do to accomplish that goal?
My career ambition is to help give a voice to those who feel like they have none. I hope to one day be able to counsel women (and men) in abusive relationships.
What would be your "dream job" in life?
My dream job would be to pursue a career in modelling and to use that platform to promote self-empowerment for young girls.
Describe where you were raised and what your childhood was like.
I was born in Ste. Foy, Québec but was raised in Ajax & Whitby, Ontario. I would say that my childhood was very eventful and full of excitement. Being a part of a large family never leaves a dull moment.
List any interesting or unusual jobs you may have had.
I think the most interesting job that I have had was when I worked at Teavana (which is now found at Starbucks). It's really shocking how much there is to learn about tea.
List any volunteering you have done.
I have volunteered to help out at fundraisers for charities in the past.
What is your most unusual talent?
I think my most unusual talent would be that I can read things that are upside down.
Where is the most interesting place you have been to?
So far the most interesting place that I travelled to would be Myanmar. It is such a beautiful country and the people are so welcoming and eager to teach you about their culture.
What do you hope to be doing in ten years?
In ten years I hope to have started a family while still maintaining whatever career path I have chosen to pursue.