Jean Nicole P. de Jesus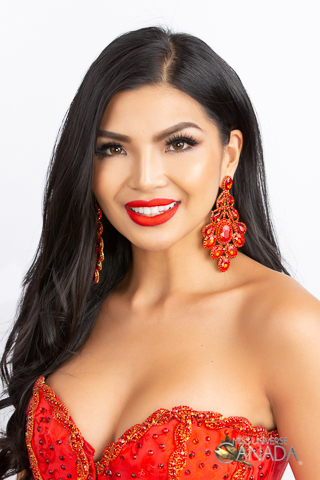 Height: 5'6
Hometown: Edmonton, AB
Languages: English, Tagalog
Occupation: Student
Jean Nicole P. de Jesus is a Canadian financial advisor, entrepreneur and events host. She was born and raised in Edmonton,Alberta and her parents immigrated to Canada in the 1980's from the Philippines. She attended the Northern Alberta Institution of Technology where she took Business Administration and appeared on the Deans honour list. She also attended Red Deer college where she obtained her mutual fund license.
For past year and a half Jean has been traveling back and forth from Canada and Southeast Asia to learn more about her heritage and to spread environmental awareness. She planted trees, participated in ocean clean ups and visited numerous school teaching the youth how to protect the environment. Prior to her travels she was working for the largest credit union in Alberta as a license financial advisor. In 2014, she partnered up with her parents and opened a filipino restaurant in Edmonton, which in 2018 was awarded "The Gold Winner" for best Filipino cuisine. 

Mental health awareness is another advocacy Jean is passionate for. She feels strongly about this cause because growing up she was bullied for being overweight and throughout life was faced with trials that tested her faith. Her love for music, singing and performing on stage became an outlet for her to connect with others and to relieve her stress during some of her most difficult times. Fitness and boxing have also played an integral role in her everyday life as well.
It may sound cliche but Jean believes anything can be achieved with hard work and determination. She hopes to represent the country that brought her and her family so much opportunity on the international stage of Miss Universe.
Sponsors
Manila Grill Express
,
Thai Express Sherwood Park Mall
,
Great Smile Family Dental
,
Nora Ragadio
,
Max's Restaurant of Edmonton
,
Crosstown Chrysler Dodge Jeep Ram
,
Fly Friendly Travel Tours Inc
,
Kagandahang Flores
,
Toledomed Skin & Body Centre
,
Elorde Arnaiz Ave,
Jomar Peralta, Myfren.Online, Jace Luna, Family and Friends
Video
Q&A
What are your interests and what do you enjoy doing the most?
Singing, snowboarding, boxing, traveling, being outdoors, running, spending time with family and friends. I enjoy singing and preforming on stage the most.
List any special training you have had (music, art, drama, dance, etc.)
Vocal lessons
In what sports, if any, have you participated?
Basketball, Boxing
Name one person, other than your parents, who has had the most influence on your life. Why?
My sister-in-law, Melissa, has influenced me the most in life. She has been apart of my life since I was a pre-teen. I see her as my older sister more than a sister-in law. She taught me how to be selfless and to let go of negative thoughts and to see the positive in all things.
What is your proudest personal accomplishment (other than participating in this pageant)?
My proudest personal accomplishment was purchasing my first home when I was 23 years old. I was working 2 jobs and was attending college at the time, As a new financial advisor at the time I wanted to start building my net worth and figured what better way!
What is the most interesting or unique thing that has ever happened to you and/or what is the most interesting thing about you?
Growing up I was bullied for being overweight. Since I started a healthy lifestyle of clean eating and exercise, I have managed to lose about 40 lbs.
What is your career ambition and what are you doing or plan to do to accomplish that goal?
My career ambition is to be successful by being fully self-employed and being invested in numerous businesses. Not only will I be providing for my family and myself, but it will create more jobs and help the economy. I plan on accomplishing this goal by planning, researching and always seeking out opportunities.
What would be your "dream job" in life?
Being a singer would be my 'dream job'. Singing and being on stage has always been a passion of mine and it would also give me a stage to become a motivational speaker where I could promote advocacies that are special to me.
Describe where you were raised and what your childhood was like.
I was born and raised in Edmonton, Alberta. I have an older brother and younger sister. My mother and father migrated to Canada in the 80's and they came to Canada with very little. I remember them working full time jobs but also doing things on the side to make sure our family was okay. Life wasn't always easy, but I learned so much from my parent's perseverance. Our home was small and it was in an old yet beautiful neighbourhood. I remember my father always finding me outside playing outside with my friends. My extended family is huge, and my weekends consisted of being surrounded by numerous cousins. I was bullied for being over-weight and in high school decided to make a change by living a healthy lifestyle which resulted in a 40lbs weight loss. Looking back, I appreciate that life wasn't always easy as it makes me the strong woman I am today.
List any interesting or unusual jobs you may have had.
I was a beauty queen and professional events host in the Philippines.
List any volunteering you have done.
Ocean clean-ups
Teaching at schools about environmental awareness
Blood drives & donations
Book sales to provide funds for Christmas dinners
Operation Smile Philippines
What is your most unusual talent?
It's not too unusual but I love to perform Disney & musical theatre type songs.
Where is the most interesting place you have been to?
Intramuros in Manila, Philippines. It is a walled historical area, built in 1571, which protected the city from foreign invasions. It is rich with history and culture.
What do you hope to be doing in ten years?
I hope to be invested and running multiple businesses alongside my husband and kids.
Is there anything you would like to add that we haven't asked?
I wish to be the next Miss Universe Canada 2019.