Mattea Henderson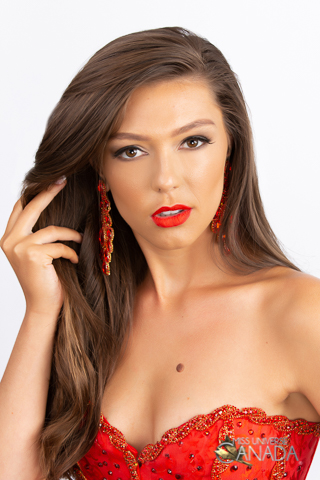 Height: 5'8
Hometown: Calgary, AB
Languages: English, French
Occupation: Marketing and Communications Contractor
Mattea Henderson is a passionate and kind woman who strives for excellence and personal growth in all aspects of life. Naturally an ambitious individual driven by the principal of gratitude, she recently graduated with a Bachelor of Business Administration from Mount Royal University, majoring in Marketing and minoring in International Business. Education has always been a strong pillar in Mattea's life and has led her in the direction of utilizing her education as a means of helping others. Mattea feels that those who have access to education should create a better world.
Mattea is a proud 5th generation Canadian who has had the opportunity to live in and explore various parts of Canada. Her childhood was spent in Markham, Ontario. In her early teens, Mattea's family relocated to Calgary, Alberta and she also spent a short time living on the west coast in Victoria, British Columbia. Mattea has been an active member of her communities through her participation in various sports, and her commitment to community service and volunteering. Mattea is proud to see the evolution of our country, and to embrace the diversity and walks of life that Canada offers. Mattea takes the opportunity to learn something special about each person she meets. She will not sit on the sidelines but will inspire all she meets to embrace education and promote the understanding and tolerance of all peoples.
Learning from a young age, Mattea has discovered her place as a role model for Canadians and women internationally. It is not about being the loudest or the best, but how relatable you are. When people can see a part of themselves in you, that is what creates a dedicated momentum of people working through and inspiring each other. Representing Canada at three international pageants has permitted Mattea with the opportunity to discover her love of travel, culture and speaking to women about the importance of pursuing their personal and professional aspirations.
Mattea has fostered a unique perspective on what the non-profit world can do globally, how the fashion and beauty industry is a force that helps to shape what is deemed beautiful in our world, in association with what social media can do for individuals who feel that their voice is not heard. Mattea is excited to inspire small influential changes that will have grand results in business and create a positive & inspiring environment for others. She uses her experiences competing in pageants, actively modeling in her youth and applying her degree to drive her forward in life.
Sponsors
Russian Standard Canada
,
ANAZ
,
Kensington Fitness – Personal Training & Wellness
,
Rita Vinieris
,
Aesthetic Dental Studio
,
Nicole Bakti Aida
,
Alexander By Daymor
,
Patti Falconer Agencies
,
Hudson's Bay Southcentre
,
Stila Canada
,
Perdo Shoes
,
Espresso Café
,
Paris Jewellers Canada
,
SalvEdge Consignment Boutique
,
Fortitude Personal Training
,
TalaLuvz Radio
,
Joli Moon
,
Ellee Couture Boutique
,
J. Fournier
,
Island Cosmetics
,
Social Beer Haus
,
Fifth Avenue Collection
, Core Wellness, The Barker Family, Family and Friends
Video
Q&A
What are your interests and what do you enjoy doing the most?
I have had a passion for learning since I was young. I absorb as much as I can whether it is from a paperback book, a documentary or reading the newspaper. Right now, it is any biographical documentary featuring successful individuals who have the dedication to accomplish great things in life.
If you cannot find me inside reading with a hot caffeinated beverage, or spending time with my Golden Retriever, Brie, or volunteering in the community, you can most likely find me running or hiking! I love the fresh air and being in the outdoors. I am blessed to have one of the best backyards in the world to explore, Fishcreek Provincial Park in Calgary or the Rocky Mountains just an hour away.
List any special training you have had (music, art, drama, dance, etc.)
The Arts has had a tremendous impact on my appreciation of culture, dedication and passion, and I spent many years playing sports. I have included a few interests and areas that I have had additional education & training in:
CPR & First Aid Certification
Flute
Acoustic Guitar
Art: Sketching & Painting
In what sports, if any, have you participated?
Sports are a driving force in why I am the person I am today. Learning the importance of dedication, relying on cooperation with others, believing in your own capabilities, & understanding what limits you can push mentally and physically. Here are several sports that I love playing & have been competitive in through my life.
Soccer
Volleyball
Swimming
Skating
Skiing
Track and Field
Cross Country
Name one person, other than your parents, who has had the most influence on your life. Why?
Although, I have been surrounded by many strong and extraordinary people in my life, my grandmother has been a role model who has been so very influential.
Granny is a woman who inspires so many people, me included. Her unwavering positive attitude, her guidance and perseverance define her. As a single mother in the 1960's, she raised four children on less than a dollar an hour and managed to put herself through University too.
Seeing her dedication to family and her strength in difficult times, she has taught me the value of persistence, hard work and unconditional love.
At 84, she continues to live independently with true Western Canadian pioneer spirit, even setting posts and building her own fence. She finds good in every situation and embraces life to the fullest. I could not have asked for a stronger woman to lead those that surround me, along with myself, while instilling such love and resiliency.
What is your proudest personal accomplishment (other than participating in this pageant)?
I have been told for several years that my work ethic is something that I should be proud of. What struck me when I completed my Undergraduate Degree in Marketing, minoring in International Business was what my work ethic actually means to me.
I sustained a skull fracture at birth that altered my way of perceiving information and how I process it. I do not know what my life would have been like without this injury. I am extremely proud of the work ethic that I have developed through overcoming this adversity. Hard work made me the woman I am today and underlies why I strive to excel. My work ethic is my proudest personal accomplishment because of how it impacts my daily life and I know that with my dedication and hard work I can achieve my aspirations and great things.
What is the most interesting or unique thing that has ever happened to you and/or what is the most interesting thing about you?
The most interesting thing about me stemmed from one woman who has influenced the way that I conduct myself. Patti Falconer was my agent when I started modeling at age 16. In our first meeting, she shook my hand and stated before I could introduce myself, "I see you being successful in pageants. You remind me of a former Miss Universe." Ans so my journey began. Patti Falconer taught me to never compromise my morals or values to get ahead in life.
This one lesson, in more situations that one has instilled an unwavering sense of integrity in my life. I modeled as a teen, competed in pageants, attended university, and finally entered the working world. Time and time again I would see others do what they needed to do to get ahead, sometimes hurting other or even damaging their own reputations. Patti was the embodiment of an ethical business woman who fostered relationships and grew her business but never compromised her morals or values or diminished those around her. Thank you, Patti, for always treating each young girl as a lady and teaching every one of us to carry ourselves with integrity and being proud of our morals and values.
What is your career ambition and what are you doing or plan to do to accomplish that goal?
I hold a Bachelor's Degree in Marketing and International Business from Mount Royal University and will use my education to pursue a career in marketing. Specifically, my career ambition is to be a driven & passionate woman in business, who through her creative work will inspire women to understand and embrace their self-worth & drive them to follow their professional & personal ambitions and aspirations.
What would be your "dream job" in life?
My dream job combines my love of learning, teaching and travelling. I find making connections with people and allowing them to create their own positive changes is what feeds my soul. Being able to have a career that would allow me to balance a family as well would be an aspiration of mine. Being a successful business woman as well as a mother would be my dream job.
Describe where you were raised and what your childhood was like.
Let's paint a picture. 100-year-old heritage home surrounded by crab-apple trees, and wildflower gardens, wild pear trees, a wooden barn with a red roof, two golden retrievers, 2 siblings (1 brother & 1 sister) and two parents. My childhood was filled with pots and pan concerts in the kitchen, pancakes dyed green & adventures in and around the Greater Toronto Area. I was blessed as a child to be surrounded in a loving, supportive and very family oriented environment. Because of living in Markham, Ontario for my childhood I was exposed to people of all walks of life and all faiths. I attended a duel-track English-French school where diversity was embraced. My parents taught me the importance of believing in myself, to accept each person that crossed my path as a human being & take the best of each life lesson and apply it daily.
List any interesting or unusual jobs you may have had.
The most interesting job that I had was my most recent contract, as Head of Marketing and Communications for a company that focused on the exhibiting, publishing and marketing of 3rd world art being brought to the Canada and other developed countries globally all through e-commerce.
Having the opportunity to see the expression of varying African artists who tell their truth environmentally, socio-culturally, politically and religiously in different mediums exposed my consciousness to their voice & how they choose to tell their stories for the world to see. 'A picture is worth one thousand words' will reside differently in my heart now.
List any volunteering you have done.
AARCS- Alberta Animal Rescue Crew and Society
Heart and Stroke Foundation
Children's Wish Foundation
SOS Children's Villages
World Partnership Walk in association with the Aga Khan Foundation of Canada
Canadian Tire Jumpstart
Lethbridge Minor Basketball
WE
Calgary Region History Fair
B'Tween Girls
Executive Women's International
Ronald McDonald House
Tourism Calgary
White Hat Awards Calgary
Bare Noggins Head Shave for Epilepsy
Boys and Girls Clubs of Calgary via Marlbrough Mall
City of Calgary
The Calgary Stampede
Kids Cancer Care Foundation of Alberta
Balik(back) to School, Tondo, Manila, Philippines
What is your most unusual talent?
I have never witnessed it first hand, but apparently, I sleep talk. You can ask me whatever you want, and I will answer truthfully, it is only when I am exhausted. Other than that, I sleep like a rock.
Where is the most interesting place you have been to?
I have been to many interesting places, the one that has left a mark on my heart is the Philippines. When I completed my undergraduate degree, I took the opportunity to travel and flew over 16 hours to visit the Philippines. Culturally different than Canada, I came to appreciate and experience one of the most welcoming environments & hard-working people!
I had the opportunity to be part of a children's festival in Tondo, Manila. The joy and positivity of being able to play with the children, talk with the parents and see the love of the Filipino people made me feel very at home & blessed to experience a world that I would have never been part of without open arms and hearts. Thank you to the Philippines for welcoming me and touching my heart the way you did. I love your corner of the world and thank you for sharing it with me the way that you did.
What do you hope to be doing in ten years?
In 10 years, I hope to have my own non-profit that focuses around the ideology of Women in Business, to continue to inspire women to understand their self-value when it comes to the respective industries they aspire to be in professionally. To teach valuable skills and build confidence to succeed in their aspirations. Perhaps, in ten years I will be married and planning a family too.
Is there anything you would like to add that we haven't asked?
To the many individuals that are looking over the delegates pages, this message is to you- just do it!
Whatever you have aspired to do, day-dreamed daily or from time to time had that thought come into mind, it is your choice to actively just do it! You are the one person who can truly make their dreams into reality!