Sasha Lombardi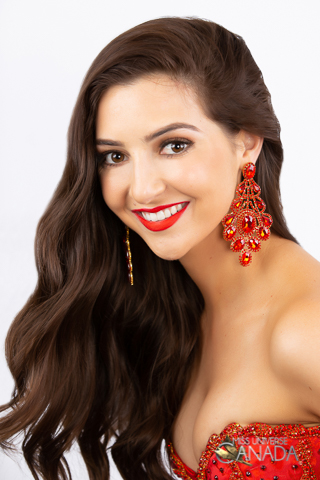 Height: 5'8
Hometown: Toronto, ON
Languages: English
Occupation: Educator
Sasha Lombardi is motivated by the phrase "keep smiling", which means the smallest gestures can have an impact. You don't have to change the entire world at once, you just have to put your best foot forward and "keep smiling".
Sasha was born and raised on Toronto, Ontario. After studying television and film production in Chicago, she returned to Toronto to continue her education. She graduated from the University of Toronto with an Honours Bachelor of Arts specializing in Social Cultural Anthropology and a minor in Environmental Anthropology. Sasha is currently pursuing her lifelong interest in education, and is completing a Bachelor of Education Degree.
Sasha Lombardi is the reigning Miss Eco Canada, and placed 2nd Runner-Up in the Miss Universe Canada 2018 competition. She has dedicated herself to partnering with non-profit organizations, and has volunteered all over the world. Her advocacy includes the Salvation Army, Good Shepherd, Operation Smile, SOS Children's Villages, Best Buddies, Socks4Souls Canada and Hands For Hunger. Sasha created The Givers Movement, a link and pathway to non-profit organizations that match the skills and resources individuals have to offer. Since its inception, Sasha has been working tirelessly to expand the network of non-profits featured on The Givers Movement by volunteering and learning about them firsthand. Sasha understands that everyone has their own preference in how they give, and one of her most memorable moments was bringing her best friend to volunteer and clean up a littered field! Sasha is proud to have integrated her environmental platform into her advocacy. In order to maximize her voice and platform, she is pursuing a business certificate at the University of Toronto School of Continuing Studies.
As the Canadian ambassador to Miss Eco International, founded by the LTCP-UN Project, Sasha aims to engage young people with environmental issues and sustainable development. Through school visits and presentations, Sasha has had the opportunity to not only share her experiences, but to learn from our future generation of leaders, trailblazers, influencers and change-makers. As a mentor, she also uses her platform to conduct workshops and presentations with young girls, encouraging them to recognize their self-worth and individuality.
Sasha's education, experience in public speaking, philanthropy, and entrepreneurial nature compliments her pageant experience. Sasha has an unwavering dedication to represent Canada on the Miss Universe stage!
Sponsors
Video
Q&A
What are your interests and what do you enjoy doing the most?
I love to travel, to immerse myself in different cultures, and to learn about people and their unique life experiences. One of my favourite things to do is spend time with my horse and give him treats!
List any special training you have had (music, art, drama, dance, etc.)
I have had training in public speaking, fine arts, photography and film. Most recently, I learned how to dance Flamenco for my Miss Eco International Talent performance!
In what sports, if any, have you participated?
I have participated in various equestrian disciplines, including Dressage, Eventing, Hunter and Jumper. I am a certified open water diver, and I love to spend time in the ocean. I have also played soccer and volleyball.
Name one person, other than your parents, who has had the most influence on your life. Why?
My greatest personal mentors were my grandfather, Johnny, and equestrian coach, Jamie. My grandfather was an advocate for multiculturalism and was awarded The Order of Canada. My coach was a two-time Canadian Olympic Equestrian. From them, I learned that great things are possible through hard work and determination. I learned to follow my dreams, never to forget my roots, and to always be humble and respectful.
What is your proudest personal accomplishment (other than participating in this pageant)?
My proudest personal accomplishment is representing Canada on the Miss Eco International stage in Egypt, and placing Top 20! Without having any training in a performative talent, and with only weeks to prepare, I practically lived in a dance studio and I placed Top 15 in the Talent competition! I also had the opportunity to wear a Canadian-designed Eco Dress on stage, placing Top 10!
What is the most interesting or unique thing that has ever happened to you and/or what is the most interesting thing about you?
The most unique thing that has happened to me was spending my birthday and Christmas in China, as I represented Canada in an international pageant. I departed Canada the evening before my birthday, and I arrived in Shanghai on my birthday! Days later, I experienced Christmas in China with all of my new pageant sisters from around the world. We had a special dinner together, and exchanged gifts from our home countries.
What is your career ambition and what are you doing or plan to do to accomplish that goal?
My career ambition is to grow my initiative, The Givers Movement, while simultaneously striving towards a PhD. I am laying the foundation of my initiative today, working within Ontario, and slowly branching out to expand the pathways to non-profit organizations that match the skills and resources individuals have to offer. My goal is to speak to wider audiences, and to engage people to become environmentally conscious and to give back.
What would be your "dream job" in life?
My dream job is to be able to merge my passions, which are teaching, philanthropy and travel, and to never feel like I need a holiday from my daily work life. I love being a guest speaker and encouraging teachers and students to embrace the principal of paying it forward. My dream is to do so nationally and internationally.
Describe where you were raised and what your childhood was like.
I was raised in Toronto in a neighbourhood called Little Italy. My childhood was spent running down the street to catch the ice cream truck, attending cultural events that featured performers from around the world, and playing outside with my friends. I always had my hair in a ponytail and of course blistered hands from the monkey bars. I attended several different schools growing up, which enabled me to acclimate naturally to my ever-changing school and social environments.
I spent a lot of time on horse farms, horseback riding, grooming and assisting with upkeep of the stable. When I returned home from riding, my dogs and cats always greeted me. My childhood was a blur of playing manhunt on summer nights and climbing piles of snow during the winter. Street hockey was a staple activity, of course!
List any interesting or unusual jobs you may have had.
The most interesting job that I have had is carrying out duties during my reign as Miss Eco Canada. I love connecting with organizations and schools in order to promote the wellness of the environment, and engaging students in discussion. As a student, I wish I had a guest speaker who shared their experiences, and exemplified that it is possible to shatter glass ceilings.
List any volunteering you have done.
Good Shepherd Ministries; serving food to the homeless and at risk in Toronto
Best Buddies Canada; volunteering with developmentally delayed children and young adults during the Challenger Baseball League
Socks4Souls Canada; bundling socks for distribution to homeless shelters, and those in need during the cold, wet Canadian months
Habitat for Humanity; put up drywall in a home in Toronto
Feed it Forward; planting vegetables, and attending an event in which the organization diverted food from landfills in order to feed those in need
Operation Smile Canada; raising awareness and funds through various platforms
Traveled to Nicaragua with the Miss Universe Canada Organization on the Operation Smile Humanitarian Tour, assisted with the International Brigade registration day, distributing food and greeting families
Musgrove planting and shoreline clean-up along the coast of the Red Sea in Egypt with the Minister of the Environment and school children
Sick Kids Hospital Heart Centre; produced a video presentation for a fundraiser dedicated to families affected by congenital heart defects
Rev It Up For Sick Kids; attended events leading up to, and the fundraising motorcycle ride in support of Sick Kids Hospital
Pathways to Education; afterschool mentor and tutor to high school students
Dawson City, Yukon Territory; I assisted children in making stop motion film in their art class, assisted at Han First Nations cultural event
University of Toronto Immigrant Support and Awareness Program; mentor to ESL newcomers who sought to practice English, and worked with many students to facilitate and foster confidence in the English language
Assistant teacher at an elementary school in Toronto, working with Primary and Junior students, including Junior English Second Language students
SchoolBox; visited young students at a school in Masaya, Nicaragua
Children's Cancer Ward; distributed food to patients and their families in Managua, Nicaragua
SOS Children's Village; fundraised and raided awareness through various platforms
Walk with Heart Walkathon with Rouge Valley Centenary Hospital; encouraging participants and assisting with fundraising activities
Salvation Army; volunteered as a teacher and mentor with children at The Nest, a children's home in Kingston, Jamaica
Fundraised for The Nest Children's Home to fill their funding deficit for urgent needs for the children
Hands for Hunger; collecting and delivering surplus food to various humanitarian agencies in Nassau, The Bahamas
Deborah's House; served food at an assisted living residence for women with mental illness in Chicago
Volunteered in various equestrian facilities in the Greater Toronto Area caring for the stable, as well as assisting with lessons for beginners and people with special needs
What is your most unusual talent?
My most unusual talent is utilizing humour. I think it's because I can put a positive, and hilarious spin on any situation! I also have no reservations when it comes to public speaking, and I have never met a stranger.
Where is the most interesting place you have been to?
The most interesting place I have been is Egypt. I recently returned from spending three weeks in Egypt, and I fell in love with the country. It was my second time visiting, but this time I had the opportunity to travel across the country. The people are all so kind, and vibrant. I love history and culture, so being able to see and learn about ancient sites firsthand was incredible.
What do you hope to be doing in ten years?
In ten years, I will have completed my Bachelor of Education and Doctorate degrees. My initiative, The Givers Movement, will be partnered with various non-profit organizations globally, encouraging individuals to be change-makers in their communities. I will be working as an educator, and traveling the globe to share my experiences, and to learn from others' lived experiences.
Is there anything you would like to add that we haven't asked?
It would be a privilege to be the next Miss Universe Canada. I will work diligently to proudly represent Canada every day of the year.