Ashley Warrington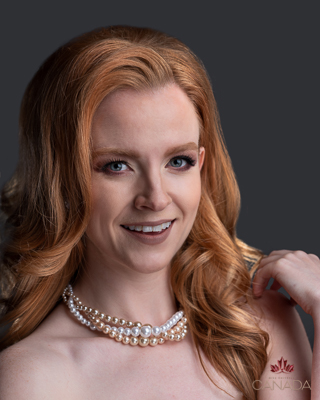 Height: 5'5
Hometown: Grey County, ON
Languages: English
Occupation: Marketing and Communications
Ashley Warrington is a confident and compassionate woman who is inspired by the quote, "Though she be but little, she is fierce." – Shakespeare. Uplifting others to believe that no matter size, age, gender or race Ashley believes that anyone can make a difference as long as they believe in themselves and their goal. Born and raised in Grey County, Ontario, Ashley's close knit family and friends have always been supportive of her ever-growing ambition and commitment to being a leader in her community.
While studying Image Arts & Media Studies at Ryerson University, Ashley was an active member of RyePRIDE. Too often she heard about her friends struggles to find employment because of the way they identified. At the time, Ashley was starting her own property management company in Toronto and saw the opportunity to provide a safe work environment for her peers to gain work experience. Her entrepreneurial spirit and creativity has also resulted in co-founding two other companies; AshleyMegan, a personal styling and fashion accessory business and HoloInvites, an Augmented Reality App & Greeting Card Company. In 2017 in recognition of the success of her companies, she was Accepted into the Communitech Fierce Founders Accelerator Program, a fast-paced business and personal growth program for female founders/CEO's with tech driven businesses hosted by Google.
Ashley is currently employed as a member of the marketing and communications team for the company, Sea & Ski Realty, a boutique real estate company in Grey County. This career has allowed her to be a part of the community and support local business and initiatives. She is the co-producer of a series called "What's Happening – In Our Community" with monthly episodes focusing on supporting local events, businesses, and the future of Grey County. Ashley also co-creates a monthly blog that focuses on local businesses which promotes the county's tourism & lifestyle industry. Previously, Ashley has worked in radio broadcasting as a live-on-location reporter, she has travelled with NASCAR Canada as a member of the promotions and marketing team, taught preschool, and has worked in the fashion industry as a buyer and personal stylist.
Ashley was fortunate enough to have the opportunity to be involved in many extracurricular activities growing up. Competing at the Province-Wide Science Fair with her Filtering the Flow Project, Ashley created a completely organic and functional water filtration system. After presenting the system to the municipality it was implemented into the community and resulted in the rehabilitation of an endangered wetland. At the age of 12, Ashley received the Blue Water Sydenham Conservation Award for her environmental achievement.
At a young age she developed a passion for dancing, primarily tap, clogging and step, which led to her being a competitive dancer for 13 years. Aside from dancing, Ashley has participated in many musical theatre productions, figure skating, 4-H, softball, and soccer. Ashley still maintains an active lifestyle by practicing yoga daily and regularly hiking along the Bruce Trail. To exercise her creative muscles, she designs and constructs jewelry, is an avid drawer focusing on pointillism, enjoys graphic design and is a passionate photographer and videographer which lead her to be featured in an exhibition at Ed Mirvish Theater in Toronto.
Above all, Ashley's greatest passion is pageantry. At the age of 18, she won her first crown by competing in her hometown Fall Fair Ambassador competition. This experience and opportunity opened a new chapter in her life, intriguing her to explore the industry even more. Her entry into the Queen of the Fair/Toronto CNE Ambassador competition, where she placed 3rd runner-up, also led her to compete in the Miss Mid-West beauty pageant and place in the top 10. In 2016 she continued to compete and win the title of Miss Toronto Tourism.
In Ashley's eyes, pageantry provides her with an opportunity to follow her dream of being a leader in her community. These individual experiences have sculpted her into a strong, confident, broad-minded woman and has given her a platform to promote self-confidence and be a symbol for anyone who thinks they are too small to make a big difference.
Sponsors
Video
Q&A
What are your interests and what do you enjoy doing the most?
Growing up in this beautiful country has allowed me to easily participate in my favourite activity: camping. When I am camping, I feel like I'm home. Camping gives me the opportunity to slow down, appreciate nature and explore not only the land, but myself too. It is a constant reminder that we need to take better care of this beautiful world so that generations ahead can experience the beauty it has to offer too. While experiencing nature has been a constant in my life, my interests and hobbies have evolved over the years. When I was 3 years old, I fell in love with dancing, and still love it to this day. I have always been involved in many extracurricular activities; like musical theatre productions, student council, yearbook editor, 4-H member, local agricultural society board member, team member of multiple sports teams and was a mentor for the link crew leadership program. I also enjoy exploring my creative side by making jewelry, drawing, taking beautiful photos, creating art of all kinds, interior design, and being a personal stylist. I love to immerse myself in new experiences and new cultures, I believe that in order to grow one must step out of their comfort zone and experience new things, meet new people, and welcome new perspectives.
List any special training you have had (music, art, drama, dance, etc.)
My love of dancing came with 13 years of training, I have also received musical theatre training, which opened doors to productions like Oliver Twist, The King & I, and Shout the Musical. I recently participated in a pilot training course, where I gained the knowledge to pass my Basic Ontario Drone Pilots exam. I was a member of my high school band where I was trained to play 2 instruments, percussion, and trombone. I have also received training in many creative areas like photography, graphic design, clothing design, interior design, and radio broadcasting.
In what sports, if any, have you participated?
I have always lived a very active lifestyle, from the age of 3 I have been dancing both competitively and for personal fitness. The practice of daily yoga not only keeps me physically strong but also mentally strong. Growing up I was a member of a local all-boys softball team, where we took home the first place trophy two years in a row. My involvement in sports has not been limited to these activities, as I participated in figure skating, taekwondo, soccer, volleyball, mountain biking, swimming, and golf. Sports have always been an important part of my life, teaching me valuable lessons and skills.
Name one person, other than your parents, who has had the most influence on your life. Why?
There are many people who have influenced and mentored me through the years but there is one person who has been an outstanding example of how women can be inspiring leaders and a dominating force in their fields. This wonderful, inspiring woman's name is Karen Cox, Owner and Broker of Record for Sea & Ski Realty, the past president of the Ontario Real Estate Association, and my boss. In the short time I have known Karen, she has inspired me every single day. Each workday, I get to be a part of her ambitious ideas and business goals. She has accomplished so much in her life already and continues to make an impact in the community every day. From the moment I told Karen about my dream to be Miss Universe Canada, she willingly and enthusiastically jumped into being my personal coach. Karen's list of accomplishments includes 2011 Volunteer of the Year Award, Real Estate Professional Magazine's Elite Women of 2019, President of Shallow Brook Productions, and President and Director of Meaford & District Chamber of Commerce just to name a few. Although her list of accomplishments is extensive, the most inspiring thing about Karen is her passion to be involved in the betterment of her community.
What is your proudest personal accomplishment (other than participating in this pageant)?
My proudest personal accomplishment would be when I was given the honor of being crowned the 2011-2012 Feversham Fall Fair Ambassador. This was an opportunity to represent my home and promote our fall fair all over the province. Throughout my reign, many doors were opened. I had the opportunity to be a member of the Agricultural society, organize fundraising events, be involved with local politics, and most importantly, be a role model for young women in my community. Being the Ambassador was a turning point in my life. It is where I learned to advance my public speaking skills, build my self-confidence, and it sparked the flame to my passion of wanting to be a community leader. After my experience as Fall Fair Ambassador, I created a mentorship program in which I coached like-minded young women who were interested in being a leader in their community. I prepped them to compete in our local pageant and supported them as they began their journey in becoming a leader. I worked with the girls to advance their public speaking skills, and prepared them for interviews.
What is the most interesting or unique thing that has ever happened to you and/or what is the most interesting thing about you?
One of my most memorable experiences was when I competed in my first 4-H showmanship competition. 4-H is a not-for-profit organization that is focused on strong leadership for world-class positive youth development experiences in Canada. Pledging 'My head to clearer thinking, My heart to greater loyalty, My hands to larger service, My health to better living, For my club, my community, my country, and my world,' is a motto I still carry close with me to this day. On the day of the competition it was 30 degrees Celsius and Alley, my black angus calf, was exhausted from a long day of being at the fall fair. I had made it to the final 5 showmen, and I was the only female left. During the competition, Alley decided to take off and drag me out of the show ring by my arm. Although it looked like I was out of the competition, I told myself that was my opportunity to prove in a male-dominated activity, how strong women are. With a sprained wrist and covered in barn dust and debris, I walked Alley back into the show ring and continued the competition. Not only did I win, I also discovered how tough I really am. I could have let the pain, anger and embarrassment take me over but instead, I picked myself up and waltzed back in to show that believing in yourself is the most powerful tool to have.
What is your career ambition and what are you doing or plan to do to accomplish that goal?
My career ambition is to obtain employment that allows me to be a leader in the community. I believe with that as my focus for my career it will lead me down a path of endless possibilities. The steps I am taking and opportunities I am seizing have already put me on the right track. Currently, I am a member of the marketing and communications team for a local real estate company. My focus at this company is community engagement and the promotion of local events and businesses. I jump at every opportunity to be involved in the community. I am determined to build a career that I won't refer to as "work" but rather my passion.
What would be your "dream job" in life?
The first thing that comes to mind when I think of my dream job is to be Miss Universe Canada. My ultimate goal is to be a leader in the community and this role gives me the platform to be just that. This job would give me the opportunity to encourage others to know that no matter your size, age, gender or race; anyone can make a difference as long as they believe in themselves and their goal.
Describe where you were raised and what your childhood was like.
I am grateful to have been born and raised in Grey County, Ontario. This is an area where everyone knows everyone, where we all come together to support one another and is a true representation of a community. Whether it is the simple friendly waves that are given to every passing car, or the comfort of knowing someone will always have your back, this area of great people really makes me proud to call this my home. I have been blessed with 2 loving parents, an older brother, and 2 beautiful nieces. My family has always been a great support system when it comes to me following my dreams of being a leader in the community. As a child, growing up in Grey County offered endless possibilities. With my creative mind I had the most amazing adventures. I spent most of my days either at the barn with the animals, harnessing my entrepreneurial side by setting up lemonade stands or exploring the natural beauty that surrounded me.
List any interesting or unusual jobs you may have had.
The most interesting/unusual job that comes to mind would be when I was a live-on-location radio reporter. Radio broadcasting was a great experience which enhanced my public speaking abilities. This experience also was a great way to be involved in all the local events and engage with member of the community. The span of jobs I have had sometimes makes me chuckle. I've done everything from promotional modeling for NASCAR Canada, to teaching preschool at a private daycare.
List any volunteering you have done.
Link Crew Leadership – Grade 9 Mentor
30 Hour Famine – World Vision
Georgian Bay Humane Society Volunteer
Ontario Foodbank
Feversham Ambassador Program Coaching
Sick Kids Foundation
Free the Children
4-H
Youth Soccer Coach
Canadian Mental Health Association
What is your most unusual talent?
My most unusual talent is that I fly drones professionally and have my basic pilots license.
Where is the most interesting place you have been to?
When I was 18 I backpacked around the UK. This was a life-changing experience for many reasons. I dove in head first and tackled my first plane ride and solo travelling experience all in one go. Taking in the incredible architectural masterpieces and history around me I found particular peace when visiting the Roman Baths in Somerset, England. With every new place I explore, I take extra care in leaving only footprints and taking only memories.
What do you hope to be doing in ten years?
In 10 years, I hope to have advanced my role as a leader in the community, successfully creating a youth mentor program that promotes goal setting and success planning for children 10 – 13. I want to continue to travel, ideally increasing my list to at least 15 different countries, have a handful of successful businesses under my belt, and to have a beautiful home with a plentiful garden. I want to continue to surround myself with the ones I love. I want to be able to look back at the last 10 years and have no regrets; knowing that I followed my goals to make a difference.
Is there anything you would like to add that we haven't asked?
There is no greater honor than being Canadian. Happy…healthy…free. Beyond the incredible possibility of being crowned Miss Universe Canada, I would carry the immense responsibility of representing my great country in the Miss Universe competition and most importantly, beyond.