Sara Winter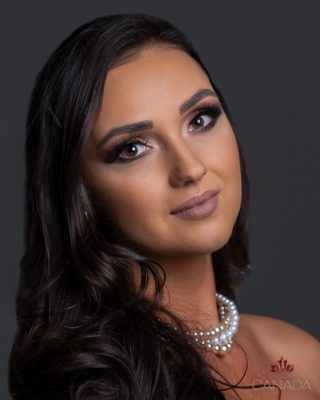 Height: 5'10
Hometown: Duncan, BC
Languages: English
Occupation: Golfer
Sara Winter grew up in Duncan, a small town in Vancouver Island, where her father raised her with strong morals and encouraged her to pursue her passions in life. Growing up Sara was always a natural athlete, excelling at dance, figure skating, and karate. But it wasn't until she fell in love with golf at the age of 22, that she knew it would be a lifelong passion. While pursuing her bachelor's degree, Sara realized her dream job would be to pursue golf professionally, so she took a risk to step away from school to practice golf full-time. Although a latecomer to the sport, in just four years she was able to achieve playing on a competitive mini-tour in Scottsdale, Arizona seasonally along with other Golf Canada events. Being a female athlete in a male-dominated sport, Sara strives to break stereotypes and show the world that through resilience and the ability to believe in yourself anything is possible. This year Sara partnered with TaylorMade Canada allowing her to be an influencer in the golf industry, and continue to help grow the game. Sara's dream is to win on tour one day, but during her journey if she can help grow the game and get more women and children involved, that feels just as rewarding. On top of dedicating her time to golf, Sara advocates for addiction awareness in Canada, having her mother struggle with substance abuse growing up, she knows firsthand the effects it can have on families and loved ones. Sara wants to continue to use her voice and social media platforms, where she can reach over 100,000 people, to raise awareness for this issue in her hometown and across Canada.
At 15 years old Sara signed her first international modelling contract with an agency in Seoul, Korea. Quickly maturing and learning how much pressure women have to look a certain way; she struggled to feel like she was enough. This incident drove her to enter the Miss Teen Canada 2011 competition, where she quickly fell in love with pageantry. Sara continued on to represent Canada at SuperModel International 2012, Top Model of the World 2014, and placed top 10 at Miss Universe Canada 2019.
A frequent guest speaker on several podcasts has allowed Sara to tell her story and break down some barriers that women in sports and pageants are given. Aspiring to earn her LPGA tour card one day, Sara realizes how important being a role model for young girls and youth is, and strives to make a positive impact to others. Sara has worked with groups such as: FOREher Sports, Women with Drive, and Swing, where they connect, educate, and inspire women and the youth on and off the golf course. Aspiring to help youth succeed to their full potential, and achieve their dreams, Sara also guest speaks at elementary schools where she teaches goal-setting activities to the kids. Sara also works closely with Nourish Cowichan an organization that provides nutritious breakfasts to school children of the Cowichan Valley. Sara believes that regardless of what struggles you may be facing, having someone believe and support you can go a long way, and she hopes to put together many more projects in the future across the world.
Sara's athleticism, determination and positive mindset, make her a unique contestant and an even more relatable role model. Having represented Canada internationally both in golf and in pageants, has given her the experience and confidence she needs to thrive. Sara knows she has what it takes to make Canada proud on the Miss Universe stage.
Sponsors
Family and Friends
Video
Q&A
What are your interests and what do you enjoy doing the most?
I'm lucky to call my job one of my biggest interests, which would be golfing. It has taught me how to have patience with everything in life, and you can constantly keep learning, and challenging yourself.
I also love yoga, animals, reading, peforming, travelling, volunteering and spending quality time with my loved ones.
List any special training you have had (music, art, drama, dance, etc.)
I was a competitive dancer growing up for 5 years at Carolson's School of Dance, where I trained in jazz, ballet, and hip-hop. I also signed to Barbara Coultish Agency when I was 14 years old, and signed my first international modelling contract to Seoul, Korea, at just 15 years old. Through Coultish agency they allowed me to attend several acting and modelling workshops, where I practiced my skills repetitively. I have always adored being able to express myself on camera or on stage, and have a true appreciation for all performing arts.
In what sports, if any, have you participated?
I am currently pursuing a career in golf. Being an athlete takes determination, perseverance, and a strong mindset, all attributes that a Miss Universe Canada should have.
Aside from golf, other sports I have pursued growing up include: ice skating, volleyball, dance, karate, skiing, and track and field.
Name one person, other than your parents, who has had the most influence on your life. Why?
Growing up my mom became less involved when I was 11 years old, due to substance abuse, and for that reason my parents got a divorce. My dad had to step up and raise three girls alone and take on the role of my mother, and I'm forever grateful for him. But, aside from my father, my sister Mandy has influenced my life in many ways. She helped raise me, and acted like a mother when I needed one. When I was maturing into a women she always reminded me that I am enough, and helped me gain confidence in my own skin. She taught me to not be afraid to stand up for what I believe in, and chase after my dreams, regardless of the circumstances. Mandy influenced me to compete in my first pageant, Miss Teen Canada World 2011, introducing me to the deeper meaning of pageants, and what they had to offer. Without her constant love and support, I wouldn't be who or where I am today.
What is your proudest personal accomplishment (other than participating in this pageant)?
This past year I partnered with TaylorMade Canada, one of the biggest brands in golf for Canada and around the world. This has allowed me to grow my platform in the golf industry internationally and become a well-known influencer. Working with such an elite brand as a female in a male-dominated sport has allowed me to help grow the game, and encourage women and the youth all over the world to pursue their dreams. I am very proud to be connected with TaylorMade Canada, and I am looking forward to creating more content with them.
What is the most interesting or unique thing that has ever happened to you and/or what is the most interesting thing about you?
The most interesting thing about myself would be getting diagnosed with Vitiligo, when I was 19 years old. Vitiligo is a rare skin disease that only effects 0.5 – 1 % of the world, and on top of that there isn't a cure for it. In today's society there is so much pressure on young women, and women in general to look a certain way, in order to feel accepted, or beautiful. Although it doesn't affect my health, immediately appreciating how fortunate I am, and how people struggle with much worse everyday, it still effected my mental health, and self confidence. My family helped me remember that beauty comes from within, and although Miss Universe Canada is considered a beauty pageant, it is so much deeper than that. I believe that our imperfections are what make us unique, and being diagnosed with vitiligo allowed me to be different, and shed light on this topic.
What is your career ambition and what are you doing or plan to do to accomplish that goal?
To succeed in anything in life I believe it takes repetition and hard work. I have been competing against professional and amateur golfers on a mini tour preparing myself to one day attend Qualifying School to make my way to the LPGA tour. With the support of my father and the knowledge of my coach , I train and work hard everyday on and off the course to be the best athlete I can possibly be, physically and mentally. I believe that every failure is a learning experience, and you have to keep fighting and learn from your mistakes, instead of giving up. This fits into my pageant career as well, I competed last year for Miss Universe Canada and fell short of my end goal by placing in the top 10. Instead of giving up I set my mind to competing again to fulfill one of my biggest ambitions of representing Canada at Miss Universe. I have reached success in my golf career this past year, and I feel now is my moment to be Miss Universe Canada, and I will give everything I got to make that happen.
What would be your "dream job" in life?
As cliche as this may sound I feel like I am partly pursuing my dream job already. The only thing that is missing to that dream is being Miss Universe Canada 2020 and playing on the LPGA tour. But playing golf at a competitive level regardless is extremely thrilling and being able to challenge my athletic abilities everyday, at a sport that is very independent, makes it humbling and rewarding.
On top of that my dream job would incorporate mentoring todays youth. I feel very strongly about helping children explore there talents and passions, and it saddens me that not every kid has that opportunity readily given to them. I want to help educate the youth on the power of there dreams, and encourage them to fulfill their passions in life, and I believe golf has given me a voice and a platform to do so.
Describe where you were raised and what your childhood was like.
I was raised in Duncan, British Columbia. Duncan is a small town located on Vancouver Island. I am very proud and appreciative of where I come from , and as I travel the world, I realize how lucky I am to call it my home. The scenery of the mountains and being so close to the ocean has blossomed my love for nature, and made me apprecaite the fresh air I get to breathe in everyday. It was an amazing place to grow up because it is very family oriented. My childhood was one of the happiest times of my life, because we were very fortunate to be able to travel as a family, while my parents were still together. My childhood holds all of my happiest memories of my mother and it was a simple time for all of us. Duncan is an extremely friendly environment and I am blessed to have the support of my community through my journey of competing for Miss Universe Canada 2020.
List any interesting or unusual jobs you may have had.
When I was 15 years old I modelled internationally in Seoul, Korea. Working in the modelling industry taught me a lot about my self because you constantly are being put outside of your comfort zone. In 2012 I was honoured to represent Canada at SuperModel International, in Bangkok, Thailand, where I placed in the Top 10 on the international stage. Two years later I represented Canada again at Top Model of the World in El Gouna, Egypt. Given the job to represent your country isn't an opportunity everyone gets to experience, and it is one that I will cherish in my heart forever. There is nothing more gratifying than wearing that Canada sash across your chest, and I hope to achieve to represent my country again, but on the Miss Universe stage this time.
List any volunteering you have done.
I am one of the top ambassadors for the women's empowerment group called FOREher Sports, a company that connects, educates, and inspires women on and off the golf course.
Other organizations include:
Children's Hospital
Free the Children
Ronald Mcdonald House BC
Operation Smile
SOS Children's Villages
Nourish Cowichan
Women with Drive
… as well as guest speaking at several elementary schools and volunteering at various animal shelters.
What is your most unusual talent?
My unusual talent would definitely be having my purple belt in karate. My dad wanted my two older sisters and I to be able to defend ourselves in any situation we were given in life, so he enrolled us all in karate as kids. I trained with a sensei once a week, and entered competitions where I won several medals.
Where is the most interesting place you have been to?
Bangkok, Thailand – I traveled there for Super Model International 2012. I really respect how much they worship their King, it shows how loyal Thai people are. They're also known as the Land of Smiles because they are forever choosing peace over conflict. Learning about the Thai culture, and seeing how welcoming they were of other countries, made it a trip and place I will never forget.
What do you hope to be doing in ten years?
A lot can change in ten years, but I would like to see myself using my success from my golf career to continue to help grow the game, and have made some status on the LPGA tour by then. I would like to continue to be an advocate for addiction awareness in Canada, and help find a solution for this issue. On top of that in ten years, I would like to see myself working with the Miss Universe Canada organization as a proud alumni, forever supporting each woman that stands on that stage.